Externships and rotations
Externships offer senior dental hygiene students the chance to build their hands-on skills while providing care to diverse populations and medically compromised patients. Visits take place in a variety of community dental clinics. Through our clinical rotations dental hygiene students get the chance to observe, ask questions and learn in a variety of practice settings.
ACCESS Dental Clinic Downtown
ACCESS NorWest Co-op Community Health
Deer Lodge Dental Clinic
Mount Carmel Dental Clinic
Red River Community College - Dental Assisting Program

Specialty practice
St. Amant Centre
Siloam Mission
The Children's Hospital of Winnipeg
Winnipeg Regional Health Authority - Oral Health Programs:
Healthy Smiles Happy Child | Smiles Plus
Projects and clinical expectations
The School of Dental Hygiene is proud of the many community outreach projects that have been done by students in the past. A few examples of the target populations that students have delivered programs to include:
cancer care patients
low socio-economical families
street mission
people with diabetes
correctional facilities
elementary - high schools
caregivers
the young and the elderly
patients with either mental or physical disabilities
By working on these public outreach projects, it gives the students the opportunity to see how the real world works in situations that are not always in an ideal setting.
Clinical Expectations
Under the direct supervision of the dental hygiene clinical and dental faculty, students attain clinical competencies through participation in laboratory and clinical sessions and through experience providing direct patient care services. Students are required to maintain 90 per cent clinic utilization throughout their two year program. Emphasis is placed on the health promotion and disease prevention throughout the program.
Mentorship Program
Through a partnership with the Manitoba Dental Hygienists Association (MDHA), we support the transition of dental hygiene students into the profession through open communication, guidance, and inspiration that benefits both the mentor and mentee.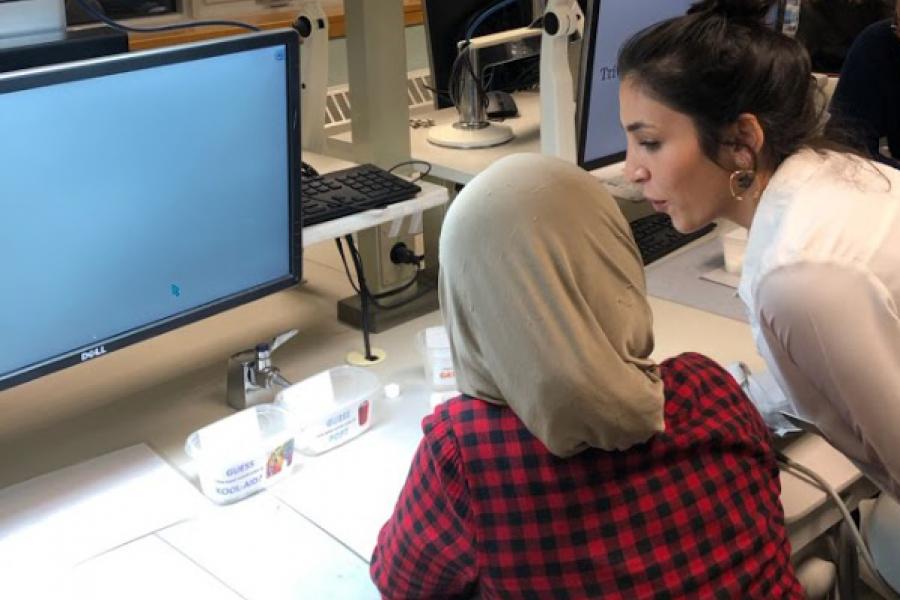 How it works: Second and third-year dental hygiene students will be assigned an MDHA mentor for the duration of their dental hygiene education. Each student will virtually meet with their mentor twice per term (which totals to four times per academic year).
Connecting with your mentor: Students and mentors maintain open communication through regular contact. You and your mentor will firm up a method of communication and meeting times that work best for the two of you. You and your mentor will also attend MDHA/SDH Mentorship Program events throughout the duration of this two-year program.
The benefit: This program is an opportunity to establishing life-long professional contacts, meant to enrich both you and your mentor.
Community outreach
Community Veterinary Outreach (CVO):
One Health
School of Dental Hygiene faculty and student volunteers participate in CVO events. CVO's One Health model involves the collaboration between human and animal health partners, based on the understanding that the health of humans and animals and the environment (social and physical) are interconnected.
WISH Clinic
The Winnipeg Interprofessional Student-Run Health Clinic (WISH Clinic) provides free health services to people in the Point Douglas area of Winnipeg out of Mount Carmel Clinic. The clinic is staffed by volunteer students from Rady Faculty.
Smiles for Miles
The Smiles for Miles program helps sponsor dental hygiene care for newcomers to Canada who otherwise not receive it, and provide senior dental hygiene students with the opportunity to provide care free of charge.
Sharing Smiles Day
Sharing Smiles Day is an annual event meant to prepare dentistry and dental hygiene students on providing care for everybody in the community – including those with disabilities, who often face barriers to accessing care.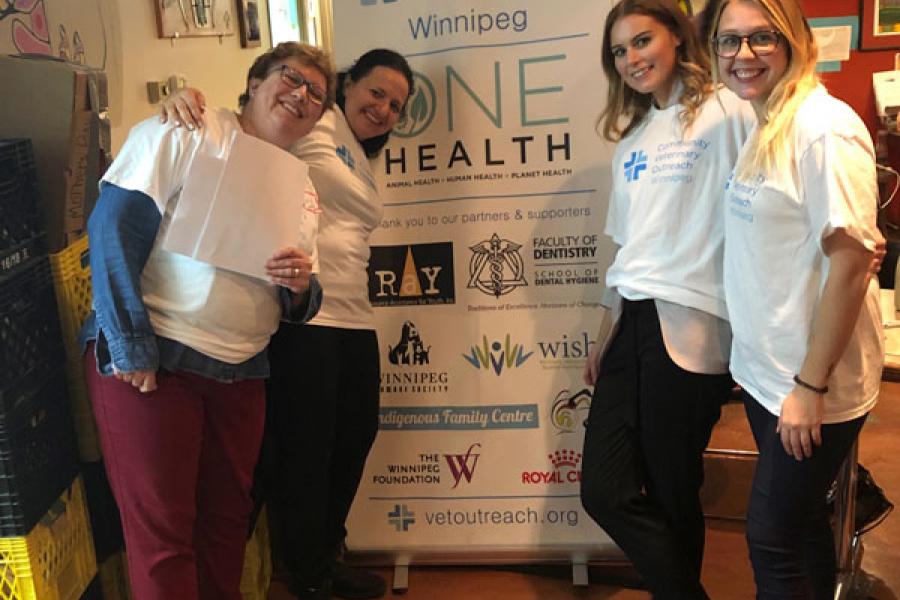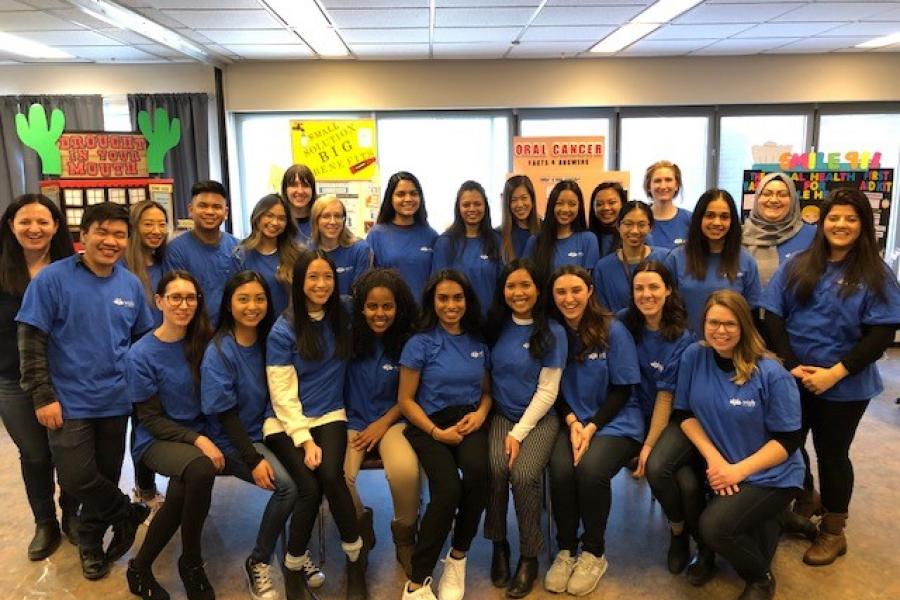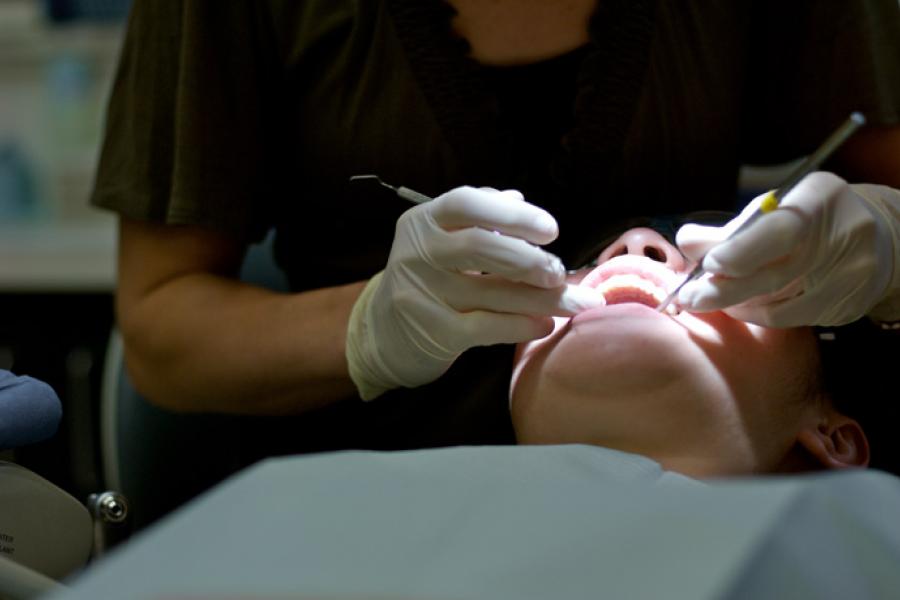 Research
The broad range of research interests in the School of Dental Hygiene helps keep our communities healthy. From examining the oral health of seniors and Canadian Indigenous children, to quality assurance in dental hygiene practice, our faculty researchers are committed to making positive contributions that improve the quality of life for all Manitobans.
Key areas of research:
Salutogenesis: health creation
Healthy learning: learning environment and curriculum
Interprofessional education for interprofessional collaboration
Social justice and health equity
Oral microbiome
Quality assurance in dental hygiene practice
Oral health of Canadian Indigenous children
Oral health of Seniors
International exchanges
The University of Manitoba has student exchange agreements with two international dental hygiene programs:
Karolinska Institute in Stockholm, Sweden
Turku Polytechnic in Turku, Finland
Program details: two students in their second year of dental hygiene are offered this opportunity at each place at one time. The students go for a two-week excursion and they may use this opportunity toward one of their dental hygiene project in second year.
Current dental hygiene students interested in this opportunity can email the School of Dental Hygiene for more information.
You may also be looking for
Contact Us
School of Dental Hygiene
Room D212 - 780 Bannatyne Avenue
University of Manitoba
Winnipeg, MB R3E 0W2 Canada