Volunteer
Interested students can volunteer at the Centre's Spring Research Symposium and may be eligible to receive credit on their co-curricular record.
Co-curricular record
University of Manitoba students who complete 10 approved hours of attending STAR meetings and volunteering at the Spring Research Symposium will be eligible for their co-curricular record.
To receive the Volunteering and participation credit on your co-curricular record, students need to complete 10 combined hours of attending Students Targeting Aging Research (STAR) meetings and volunteering at the Centre on Aging's annual Spring Research Symposium. Hours must be approved by Centre staff and completed over the course of an academic year.
Volunteering at the Spring Research Symposium
As a student volunteer, you play an important role in contributing to the success of the Centre on Aging's Annual Spring Research Symposium. Volunteers assist Centre staff with providing Symposium support for the staff, presenters, attendees, and sponsors by helping the event run smoothly, and providing our attendees with an overall positive experience.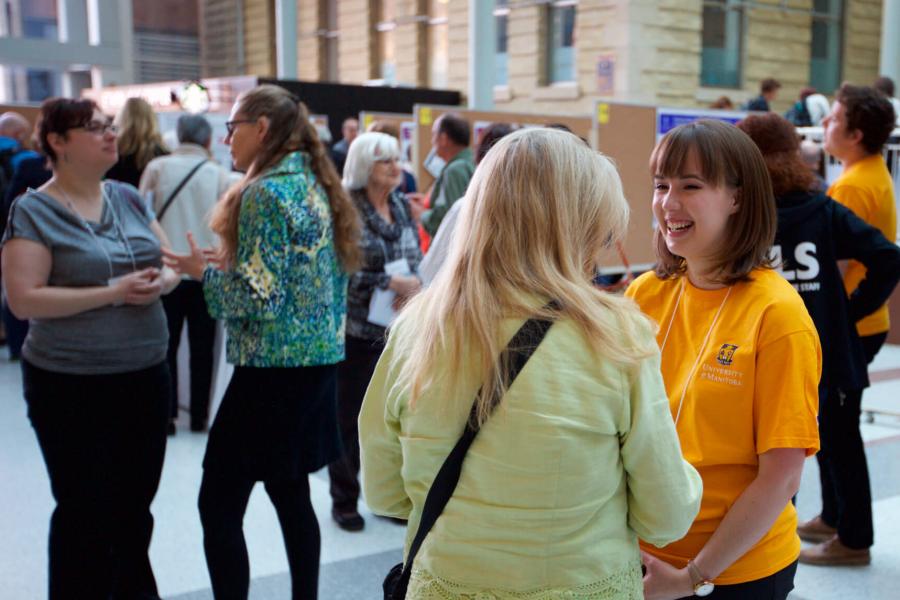 What are the benefits of being a volunteer?
Network and connect with practitioners and professionals from around the province. Learn about senior serving organizations and how these professionals support older people in the community.
Learn first hand about current aging related research from Centre on Aging research affiliates by attending the sessions, or taking part in the Symposium workshops.
Add volunteer services to your CV and resume.
Gain official University of Manitoba credit for your co-curricular record, for approved volunteer and participation hours through volunteering and attending Students Targeting Aging Research (STAR) meetings.
Receive training related to your volunteer position.
If you do not have an assignment during a particular time slot, you are encouraged to attend sessions occurring during that time period to maximize your Symposium experience.
We welcome students of our Research Affiliates attending post-secondary institutions in Manitoba who are interested in volunteering.
Note:Students residing outside of the Winnipeg area who are interested in volunteering, please note that accommodations and parking are not included as part of volunteer benefits.
Student involvement

One of the volunteer roles for students includes serving as session chair during plenary session presentations.
Spring Research Symposium volunteer position descriptions
Students can sign up for one or more of the volunteer positions.
Volunteers must be available during the week preceding the Symposium (generally the last week in April) for mandatory volunteer training.  Multiple sessions will be provided and volunteers will be expected to attend one session.
Register attendees at the registration desk
Provide name tags and programs to attendees
Direct attendees to the lecture theatre and mini exhibit on Bannatyne campus
In cases of older adults or persons with mobility issues, walking those who require help to the lecture theatres
Answering general questions about the symposium
Refresh the Centre on Aging's exhibit
Direct Centre related questions to Centre staff
Microphone person
During the Q and A period, bring the microphone to audience members asking questions
Session chairs
Chairs are assigned by Centre staff; graduate students chair concurrent sessions.
Contact presenter(s) to check on presentation requirements (AV equipment, handouts, etc.)
Act as secondary go between for Centre on Aging staff and presenter
Chair concurrent session, keep presenter on time, and moderate question and answer period
Introduce and thank presenter
Write short summary of session to be posted on the Centre on Aging's web site
Provide general assistance
Duties include directing symposium attendees to lecture theatres and other areas on campus (washrooms, lunch area, elevator, poster/exhibit areas)
Monitoring break food to ensure only those wearing a name badge are permitted to take food (when provided)
Setting up/take down the poster display area
Set up/take down symposium signage, Centre displays, registration booth during the morning and at the end of the day
Note taker
When symposium workshops are held that includes group sessions, students serve as group note takers
Workshop facilitator
When symposium workshops are held and additional facilitators are needed, graduate students may be approached to serve as group facilitators
Students are given facilitation questions ahead of time
Get more information about
Contact us
Centre on Aging
338 Isbister Building
183 Dafoe Rd
University of Manitoba (Fort Garry campus)
Winnipeg, MB R3T 2N2 Canada
Monday to Friday, 8 am to 4 pm