Indigenous Business Education Partners
At the Asper School of Business, Indigenous Business Education Partners offers a welcoming community as you explore your leadership potential in the world of business. IBEP members can receive tutoring, mentoring, financial aid and more.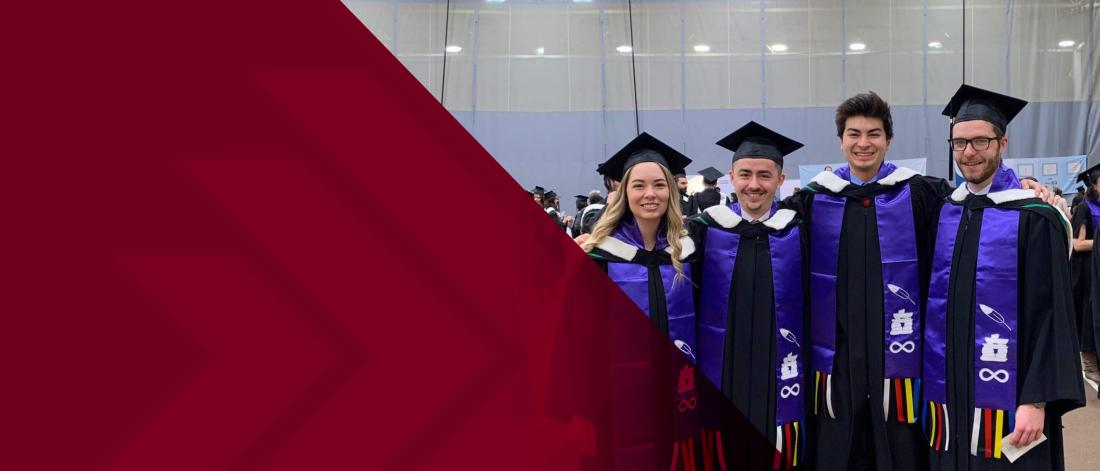 Indigenous Business Education Partners
Apply to the IBEP program
Our team provides a variety of services to Indigenous students in pursuit of their Bachelor of Commerce or Asper MBA degree including tutoring, networking opportunities and access to our scholarship and bursary program. Our best asset, however, is our community of students. Whether you are in your first year or final year student, our dedicated staff and friendly students are eager to welcome you into our growing community.
How to apply
To apply to be a member of IBEP, fill out the application form and mail, fax or drop of your application to:

Indigenous Business Education Partners
Room 374 Drake Centre
181 Freedman Cres.
University of Manitoba (Fort Garry campus)
Winnipeg, MB R3T 5V4 Canada

ibep@umanitoba.ca (email preferred)
204-474-7401
Fax: 204-474-7544
IBEP services for undergraduate students
First Nation, Inuit and Métis students who are admitted to the U of M (either through University 1 or direct entry into the Asper School of Business) and intend to complete their Bachelor of Commerce (Honours) through the I.H. Asper School of Business are eligible to join IBEP.
We host special events throughout the year, including our annual Welcome Night, the Visionary Indigenous Business Excellence Awards gala dinner, Career Exploration Day, and other events planned with our student group the University of Manitoba Indigenous Commerce Students (UMICS). In addition, IBEP provides:
Academic support
From your first steps on campus to your last steps across the graduation stage, IBEP will provide a supportive environment to ensure your academic success, including:
complimentary tutoring to students enrolled in calculus, statistics, finance and accounting courses
IBEP staff regularly meet with students to help navigate the university system of academic and non-academic resources
New students benefit from informal mentoring from senior students
Scholarships and awards
We offer a variety of awards, scholarships and bursaries each year to qualifying undergraduate members, including academic performance scholarships, entrance awards, and an international study award for students participating in the Asper International Exchange Program.
IBEP also administers a growing pool of awards from external scholarship providers, including
CPA Manitoba (scholarship)
MTS Future First (scholarship and bursary)
RBC (scholarship and bursary)
TCIG (scholarship and bursary)
Vision Quest (bursary).
Scholarship in Indigenous Business Education
Indigenous Business Education Partners (IBEP) at the University of Manitoba's Asper School of Business will offer one scholarship in the amount of $15,000 per year (renewable) to an undergraduate student who meets the criteria. Applications are now closed for 2021.
Please contact Riley Proulx to discuss applying to scholarships.
Riley Proulx
Program recruiter and advisor
Room 378 Drake Centre
riley.proulx@umanitoba.ca
204-474-6391
Networking opportunities
IBEP hosts a number of events and gatherings to connect our students and the business community in a comfortable, familiar environment throughout the academic year.
Networking with fellow IBEP students, alumni, and Asper professors can be helpful for planning your career, getting through a course, or organizing your timetable. We are pleased to help you connect.
Employment
In conjunction with the Career Development Centre, IBEP helps members secure well-paying summer jobs with many leading employers who are interested in attracting Indigenous talent into their workforce. IBEP hosts an annual speed networking event with employers as well as career focused lunch-and-learn discussions with a variety of companies.
IBEP services for MBA students
All First Nations, Inuit and Métis students admitted to the Asper MBA program at UM are invited to join IBEP. In addition to a vibrant, welcoming community, IBEP provides Indigenous MBA students with academic and networking support.
Academic support
IBEP provides tutoring to its MBA students enrolled in challenging courses such as Accounting and Corporate Finance.
IBEP and MBA staff are jointly available to assist you in navigating the university system of academic services.
Networking opportunities
You will have access to all associates networking events through the Asper MBA program, free of charge. Some associates members are IBEP partners and other members have a vested interest in diversifying their workforce. Additionally, Asper MBA students are invited to attend all IBEP events held throughout the academic year.
You may also be looking for
Contact us
Indigenous Business Education Partners
Room 374 Drake Centre
181 Freedman Cres.
University of Manitoba (Fort Garry campus)
Winnipeg, MB R3T 5V4 Canada