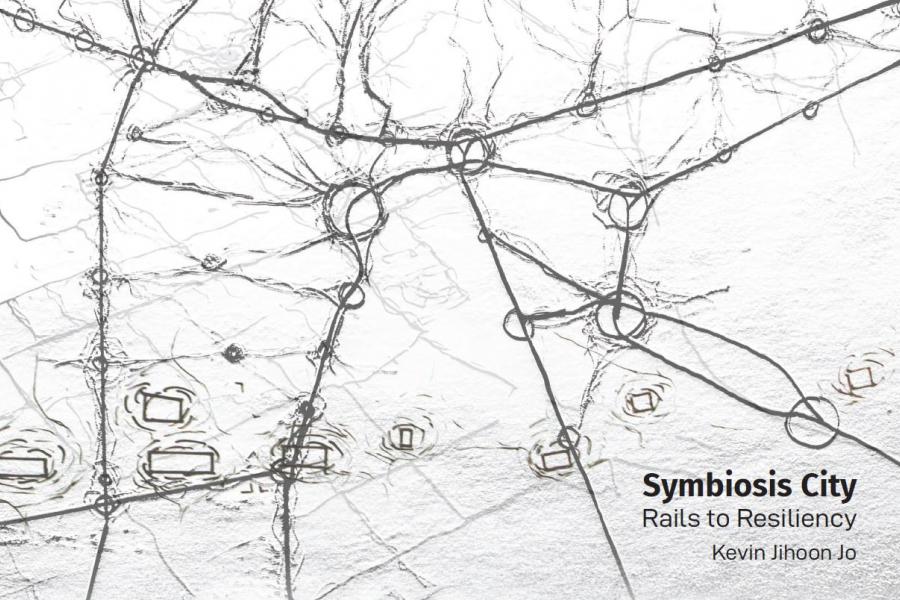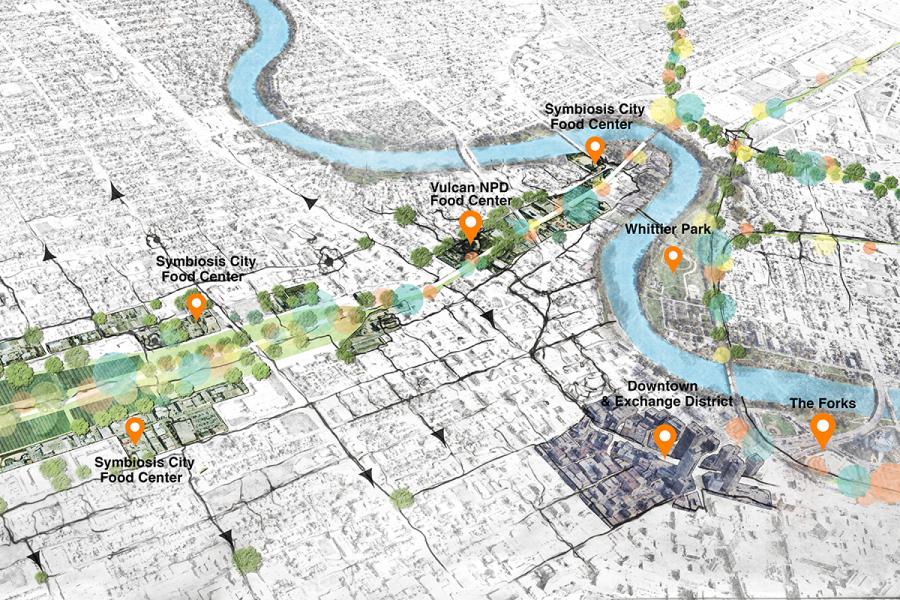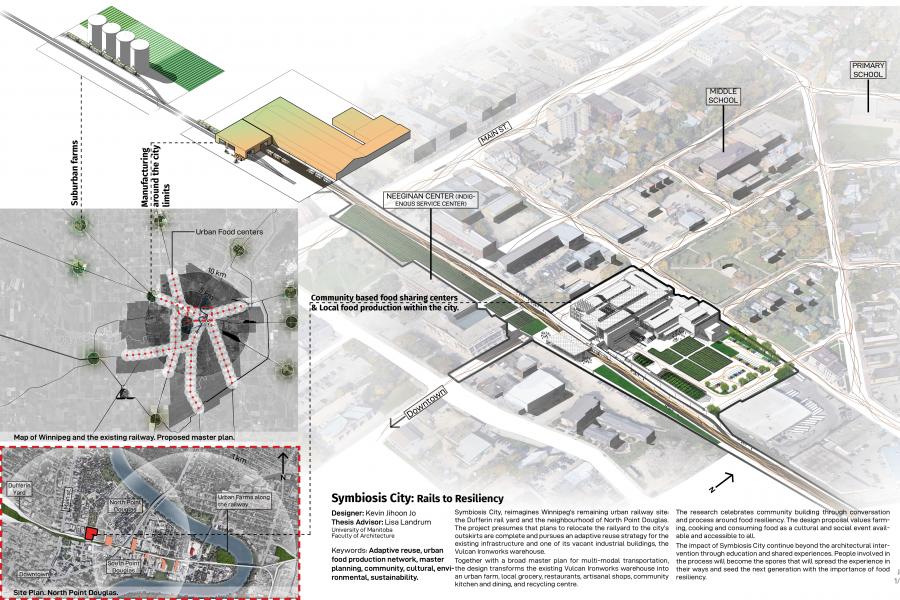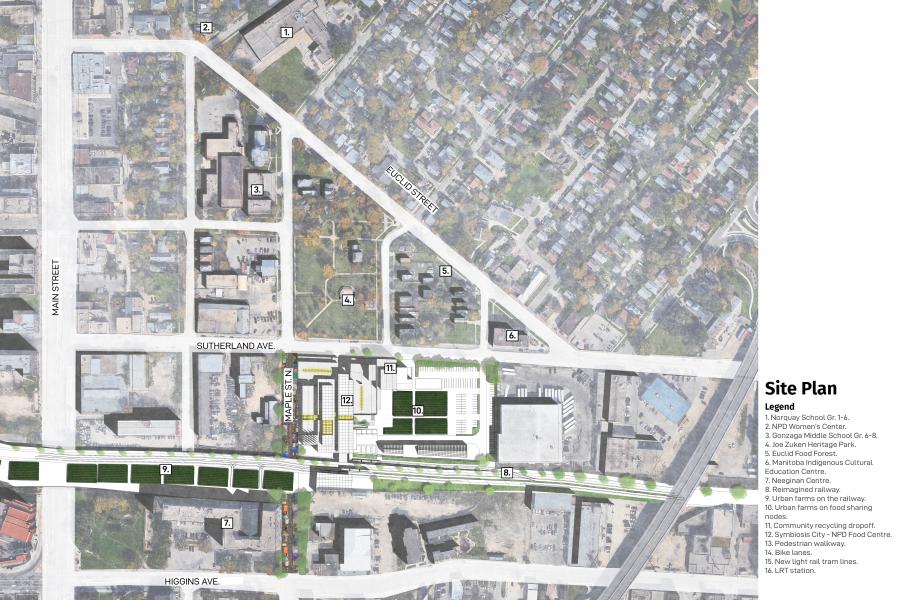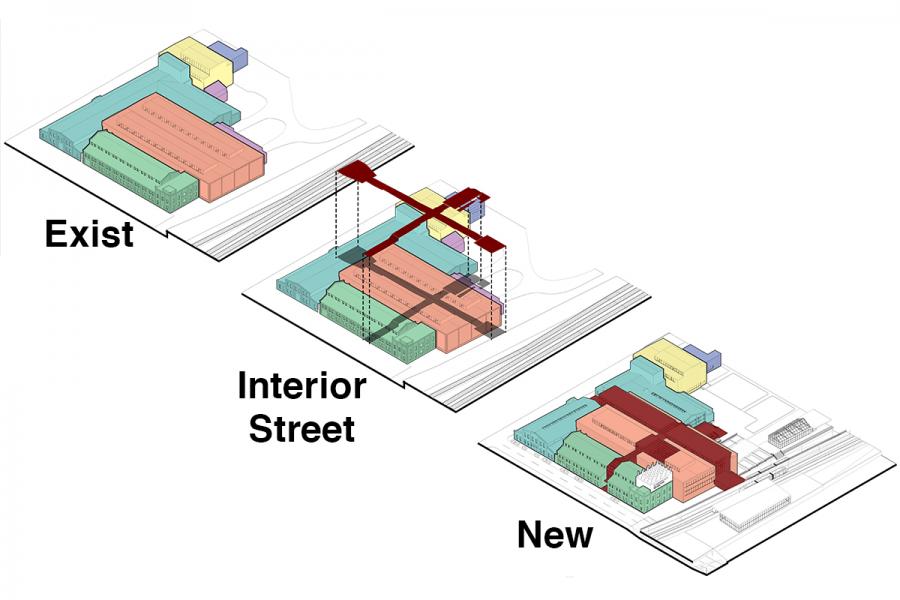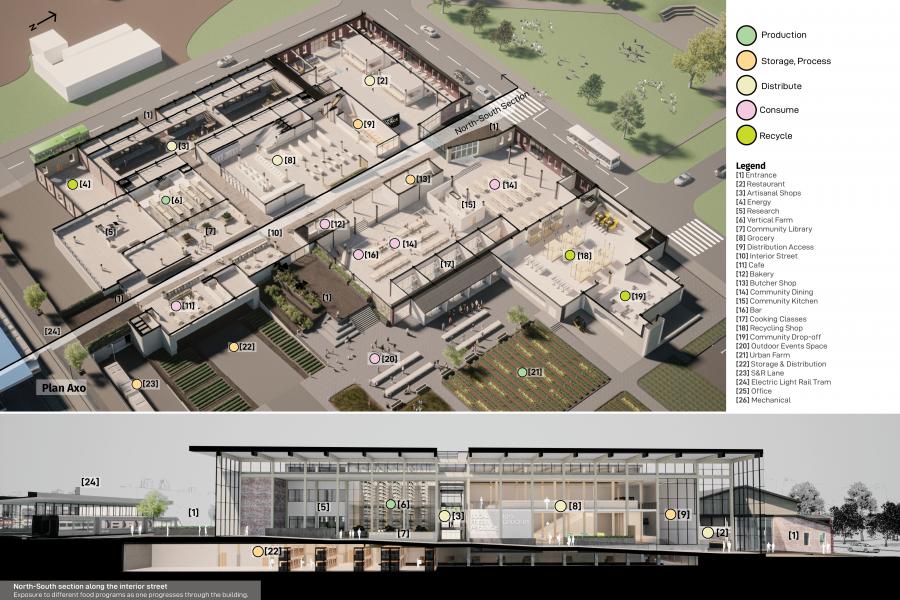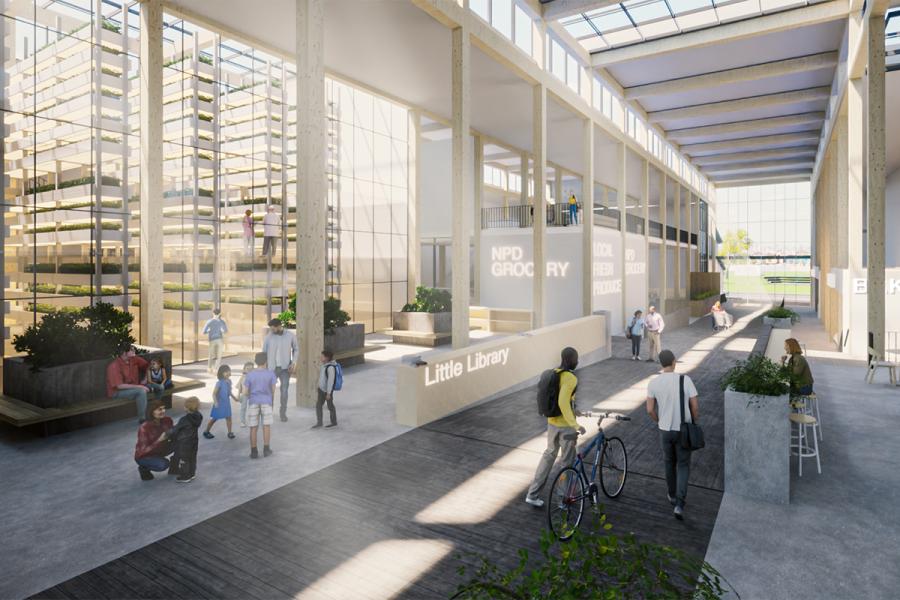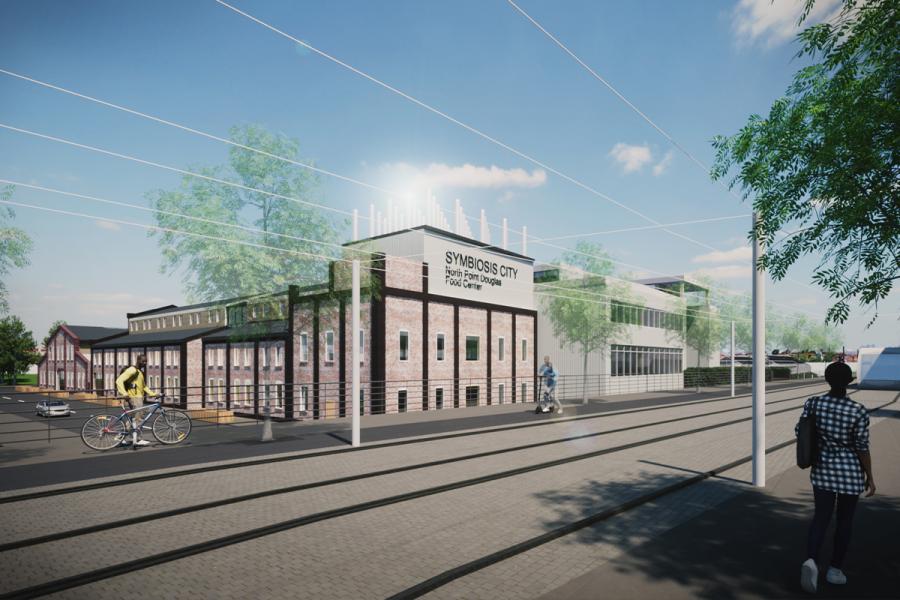 Symbiosis City: Rails to Resilience in Winnipeg
How can industrial railyards be transformed into infrastructure for cultural resiliency? With the escalating climate crisis, architects need to integrate sustainability into every project and reevaluate consumerism trends. It is estimated that more than 2/3 of existing buildings will still exist in 2040,  and more than 90% of construction debris is produced during demolition.  Adaptive reuse of existing buildings can negate construction waste and save on embodied carbon while taking advantage of an existing structure's accrued cultural and historical value. This research explores the potential for decaying buildings to be adaptively reused to support both environmental and cultural sustainability. The project argues that derelict buildings and challenged neighbourhoods are opportunities for responsible transformation. Much like how a decaying organism feeds fungus and gives valuable resources back to the ecosystem, decaying architecture has the potential to refresh neighbourhoods and become an essential part of the city's ecosystem.
Once a symbol of progress and innovation, railway usage across Canada has declined due to the rise of alternative transportation methods for people and goods. A few active rail lines still exist in the heart of Canadian cities as remnants of the industrial past, but they now separate communities rather than connect them. In Winnipeg, the city relocated its East Yards in the 1980s freeing space to become its most important cultural site: The Forks. This project, Symbiosis City, reimagines Winnipeg's remaining urban railway site: the Dufferin rail yard and the neighbourhood of North Point Douglas. The project presumes that plans to relocate the railyard to the city's outskirts are complete and pursues an adaptive reuse strategy for the existing infrastructure and one of its vacant industrial buildings, the Vulcan Ironworks warehouse.
Point Douglas is a challenged neighbourhood despite being close to the city's core. Divided by the railway from Winnipeg's downtown and historic Exchange District, the community is an urban food desert with no major grocery within a 4km radius. 
The proposed masterplan and adaptive reuse project will house an urban food production program to stimulate socio-economic development and reconnect Winnipeg's downtown with its North End. Through growing, sharing, and cooking, Symbiosis City will unveil the unseen food production network and transform a dormant warehouse into a cultural hub that brings diverse ethnic groups together in the heart of the city.
Leveraging the successes of other large-scale adaptive reuse projects in Canada, such as Vancouver's Granville Island, Toronto's Distillery District, and Winnipeg's Forks, this research transforms a derelict industrial site into a vibrant community hub. Symbiosis City creates a holistic model of urban agriculture at macro and micro scales, transforming national railway infrastructure into regional food networks while celebrating local arts and food culture. The research proposes a new typology that combines the production, distribution, processing, and sharing of food. 
---
1 Architecture 2030, Existing Building Actions, https://architecture2030.org/existing-building-actions/
2 Napell, Gail, and Bretana, Anne. The Adaptive Reuse Revolution: Reuse strategies at every scale are cost-effective with reduced carbon impact. Gensler. https://www.gensler.com/climate-action-2021-the-adaptive-reuse-revolution. Accessed Nov 21, 2021.