Student experience
St John's College members benefit from social events, community outreach, study space, academic and mental health and spiritual supports.
Thrive at St John's College
Writing tutor
Make an appointment with a Writing Tutor from the Academic Learning Centre. Special St John's College Office Hours, Wednesdays 12 p.m. - 3 p.m., in the St John's College Library.
St John's College Student Association (SJCSA)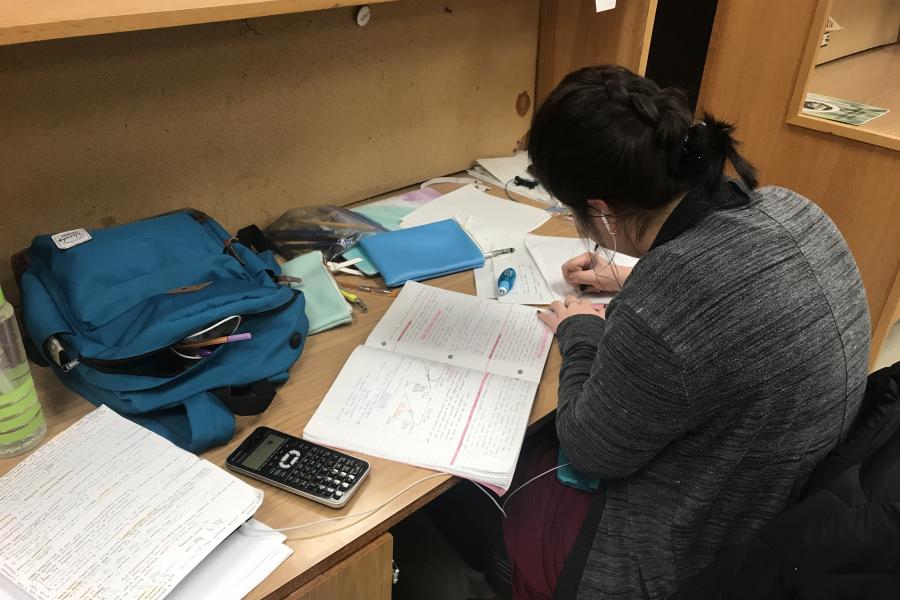 Study carrels and lockers
SJCSA offers St John's College students Study Carrel and locker space.
The University of Manitoba Campus is currently closed due to COVID-19. Therefore, applications for carrels and lockers are currently unavailable until further notice.
When campus opens up again, come back to this space to get your Carrel and locker application.
Meet your SJCSA
Meet your 2020 SJCSA
Senior Stick – Breanna Duncan
Vice Stick – Mercy Shwaykosky
Treasurer – Hayley Shirtliff
Jr. Treasurer – Cassie Jasnikowski
Chairperson – Quinn Boyko
UMSU Representative – Hugo Ko
Assembly Representative – Lucas Jasnikowski
Co-President of Residence –
Co-President of Residence –
Co-Programmer – Zlata Odribets
Co-Programmer – Rashawna Blair
Student Services Director –
Communications Director – Carrie Livingston
Sports Representative – Kalid Salami
Co-Community Outreach - Nathalie Kaboha
Co-Community Outreach - Fiona Dunn
Sustainability Coordinator - Mark Livingston
First Year Day Representative –
Member at Large - Cole Thomas
Member at Large - Sarah Cromb
Member at Large - Jasmine Wood
Breanna Duncan
Breanna Duncan is currently studying within the Faculty of Arts. Breanna joined St John's College in her first year of university. Throughout this time Breanna has heavily immersed herself within the St John's College community. During her time on council Breanna has worked diligently to foster a sense of volunteerism as Community Outreach Representative through fundraising and volunteering for charitable organizations such as Make-A-Wish Foundation and Ronald McDonald House Charities.
Breanna has also been active member of other communities, serving as two-term President of the Undergraduate Psychology Students' Association, through liaising with the department, Breanna served as a voice for psychology students as the Undergraduate Representative for the Canadian Social Psychology Research Chair Search Advisory Committee.
In her spare time, Breanna enjoys volunteering at her church, where she helps to teach Sunday school to the four- and five-year children. Breanna also loves playing sports such as tennis, badminton and basketball! As Senior Stick, Breanna aspires to foster that sense of community and involvement amongst other students as well."
Mercy Shwaykosky
Mercy Shwaykosky is an English Literature major in her third year of study. She has been a member of St John's College for three years and served as a member of the St John's College Student Association for two. During her time as a council member, Mercy has worked to plan and execute fun and memorable activities for the college at large. Mercy has also been an active member of other student organizations and currently serves as an editor for the Arts Tribune and as Governor for the English, Theatre, and Film Students' Association. In her spare time, Mercy is an active person who enjoys running, hiking and all back-country activities. She is also a caring mother of a fluffy labradoodle who ardently enjoys playing fetch. As Vice Stick, Mercy aspires to foster a community that is inclusive and rich with opportunities for all students.
Kalid Salami
Kalid Salami is a third year political studies major. Kalid's has a strong desire to impact positive in change every realm of his life. This strong desire fostered his decision to study politics and joining the St John's student council. Kalid has served the sports representative for the SJSCA for two consecutive years. During his time on council Kalid dedicated time to putting events together for the college and volunteering where help is needed on behalf of the college. During the two-year period Kalid captained the college basketball, dodgeball and football (soccer) teams. Under Kalid's leadership the St John's soccer team were crowned intramurals champions in both fall 2019 and winter 2021 terms. Kalid, is eager to continue to contribute to the growth of the college.
Nathalie Kaboha
Nathalie is from New Caledonia, and is pursuing an inter-faculty degree with an Arts major in English Literature and a Commerce marketing minor in Business Management at Asper. She joined the St John's College Student Council in 2019 and is a common fixture in the carrel room and at the Daily Bread Café. In her campus life, Nathalie is passionate about writing, reading, charitable causes, leadership and all-around good times. She is the president of Alpha Gamma Delta, one of our campus sororities, in which she enjoys an active social and philanthropic life in their focus on fighting hunger. You've probably seen her at many a bake sale on campus, raising funds for Winnipeg Harvest and Siloam Mission!
Nathalie is also one of the editors of the Faculty of Arts' literary magazine, The Arts Tribune, for which she loves organizing literary events and champagne launches. She has enjoyed many years volunteering as a language partner for UM's Intensive English Program. Off campus, Nathalie loves lunches and game nights with her sorority sisters, travelling around the world, cuddling her cats and running. She is excited to serve as our Community Outreach Representative to pursue her passion for philanthropy and bring our members together for fun, charitable events!
Carrie Livingston
Carrie Livingston is a fourth year Asper student majoring in Human Resource Management and Marketing. She has been a member of St John's since her first year of university and joined the SJCSA in her second year as the Communications Director. Carrie is also the Director of Internal Promotions for the Asper Students Co-op Association. In her spare time, she enjoys playing sports like fastpitch, volleyball, ringette and hockey. For volunteer work she likes to knit and makes, toques, scarves and headbands to give to The Lutheran Urban Ministry. Continuing as the Communications Director for her third year, Carrie plans to engage with St John's members more by posting more on various platforms and aspires to create more informative posts about what is going on in the lives of St John's students.
Rashawna Blair
Rashawna Blair is currently a fourth-year student in the Faculty of Science. This is her first year becoming involved with the St John's College community. As a Programmer, Rashawna hopes to provide St John's College students with opportunities to make differences in the lives of others. Rashawna has been very involved in campus life. She has been a Healthy U volunteer and UMSU Member Services Committee member. This year, Rashawna is serving as the Science Student Association's Director of Special Events. Rashawna enjoys playing sports in her spare time and looks forward to the upcoming school year!
Fionna Dunn
Fiona Dunn is a fourth-year student at the Asper School of Business, having received direct entry from high school. With her majors in Human Resource Management and Leadership and Organizations, she looks forward to pursuing a career as an HR Consultant with her CPHR. Fiona joined St John's College in her first year of university to make connections on campus. In her second year, she became a Member at Large on the SJCSA, having the opportunity to plan the successful "Puppies and Bake Sale" event. She held the Co-Community Outreach position, planning volunteer and fundraising events for students and SJC members last year, and is excited to plan even more events this year with her partner, Nathalie.
Fiona's favourite events have been the Paint Night in support of the Bear Clan and her "Puppies and Bake Sale" for Manitoba Mutts. She also is the Executive Assistant for the University of Manitoba Human Resources Association, and on the HR Team for JDC West. She is passionate about her sorority, Alpha Gamma Delta, and holds the positions of VP Chapter Wellness and VP New Member Experience. Off campus, Fiona plays hockey, rugby and curling competitively, and volunteers as a coach for girl's rugby and curling. To relax, she likes to play with her pet chinchillas, Dusty and Dallas, and read.
Quinn Boyko
Quinn Boyko is a fourth-year science student aspiring to be a dentist. Quinn joined St John's College in his second year and has thoroughly enjoyed the carrel room. Outside of St John's College, Quinn is an avid member in his fraternity, Delta Kappa Epsilon and is currently holds role of pledge trainer. Some of his hobbies include playing hockey, restoring cars, and drag racing. As chairperson, his main goal is to ensure that meetings happen efficiently and on time.
Cole Thomas
Currently, Cole Thomas is studying in his final year of English and minoring in philosophy. Cole joined St John's College Student Association in the previous year and since then has contributed to many of the volunteer efforts undertaken by the association. Besides volunteering with the SJCSA this year, Cole is also the chairperson of the English, Film, and Theatre Students' Association and an Editor for the Arts Tribune. In all these groups he strives to cooperate with, and assist, his peers. He has a sense of humour.
Hayley Shirtliff
Hayley Shirtliff is currently in her third year of university working towards an Agribusiness degree within the Faculty of Agricultural and Food Sciences. Hayley became a member of St John's College her first year of schooling and was elected onto the St John's College Student's Association in her second year as the council treasurer, a position which she will continue to hold this year as the senior treasurer. Throughout her time with the College Hayley has enjoyed the sense of community within St John's and the opportunities to give back that have been provided. Hayley has also had other opportunities to get involved on campus and is currently a member of the Faculty of Agricultural and Food Sciences Student Organization as well as an ambassador for her faculty. In her spare time Hayley enjoys spending time with friends and her pets, as well as playing hockey and ringette. As a returning member to council, Hayley hopes to continue to be involved in volunteering with fellow students and is excited to attend many SJCSA events throughout the year.
Lucas Jasnikowski
Lucas Jasnikowski is currently in his first year of studies at the University of Manitoba. In addition to pursing his Bachelor's degree Lucas is one the newest members of the St Johns Council where he serves the role as Assembly Representative. While Lucas is new he looks to give back to the community and be involved within St Johns College. Lucas is also an avid volunteer who enjoys spending his time volunteering at places such as Ronald McDonald House, Koats for Kids and Siloam Mission to name a few. Lucas is also a former student athlete and now a volleyball coach for young athletes. He looks to not only teach players the ins and outs of the game and further develop their skill's, but also build on teamwork and sportsmanship, which he believes are two of the most important skills a player can posses.