Science Rendezvous
Science Rendezvous 2023 was a blast and we cannot wait to welcome you back in spring 2024!
Thank you to everyone who joined us this year. All the details for Science Rendezvous 2024 will be announced here so make sure to check back and join Manitoba's largest hands-on science and engineering festival at the University of Manitoba, Fort Garry Campus.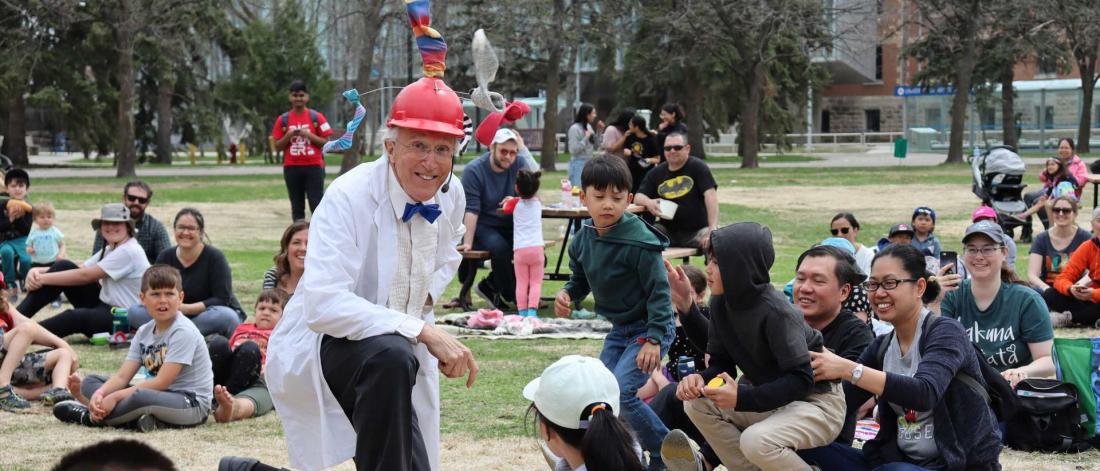 Schedule and map
Exciting updates coming soon! Science Rendezvous 2023 may be over, but we're busy with Science Rendezvous 2024, coming next spring!
Shows
Stay tuned for updates on shows for Science Rendezvous 2024 coming next spring!
Booths
This year's interactive booths came from across faculties and several community organizations.

If you are interested in having a booth or hosting an activity at next year's Science Rendezvous, please contact us. The application for booths and activities will open in November.

Here are a couple of them from Science Rendezvous 2023: Oobleck run, Code Cobras, Human-Computer Interaction (HCI) Lab, Math Mania, Plinko, Giant Bubbles, Chromatography Flowers and DNA Extraction.
Get involved
Science Rendezvous is an event put together and hosted by volunteers.

If you are interested in being part of the Executive Committee planning the event, please see the volunteering handbook below.
Featured events in the previous years