Department of Respiratory Therapy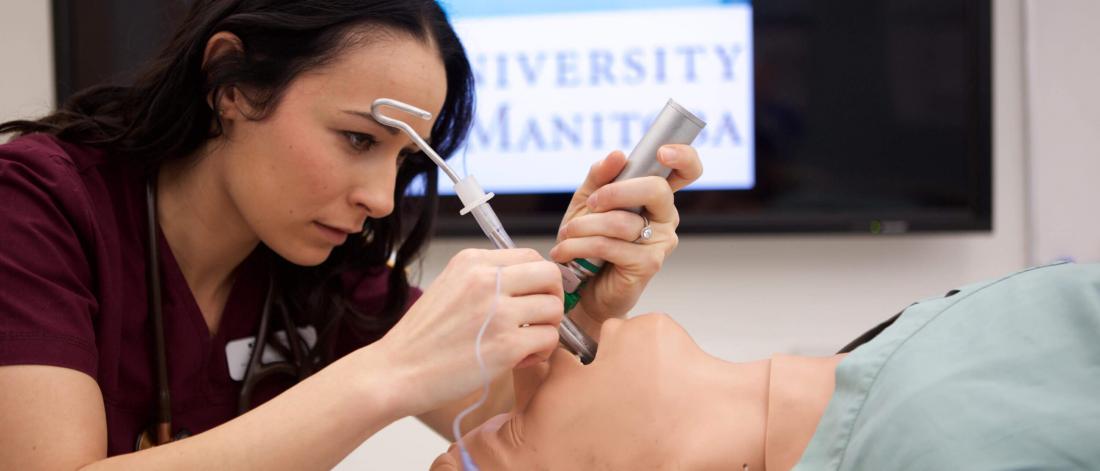 Clinical course information
Clinical courses provide students with first-hand experience within hospital and clinical settings.
Clinical course goals
Clinic course goals include:
Participate in the performance and delivery of safe patient care
Integrate this role into part of an inter-professional care team
Demonstrate competence in a selection of related competencies as outlined in the National Alliance of Respiratory Therapy Regulator Bodies National Competency Framework
Demonstrate proficiency in didactic background knowledge pertaining to the clinical practice area
Reflect on experiences and self-assess performance throughout the course focusing on the theory, knowledge and skills performed in clinical practice
Uphold professional standards of practice as they relate to the profession.
Demonstrate the basic principles of occupational and patient safety relating to respiratory therapy.
Clinical instructors
Each site has a designated clinical instructor to oversee and support students' clinical education experiences at the particular site.
Students will be assigned a preceptor staff member of the department of respiratory therapy to facilitate achievement of the clinical competencies and objective of the course.
Students and preceptors will work collaboratively to plan and work towards achieving skills, attitudes and values which encompass the competencies throughout the duration of the course.
Costs
Please note that costs associated with clinical courses are the responsibility of the student.
Evaluations
Daily evaluations are completed by preceptors or clinical instructors. This method of formative evaluation and feedback will provide the student time to improve their performance before the final evaluation is completed. Students will be given the feedback necessary to improve performance and progress to competent. Feedback should be provided on students' strengths and weaknesses and areas to focus on so they can successfully achieve the course goals. Daily evaluations from preceptors may differ from person to person. Be open to constructive criticism and view that as coaching or mentoring to become a better therapist in the long run.
Final formative student assessments are completed by the site clinical instructor or designate at the end of the course.
Every attempt should be made by both the student and the clinical instructor to arrange a meeting between the clinical instructor and the student to discuss the final evaluation before the student completes the course. The clinical education coordinator for the program reviews all final assessments.
Final assessments are reviewed by the clinical education coordinator to ensure students are progressing through the clinical year as expected, without repeated incident, or safety concerns, throughout the clinical year. Patterns of inadequacy in clinical courses will be flagged and may result in progression delay as determined by the clinical education coordinator and department head based on unsatisfactory performance.
All evaluations are shared with the student via the CompKeepr System. All evaluations are accessible to the clinical course coordinator.
Grading
Clinical courses are graded on a pass/fail basis, reflecting successful completion of all elements. No letter grade will be given for clinical courses.
Personal devices
Use of a laptop or tablet is permitted upon the discretion of the clinical site. DO NOT take laptop or tablets into patient care areas.
Use of cell phones and the cellular communications capabilities of other electronic devices in the clinical learning environment are only permitted for educational purposes.  Activities such as making telephone calls, texting or social media are NOT permitted. You may be asked to leave the clinical site if you are found to be using your cell phone inappropriately. Please turn cell phones off or switch to silent mode and disable the cellular functions of other devices when participating in all clinical learning activities.
Supplies
Students are required to have the following items:
Three to five pairs of scrubs
Stethoscope
Comfortable and appropriate shoes
Notepad
Electronic device such as a tablet, smartphone, or laptop computer to access CompKeepr
Transportation to and from clinical sites
Scheduling
Students may be scheduled to undertake clinical education coursework at any time throughout year three of the program. The typical schedule is as follows:
Year 1 – RESP 1460 Basic Fieldwork 1 - 4 weeks – May
Year 2 – RESP 2380 Basic Fieldwork 2 - 4 weeks – June
Year 3 – All clinical courses take place beginning the third week in August and end the last week of April
During extenuating circumstances clinical courses may be rescheduled. Students will be notified of clinical course schedules in advance as much as possible.
Weekly schedules will be determined by the clinical education coordinator, in collaboration with the clinical sites. Schedules will be communicated to the students in advance of commencement of the clinical education course by the clinical education coordinator.
Successful completion
In order to successfully complete a clinical course, students must:
Demonstrate multiple and variety of attempts to complete all clinical competencies associated with the course
Obtain the minimum threshold level outlined as a PASS, and have each competency signed off the specified number of times listed in the CompKeepr system
Maintain adequate clinical hours required in  this  course. The clinical  education coordinator will contact you if there is any concern regarding excessive absences in a course.
Complete clinical course and clinical site evaluation at the end of this course via CompKeepr
Complete the self-assessment and reflective components required for the course
Note: Some Competencies may be associated with multiple courses. If the competency is listed in other clinical courses, you may have the opportunity to be evaluated for those competencies in different courses and you may achieve sign offs in multiple courses throughout the year.
By the end of Year 3, all competencies must be signed off by the clinical preceptor or clinical instructor, or have been achieved through simulated scenarios if the competency is not able to be practiced in the clinical setting.
Travel
At times, students may be required to travel outside Winnipeg for education courses. Students may be responsible in full or in part for costs related to travel, accomodations.
Note: students must complete mask fit testing, show proof of immunizations and undergo annual security checks to be eligible for clinical placements. Additional details are available on the college's resources page.
Internationally educated health professionals
You may also be looking for
Contact us
College of Rehabilitation Sciences
R106 - 771 McDermot Avenue
University of Manitoba
Winnipeg, MB R3E 0T6 Canada