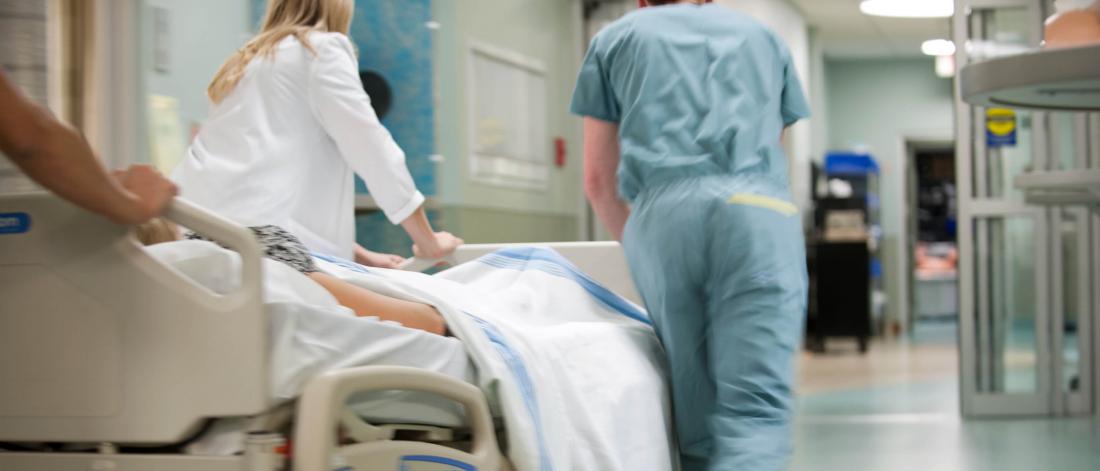 What we offer
We are proud to offer education at the undergraduate and postgraduate level, training the province's next generation of emergency medicine physicians.
Continuing Education and Professional Development
Intro text
Ultrasound (postgraduate and CEPD ultrasound programs)
With the growing demand for bedside ultrasound utilization for both postgraduate and undergraduate trainees as well as for continuing professional development among staff physicians, the ultrasound section within the department of emergency medicine (DEM), led by Dr. Chau Pham, is an integral part of the academic curriculum for emergency residents and staff physicians.
Objectives
The ultrasound objectives and training modules are consistent with the Royal College in-training objectives, the national Canadian Point-of-Care Ultrasound Society (CPoCUS) guidelines, as well as the Canadian Association of Emergency Physician's (CAEP) position statement. 
Curriculum
From the implementation of a formal postgraduate ultrasound curriculum in 2011, training in point-of-care-ultrasound (POCUS) continues to be a mandatory skill required for Royal College certification as well as a critical skill for Emergency Physicians to possess in order to improve patient care. The ultrasound curriculum has been designed to include two tracks, core and advanced. 
Modules
The postgraduate residency ultrasound curriculum has been designed to include two tracks, core and advanced.
The core ultrasound modules are delivered to incoming junior residents (R1/2/CCFP-EMs/PEM fellows) to prepare residents to obtain their IP-core status in eFAST/Cardiac/Aorta/1st Trimester OBs. At the end of the academic year, the junior residents participate in a directly supervised 50 scans & IP exams course for certification with standardized patients while ensuring that at least 1/3 of the scans contain pathology patients. 
The advanced modules delivered to the senior residents (R3/4/5s), include new focused POCUS applications for:
Diagnosis (renal/bladder, gallbladder, DVT, ocular) 
Resuscitation (advanced cardiac, pulmonary, IVC, EGLS/RUSH protocols)
MSK (soft tissue, bones/joints)
Needle guidance (ortho procedures, nerve blocks, foreign body, lumbar puncture, thoracentesis, paracentesis, peripheral & central lines)
The advanced curriculum runs on a two-year cycle. R3/4 residents also obtain their CPoCUS IP-Resus certification biennially.
The ultrasound modules based on the flip-classroom model, run on a horizontal curriculum embedded within the residents' academic day sessions.
Each module contains a didactic portion with both online and live lectures followed by hands-on practice scanning on both pathology and standardized models. For quality assurance and for the advanced applications of POCUS, the ultrasound training modules continue to be proctored by ERPs who have obtained their IP/TI/MI status, fellowship-trained, or are specialists with a focused niche. Bi-Monthly clinical POCUS vignettes are incorporated into the ultrasound curriculum with real patient cases to deliver teaching pearls with EBM and stimulate group discussion.
Apprentice-Instructorship program
After obtaining their IP status, residents are expected to participate in the Apprentice-Instructorship (AI) program. AIs team-teach and are directly observed by Faculty instructors as they take on leadership roles to proctor junior learners to consolidate their knowledge and skills. This ensures the department creates a strong cohort of POCUS instructors who deliver high quality teaching. Interested residents are also encouraged to take part in an advanced ultrasound elective to enhance their skillset as well as ultrasound research and present their findings at Resident Research Day and national conferences. 
In addition to creating a strong postgraduate ultrasound training program, the ultrasound section consisting of high caliber POCUS faculty instructors continues to offer quality continuing professional development workshops and courses for staff physicians. The POCUS CPD courses at UM has been superbly ranked by staff physicians for its organization, high instructor to learner ratio, and the incorporation of pathology patients to simulate the real clinical world. The emergency medicine department at the UM is a key leader on the national stage for POCUS education. CPD courses that have been offered by the section of ultrasound include the following:
IP-core certification course
IP-resuscitation certification course
IP-diagnostic certification course
IP-MSK certification course
EGLS course
Palliative/oncology course
Soft tissue and foreign body workshop
Peripheral and central line workshop
The ultrasound program continues to expand on the multitude of POCUS applications offered through CEPD.
The ultrasound section continues to expand in the areas of knowledge and skill training, research and scholarly work, as well as continuing professional development. Residents and staff physicians report that the ultrasound training has increased their confidence levels with image generation and with their ability to safely apply POCUS to improve standard of care for their patients.
Professional sustainability and wellness
Within the emergency medicine department, the High Performance Physician (HPP) course and the FRCP Mentorship have played complimentary roles in the professional sustainability and wellness program of our staff and residents. 
 
High Performance Physician (HPP) course
The primary objectives of the HPP course are to provide medical trainees and staff with mental skills and strategies that have been demonstrated to minimize the impact of human factors in performance, optimize psychological preparedness to perform, and lead to enhanced well-being. HPP, which was initiated in 2012 within the emergency medicine department, has been offered to the departments of family medicine, surgery, internal medicine, pediatrics, anesthesia, obstetrics/gynecology, radiology and the cardiac sciences. HPP is tailored to help learners meet the demands of their residency programs and addresses the need for applicable strategies to help physicians perform and cope moreeffectively in their professional and personal lives.
HPP lead instructors, Drs. Jason Brooks and Aman Hussain, are experts in their field. In addition, the rewards of a rich mentoring relationship from the mentorship program benefits mentors and mentees, and also their department, institution, the organization, and the specialty. 
 
Professional sustainability and wellness
The goal of the Professional Sustainability and Wellness Committee is to support the department's vision of long-term professional sustainability and wellness for emergency medicine faculty and residents. The ultimate reward is improved team function, better management of conflict, better care for patients, and quality enhancement. Gratitude and wellness initiatives to improve workplace civility is invaluable. It creates solidarity, psychological resilience and sustainability of a healthy work moral for the team. A team that functions in solidarity provides better patient care from a shared vision and mission.
Department research
Our research program has grown substantially in the past decade. Directed by Dr. Murdoch Leeies, we are developing particular strengths in the fields of ultrasound and critical care research. Our efforts have resulted in a multitude of peer-reviewed publications, poster presentations and funding awards.
We are the proud hosts of one of Canada's leading emergency medicine ultrasound programs run by Dr. Chau Pham.
With strong ties to local emergency medical services, we offer multiple emergency medicine residencies and enhancement programs.
Our growing emergency medicine research program has produced over 100 publications in the last three years.
Contact us
Emergency Medicine
S203 Medical Services Building
750 Bannatyne Avenue 
University of Manitoba (Bannatyne campus)
Winnipeg, MB R3E 0W2 Canada