Jurists of Robson Hall
Wishing to formally recognize the exceptional contributions made to the University of Manitoba's Faculty of Law Juris Doctor program, Dean Richard Jochelson began designating long-time community members as "Jurists of Robson Hall."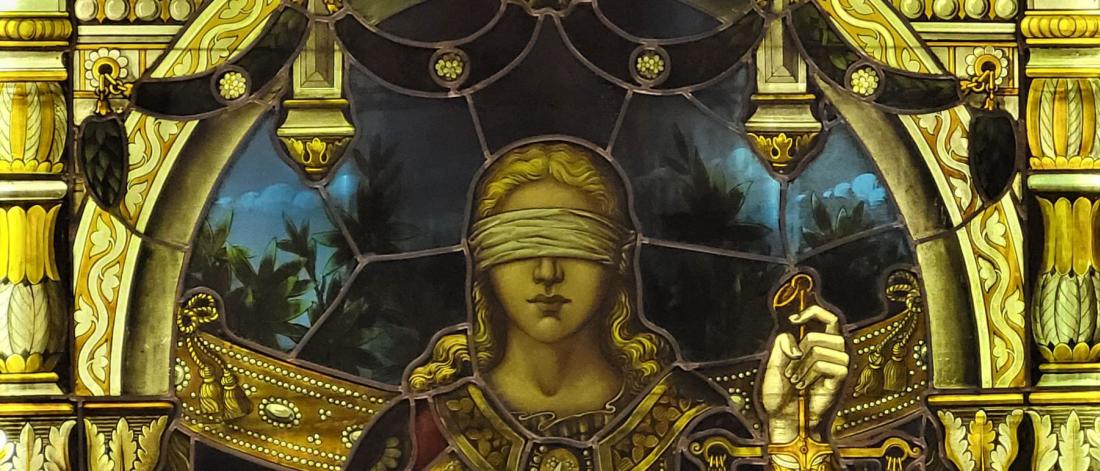 "Justice" by McCausland and Robert
The Faculty of Law would like to formally recognize your many years of teaching service as a Practicing Professional at the University of Manitoba by presenting you with this enclosed plaque. The guidance you provide to our students is one of the greatest gifts this law school could receive from this community. Our partnership in educating prospective members of our profession is part of what makes the Manitoba legal community a special place.

Thank you for your dedication in educating future generations of lawyers. The years of experience in the practice that you bring to the classroom are invaluable. You help our students chart their own path while signposting the road that they will travel.

At Robson Hall, we value the classroom as a place where theory and practice meet. You are the lifeblood of this enterprise. We are proud to call you a Jurist of Robson Hall.
Dr. Richard Jochelson
Dean of Law
2023 Jurists
In 2023, the following individuals were recognized as Jurists of Robson Hall.
Silvia de Sousa
Grant Mitchell
2022 Jurists
In 2022, the following individuals were recognized as Jurists of Robson Hall.
Natasha Brown
Jessica Dillon
Karen Dyck
Serena Ehrmantraut
Gregory Evans, K.C.
Lisa Fainstein
Allison Fenske
Jeffrey Gindin, K.C.
David Gisser, K.C.
Bailey Harris
Laurelle Harris
Nichole Cyr Hiebert
Jeffrey Hirsch
The Honourable Charles Huband
Sarah Inness
The Honourable Timothy Killeen
Ami Kotler

Frank Lavitt
Sarah Lugtig
James McLandress, K.C.
Maria Mitousis
Wayne Onchulenko
Sacha Paul
Shoshanna Paul
Sergio Pustogorodsky
Melissa Serbin
Nick Slonosky
Stacey Soldier
Dan Torbiak
Robert Tyler
Michael Walker
Eleanor Wiebe, K.C.
Jon Woolley
The Honourable Raymond Wyant
The Faculty of Law congratulates these individuals and celebrates their generosity and selfless hard work!
Connect with us
Contact Us
Faculty of Law
224 Dysart Road
University of Manitoba
Winnipeg, MB R3T 2N2 Canada
Our office is open Monday - Friday, 9:00 a.m. to 4:30 p.m.