Summer Welcome
Welcome new Bisons! We are excited you will be joining us in Summer 2021. Below you will find virtual events designed to help you get ready for your first academic term.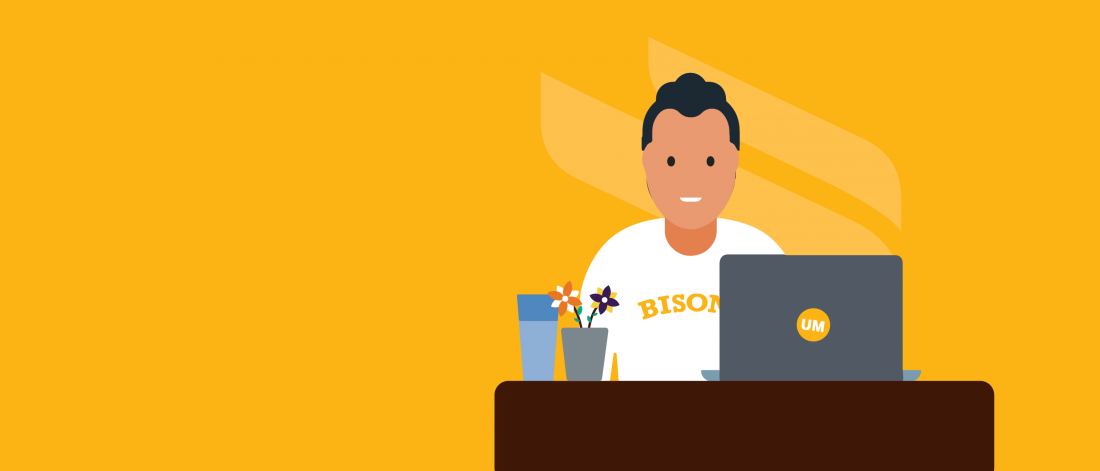 Summer Welcome 2021
To help you get ready for the start of Summer term
The beginning of a new term is always exciting, but what makes Summer 2021 more special is that YOU are now joining us as a UM student! We've got a number of activities planned to provide you with all the info you'll need as you begin your university studies. Discover all the great supports we have at UM, get academic prep, and explore opportunities to connect with other students at UM. 
We are so happy that you are joining us, new Bisons! Welcome to the University of Manitoba! Welcome to the Herd!
 
The University of Manitoba is strongly committed to equity and diversity. Accessibility accommodations and/or disability related supports are available for all events. Contact student_accessibility@umanitoba.ca or call 204-474-7423.
Ready, Set, Go!
The 3R's to Success: Rights, Responsibilities and Respect in a Remote Learning Environment
Remote Learning. Getting Started.
Study Smarter, Not Harder…
Academic Writing: Understanding Assignment Instructions
Get Ready to Register for Summer
This session introduces you to the First Year Planning Guide, the primary tool you will use for course selection now, and throughout the first year of your degree program. Get Ready to Register for Summer is designed to help students make good decisions around course selection and registration. Summer term is unique because most courses are offered in a condensed format. This makes being strategic with course selection and load critical. We'll guide you through the process, so you'll feel confident making choices that work for you!
March 25 | 2:00 p.m. (CST)
March 26 | 9:00 a.m. (CST)
UM Essentials
You've registered for courses and now it's time to complete UM Essentials!
UM Essentials is intended to help you prepare for your studies at the University of Manitoba. After complete UM Essentials you will be able to:
Explain your rights and responsibilities as a new student joining the University of Manitoba community.
Locate resources for navigating all areas of life as a new student.
Identify and implement strategies for effective online learning.
Summarize expectations for academic work.
Recognize opportunities for personal skill development and community engagement.
Demonstrate proficiency in using UM Learn.
All first year students must complete UM Essentials.  You will receive an email to your @myumanitoba.ca account with instructions on how to access UM Essentials, once you have been enrolled in the course.  Notifications will be sent beginning April 12, 2021.
April 28 - May 7 International Centre Orientation
The International Centre has organized a Spring Welcome Session to help you prepare for life as an international student.  You'll find out about:
The University of Manitoba and the International Centre
Canadian culture and the academic culture at UM 
Indigenous history and reconciliation in Canada
International student health insurance
Renting housing in Winnipeg
Writing essentials for International students
May 6, 2021 Summer Welcome Day
What you can expect on Welcome Day...
Sessions designed specifically to help you transition into university studies.
Summer Welcome will:  
connect you with advisors, other students and share tips and tricks as you begin your classes remotely;
help develop your academic writing, time management, and study skills;
introduce you to U of M resources where you can find help and support;
help you explore all that the U of M has to offer, both inside and outside the classroom! 
Registration for Summer Welcome Day sessions will open soon.
9:00 - 10:15 | Ready, Set, Go!
Everything you need to know to start classes and have a great term! Join us to learn what you should expect as you begin U of M courses.  Learn how to access and complete your courses remotely, some of the differences between high school and university, and where to get help if you need it. Take a tour of your course hub, UM Learn, and find out what to do on the first day of classes.
10:30 - 11:15 | The 3R's to Success: Rights, Responsibilities and Respect in a Remote Learning Environment
The shift to remote learning due to COVID-19 has presented many new challenges for university students. Navigating your rights, responsibilities, and academic integrity standards in online classes can be confusing, especially for new students. We'll give you the tools that you need to understand the expectations for learning in on online environment.
11:30 - 12:00 | Remote Learning. Getting Started.
Prepare for online/remote learning with strategies for setting up your space, structuring your time, managing course content, and planning study sessions.
12:30 - 1:15 | Study Smarter, Not Harder…
Learn effective and practical study strategies that will help you understand and remember more course content.   Keep on track while studying independently by creating a realistic study schedule and sticking to it!
1:30 - 2:45 | Academic Writing: Understanding Assignment Instructions
Prepare to write academic essays by discussing example assignments and talking to experienced students about what they have learned about writing at the university.