International student orientation and welcome
Studying in a new country can be both exciting and overwhelming. To help international students with their transition to Canada and the University of Manitoba, the International Centre offers orientation and welcome programming at the beginning of each term. Get the information you need and connect with other international students going through the same experience.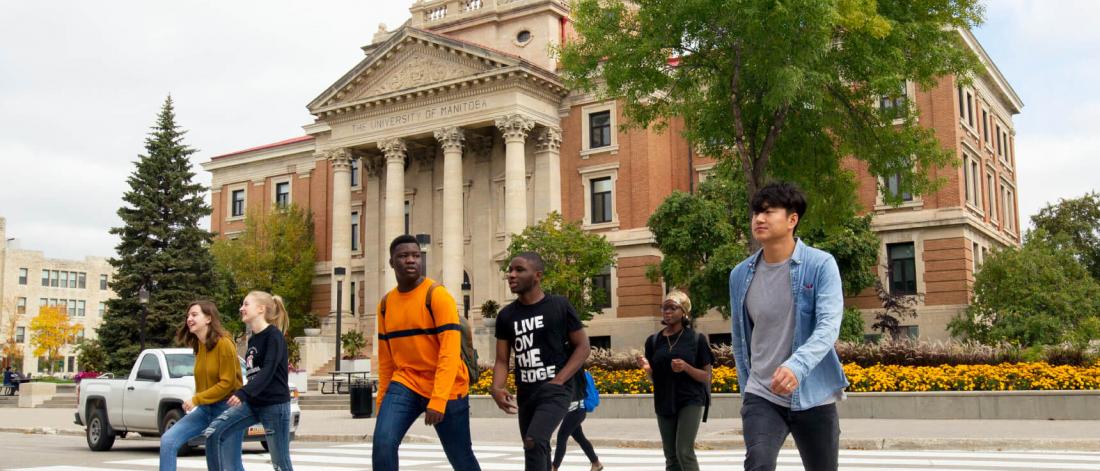 Pre-arrival information
Start with pre-arrival information to learn what you need to know before you arrive in Canada.
Review International Student Resource Page
Review the information on our Student Resource page, for everything you need to know to get set up and settled in Winnipeg, including housing, setting up a bank account, budgeting, avoiding scams, transportation, where to buy winter clothes, where to shop and more!
UM Essentials Online Orientation (undergraduate students)
All first year undergraduate students must complete UM Essentials.  The course opens April 17.
It is expected to complete UMEssentials before attending Orientation programming.
 You will receive an email to your @myumanitoba.ca email when you have been enrolled in the course. We do enrollments once a week, after you have accepted your offer.
To access the course,

log in to UM Learn

using your UM Email. 
#UMGradGoals (for graduate students)
Graduate students can plan your success with #UMGradGoals. 
UMEssentials is not available for Graduate students
International Student Orientation
To help you prepare to start your studies, we have designed International Student Orientation and Welcome sessions specifically for international students. We offer sessions several times per year.
To register, you need to sign up with your University of Manitoba @myumanitoba.ca email account.
International Student Welcome Session - May 30
Tuesday, May 30, 2023, 544 UMSU University Centre
9:45 am – Sign in
10 am – Session starts
3:00 pm – Session ends
Lunch will be provided and prizes draws!
WHY SHOULD YOU ATTEND?
Meet other students

from around the world

Learn about Winnipeg and the University of Manitoba

(UM), including how to access medical care and how to use your health plan.

Learn about Canadian culture and cultural differences

both in and out of the classroom setting

Understand UM's expectations

for completing academic work and completing your studies with integrity

Get to know our beautiful campus and the facilities

available to you

Have fun!
Registration is required. Registration closes May 24, 2023.
Welcome Sessions
These sessions will help you be informed, healthy, and successful as you transition to the University of Manitoba.
Check back our listing of upcoming workshops for the Fall term!
Past Session Recordings
Please select the topics below to access recordings of past virtual workshops.
Indigenous History and Reconciliation in Canada
How does reconciliation relate to me? Learn about the Indigenous history in Canada and reconciliation in the Canadian context.
Checklists
Select the plus sign (+) to expand the checklists below.
Before you arrive in Canada
Here is a list of some important things to consider before you arrive in Canada:
As an international student at the University of Manitoba, you will be a part of our mandatory health coverage plan with our local provider, Blue Cross and Student Care. Newly enrolled international students have emergency-only coverage for one month before their first term at the University of Manitoba.

Review the Manitoba International Student Health Plan (MISHP) coverage and effective dates. 
For this reason, it is always smart to purchase travel insurance before leaving your home country, to ensure that you have medical coverage from the date you leave your home country until after you have arrived in Manitoba. 
Confirm with the insurance provider if your coverage will include any medical costs related to COVID-19. Not all insurance providers cover these costs.
It is important to know that your student health coverage will not be effective elsewhere in Canada, and cannot be used until you first arrive in Manitoba.  

Review Immigration, Refugees and Citizenship Canada (IRCC) website for important information to consider before making a final decision to leave your home country. 
Make a photocopy of or scan your airline tickets and important documents in case the originals are lost or stolen. Keep the photocopies in a safe place, but not in the same place that you keep the originals (for example, save photos in your email account).
Keep emergency phone numbers with you at all times. The following phone numbers are recommended: 

your country's embassy, consulate or high commission located in each country through which you travel 
Security Services at the UM (204-474-9341, collect) 

Confirm the baggage restrictions for each airline you will use.
Confirm the time that you should arrive at the airport and ensure to arrive in plenty of time to check in. Many international flights require passengers to arrive two to three hours before the scheduled departure time. 
Pack your own baggage and never leave your bags unattended. 
Label all luggage clearly. Try to use luggage tags with flaps to hide your name and deter theft. 
Keep a small amount of local currency so you can pay departure taxes and purchase snacks during stop-overs. Contact the airline(s) or your travel agency in advance to find out how much the airport tax will be and how you can pay it at each airport you will use. 
Carry a credit card or small amount of Canadian dollars so you can pay for a taxi, if necessary, upon your arrival in Winnipeg. 
Make sure you have all of your important documents in your carry-on bag (NOT your checked luggage, in case it gets lost or you require them after you have checked your luggage). Examples include:

passport
airline tickets
credit cards and money
record of immunization 
list of medications you require 
driver's licence, if you have one

If you will arrive in Canada between October and April, bring an appropriate jacket to wear upon arrival. Learn more about preparing for winter on our resource page.
Undergraduate Student Checklist
Graduate Student Checklist
Prepare for Graduate Studies as an international student with this checklist.
Download the UM mobile app to take advantage of the checklist for new international students.
Additional orientation resources
Volunteer with the International Centre Orientation & Welcome Events! Volunteer Opportunity
Help new international students get familiarized with their new country and university!
Contact us
Crystal Stewart
International Transitions Coordinator
541 UMSU University Centre
75A Chancellors Circle
University of Manitoba (Fort Garry campus)
Winnipeg, MB R3T 2N2 Canada