Reunions
We're so excited to welcome our alumni who are celebrating milestone reunions back to UM this year! We can't wait to celebrate with you!
Alumni reunions are an opportunity to reunite, reconnect, and reminisce with your former classmates. To honour traditions and make new ones. And, most importantly, to celebrate you!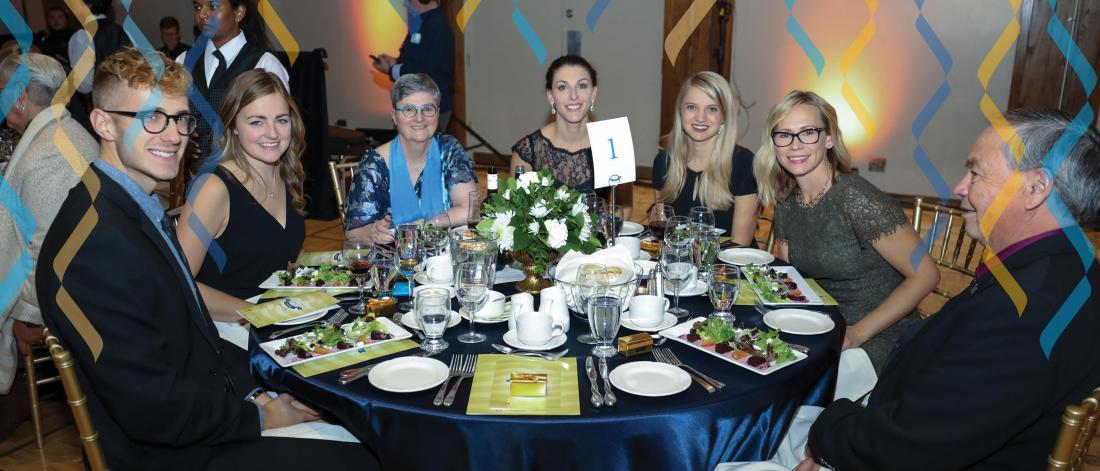 Reunions
Plan your reunion today!
Plan your next reunion
Whether you are celebrating a milestone anniversary, the pandemic paused your plans, or you simply want to reconnect with your faculty, program, team or club, we are here to help!
If you graduated in a year ending in 3 or 8, you're celebrating a milestone graduation anniversary this year.
While many reunion organizers choose to hold their celebrations during Homecoming (save the date for Sep 19-23, 2023), the Alumni Relations teams can assist groups wishing to get together to celebrate a milestone or establish a class gift at any time of the year.
What to expect
Alumni relations will provide reunion leaders with updated class lists and offer guidance and support in reunion planning as may be required, including reunion communications and class gifts. Alumni relations will also:
Assist with coordination of audio/visual requirements, including hosting Zoom reunions
Help facilitate faculty tours, campus tours or visits with the President or Dean
Post reunion on the UM Reunions webpage
Attend reunion events to assist with last minute arrangements
Reunion leaders will act as the primary contact for your reunion group/classmates and help determine whether a virtual or in-person reunion works best. Reunion leaders will also:
Consult and coordinate with reunion group/classmates to make decisions about reunion activities
Let your Alumni Relations Office know if you are interested in a faculty tour, campus tour or visit with the President or Dean
Select menu, location, time, etc. in consultation with your Alumni Relations Officer (for on-campus reunions only)
Advise Alumni Relations Officer of any audio/visual equipment rental requirements
Coordinate any off-campus events, including registration and payment
Promote your reunion to classmates/friends through reunion communications, such as emails, phone calls and social media
Discuss celebrating your class achievements and support current and future UM students with a class gift with your Alumni Relations Officer
Upcoming Reunions
Check back often! (updated August 16, 2023)
If you are a graduate of one of the classes listed below and have not received information about your class reunion, please contact your Reunion Coordinator.
Fort Garry Campus Reunions
To add your reunion to the schedules below, email lynn.ferguson@umanitoba.ca
Agriculture - 1963 
Coordinators: Wayne Anderson & Ken McKenzie 
September 6-7, 2023, Winnipeg 
Agriculture - 1973 
Coordinator: Bill Brown, Steve Gadient and Vince Heaman 
September 15-16, 2023, Winnipeg 
 
Agriculture PhD - 1972-1976 
Coordinator: Ron Wasik 
September 23, 2023, TBD 
MBA - 1988
Coordinator: Chris Champagne 204-799-1704
September 21-23, 2023, Winnipeg
 
Home Economics - 1963 
Coordinator: Lee Anderson 
September 19-21 2023, Winnipeg 
 
Human Ecology - 1973 
Coordinator: Jan Bones 
Fall 2023, Winnipeg 
 
Kinesiology/Recreation - 1973 
Coordinator: Glen Bergeron 
September 23-24, 2023, Winnipeg 
 
Kinesiology/Recreation - 1998 
Coordinator: Darcy Routledge 
September 23, 2023, Winnipeg 
 
Law - 1980 
Coordinator: Taras Sawchuk & L.Lea Baturin 
September 22, 2023, Winnipeg 
 
Law - 1953, 1963, 1973, 1983, 1993, 2003, 2013, 2023 
Coordinator: Trina McFadyen 
September 20, 2023, 5-7pm, Winnipeg 
 
Social Work - 1973 
Coordinator: Leanne Boyd, Greg Selinger, Claudette Toupin 
September 21-22, 2023, Winnipeg 
Rady Faculty of Health Sciences Reunions
To add your reunion to the schedules below, email darcy.routledge@umanitoba.ca
College of Medicine
Medicine class of 1968 
Coordinator: Darcy Routledge 
Contact: darcy.routledge@umanitoba.ca 
September 22-24, Winnipeg 
Medicine class of 1973 
Coordinator: Darcy Routledge 
Contact: darcy.routledge@umanitoba.ca 
September 1-3, Winnipeg 
Medicine class of 1983 
Coordinator: Darcy Routledge 
Contact: darcy.routledge@umanitoba.ca 
September 22-24, Winnipeg 
Medicine class of 1987 
Coordinator: Darcy Routledge 
Contact: darcy.routledge@umanitoba.ca 
September 22-24, Winnipeg 
Medicine class of 1993 
Coordinator: Darcy Routledge 
Contact: darcy.routledge@umanitoba.ca 
September 23, Winnipeg 
Medicine class of 1998 
Coordinator: Darcy Routledge 
Contact: darcy.routledge@umanitoba.ca 
September 23, Winnipeg 
Medicine class of 2013 
Coordinator: Darcy Routledge 
Contact: darcy.routledge@umanitoba.ca 
September 22-24, Winnipeg 
Dr. Gerald Niznick College of Dentistry 
Dentistry class of 1971 
Coordinator: Darcy Routledge 
Contact: darcy.routledge@umanitoba.ca 
DDA Dinner September 23 - Breakfast & Tour on September 24, 2023 
Dentistry class of 1973 
Coordinator: Darcy Routledge 
Contact: darcy.routledge@umanitoba.ca 
DDA Dinner September 23 - Breakfast & Tour on September 24, 2023 
Dentistry class of 1983 
Coordinator: Darcy Routledge 
Contact: darcy.routledge@umanitoba.ca 
Possible Reunion at Homecoming 2023 
Dentistry class of 1998 
Coordinator: Darcy Routledge 
Contact: darcy.routledge@umanitoba.ca 
October, Las Vegas 
Dentistry class of 2008 
Coordinator: Darcy Routledge 
Contact: darcy.routledge@umanitoba.ca 
Sept 16, 2023, Winnipeg 
Dentistry class of 2013 
Coordinator: Darcy Routledge 
Contact: darcy.routledge@umanitoba.ca 
Possible Reunion at Homecoming 2023 
Dental Hygiene class of 1973 
Coordinator: Darcy Routledge 
Contact: darcy.routledge@umanitoba.ca 
Possible Reunion at Homecoming 2023 
Dental Hygiene class of 2013 
Coordinator: Darcy Routledge 
Contact: darcy.routledge@umanitoba.ca 
September 23, 2023, Winnipeg 
College of Pharmacy 
Pharmacy class of 1973 
Coordinator: Darcy Routledge 
Contact: darcy.routledge@umanitoba.ca 
September 22-23, 2023 
Pharmacy class of 1983 
Coordinator: Darcy Routledge 
Contact: darcy.routledge@umanitoba.ca 
September 23, 2023 
Pharmacy class of 1998 
Coordinator: Darcy Routledge 
Contact: darcy.routledge@umanitoba.ca 
September 29-30, 2023 
Pharmacy class of 2012 
Coordinator: Darcy Routledge 
Contact: darcy.routledge@umanitoba.ca 
September 23-24, 2023 
College of Nursing 
Nursing class of 1973 
Coordinator: Darcy Routledge 
Contact: darcy.routledge@umanitoba.ca 
September 22-24, 2023, Winnipeg 
Nursing class of 1979 
Coordinator: Darcy Routledge 
Contact: darcy.routledge@umanitoba.ca 
September 9, 2023, Winnipeg 
Nursing class of 1983 
Coordinator: Darcy Routledge 
Contact: darcy.routledge@umanitoba.ca 
September 23-24, 2023, Winnipeg 
Nursing class of 1998 
Coordinator: Darcy Routledge 
Contact: darcy.routledge@umanitoba.ca 
September 23-24, Winnipeg 
College of Rehabilitation Sciences 
Physical Therapy 
Physical Therapy class of 1973 
Coordinator: Darcy Routledge 
Contact: darcy.routledge@umanitoba.ca 
September 22-23, 2023, Winnipeg 
Physical Therapy class of 1983 
Coordinator: Darcy Routledge 
Contact: darcy.routledge@umanitoba.ca 
September 23, 2023, Winnipeg 
Physical Therapy class of 1998 
Coordinator: Darcy Routledge 
Contact: darcy.routledge@umanitoba.ca 
September 23, 2023, Winnipeg 
Physical Therapy class of 2013 
Coordinator: Darcy Routledge 
Contact: darcy.routledge@umanitoba.ca 
September 23, 2023, Winnipeg 
Occupational Therapy class of 1973 
Coordinator: Darcy Routledge 
Contact: darcy.routledge@umanitoba.ca 
September 22-23, 2023, Winnipeg 
Occupational Therapy class of 1983 
Coordinator: Darcy Routledge 
Contact: darcy.routledge@umanitoba.ca 
September 23, 2023, Winnipeg 
Contact us
For reunion inquiries for the Rady Faculty of Health Sciences:
Contact: Darcy Routledge
darcy.routledge@umanitoba.ca | 204-977-5650
For all other faculties, colleges, units, groups, clubs, fraternities, sororities and Bisons sports teams:
Contact: Lynn Ferguson
lynn.ferguson@umanitoba.ca | 204-474-7881