Alumni Association
The vision of the Alumni Association is to inspire a proud, engaged and mobilized alumni community who are dedicated to being UM's greatest ambassadors and advocates and who feel a strong sense of belonging and connection to the university as a source of lifelong enrichment.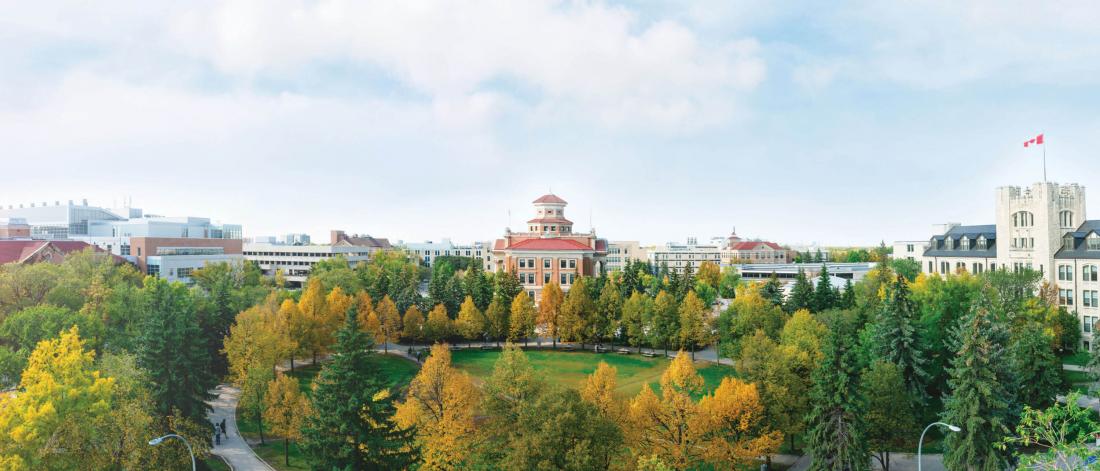 University of Manitoba Alumni Association
The 2022-2023 University of Manitoba Alumni Association Board of Directors
The Alumni Association's Board of Directors is an elected group of UM alumni who are responsible for the governance of the alumni association and its committees.
Jessica Carvell [JD/15], Chair
Peter Wheatley [BSc(ME)/07, Ext.Ed/10, MBA/15], Past Chair, Chair Nominating Committee
Evan Kuz [BFA(Hons)/90]
Lasha Glennie [BA/08, ExtEd/16]
Victor Ng [MD/09]
Nathan Maertins [BMus/12, MBA/22]
Vanessa Koldingnes [MBA/14] Vice-President (External), Representing the University President, ex-officio
Marlene Stern [DipOT/77, BOT/83] Chair, Alumni Council, ex-officio
Alumni Council
The Alumni Council is an advisory forum of diverse alumni representing all faculties and colleges. Members provide meaningful input on emerging issues that advance the vision and mission of the University and the Alumni Association, foster active communication among key alumni constituencies and stakeholders, and assist in strengthening the relationship graduates have with their alma mater and each other. The Alumni Council is a standing committee of the Alumni Association Board of Directors and acts in an advisory, not a governance capacity, to the University.
Marlene Stern [DipOT/77, BOT/83] – Chair, ex-officio member of Alumni Association Board of Directors
Jessica Carvell [JD/15] – Vice Chair, and Chair, Alumni Association Board of Directors
Peter Wheatley [BSc(ME)/07, Ext.Ed/10, MBA/15] - Past Chari, Alumni Association Board of Directors
Mark Colley [BComm(Hons)/04] – Treasurer, Alumni Association Board of Directors
Evan Kuz [BFA(Hons)/90] – Member, Alumni Association Board of Directors
Lasha Glennie [BA/08, ExtEd/16] – Member. Alumni Association Board of Directors
Matthieu Lazarow [BComm(Hons)/08, MBA/17, CA/10] – Member at large
Mary Jane Maillet Brownscombe (MJ) [BComm(Hons)/88, CA/91, MA/11] – Member at large, council representative on Distinguished Alumni Awards selection panel
Scott Roehl [BComm(Hons)/08] – Member at large
Jeff Lieberman [BA/80, BComm(Hons)/83] – Member at large
Nora Murdock [BA/78, CertEd/78, MEd/05, PhD/16] – Faculty of Arts Alumni Representative
Duane Brothers [BA/82, BEd/84, PhD/17] – Alumni Representative, UM Board of Governors
Carla Loewen [BEd/01, BA/03, MEd/16] – Indigenous alumni representative
Cheryl Lashek [BSc(ME)/02] – Friends of Engineering, Price Faculty of Engineering representative
Simone Jaman [DipDHyg/14] – UM School of Dental Hygiene Alumni Association, School of Dental Hygiene representative
Carl Neumann [MA/20] – Faculty of Graduate Studies representative
Sue Boreskie [BPE/79, M.P.E./82] – Faculty of Kinesiology and Recreation Management representative
Sofia Mirza [BSc(Maj)/92, BA/95, LLB/03] – Faculty of Law representative
Victoria Nwabuisi [BA/20] – International alumni representative
Doug Collier [BSc/87] – Faculty of Science, Dean's External Advisory Board representative
Dr. Tito Daodu [MD/13, BSc(Med)/13] – Max Rady College of Medicine representative
Dr. Nancy Auyeung [DMD/92, BSc(Dent)/92] – Dr. Gerald Niznick College of Dentistry / UM Dental Alumni Association representative
Dr. Claire Betker [BN/77] – College of Nursing representative
Vicki Verge [BA/90, MSW/04] – Faculty of Social Work representative
Chau Tu [BSc(Maj)/09, MBA/17] – Asper School of Business representative
Allan Edie [BPE/80, CertEd/81] – Faculty of Kinesiology and Recreation Management representative
Victor Ng, [MD/09] - Member, Alumni Association Board of Directors
Irene Fakankun [PhD/21] - Alumni Representative, UM Board of Directors
Nathan Maertins [BMus/12, MBA/22] - Member, Alumni Association Board of Directors
Dr. Brenna Shearer [BMR(OT)/86] -  Alumni Representative, UM Board of Governors
Vanessa Koldingnes [MBA/14] - Vice-President (External), Representing the University President
Committee Chairs
Marlene Stern, [DipOT/77, BOT/83], Alumni Council
Peter Wheatley, [BSc(ME)/07, Ext.Ed/10, MBA/15]
Lasha Glennie [BA/08, ExtEd/16], Student Awards
Elected to the Board of Governors
Irene Fakankun [PhD/21]
Duane Brothers [BA/82, BEd/84, PhD/17]
Dr. Brenna Shearer [BMR(OT)/86]
University of Manitoba Alumni Association by-laws
Alumni Association's Scholarships