Amazon: Rainforest Experience
Dates: Winter Reading Week, February 14–24, 2020
Location: Quito and Archidona, Ecuador
Fee: $2,800 (all-inclusive)
Number of students: 10–16
Apply by: November 30
How you'll make a difference
The Amazon is the ancestral homeland of many Indigenous peoples who have developed knowledge, technologies and ways of being to coexist with their environment.
In this program you will explore the meaning of sustainability and climate-resilience from the perspective of a local Indigenous collective – the Amupakin Collective – as we help out in the community farms, walk the forest to harvest medicinal plants, cook community meals and share stories around the fire.
Other things to expect include camping, swimming under waterfalls, night hiking and star-gazing, relaxing in volcanic springs and exploring the historic district of Ecuador's capital city.
Schedule
Weekly Community Engagement Training: January - February
Get ready for Amazon: Indigenous Technologies with six weeks of Community Engagement Training. Get to know your program team, learn about Archidona, Ecuador, and Amupakin and develop your skills in community engagement and project planning and assessment.

Training dates will be determined based on the program team's academic schedule.
Day 1: Fly to Quito, Ecuador
We travel together from Winnipeg to Quito, the capital city of Ecuador. Our journey starts there, with a walking-tour of the Centro Historico (historic downtown). After weaving in and out of cathedrals, palaces and plazas, we let our guide Ovi will show us the best spots to get a taste of authentic South American cuisine.
In the evening, we take in a spectacular view of the sunset over the city and head out to the cultural district of La Ronda to enjoy some live music and dancing. After sharing a warm cup of canelazo (a local drink made with cinnamon, orange and sugarcane), we head back to the hostel for much needed rest and relaxation.
Day 2: Hike to Archidona
We begin our descent into the Amazon from the mountains and Quito, which sits 2,850 metres above sea level. Don't worry—we take it slow and stop along the way to appreciate the changing natural and cultural landscapes.
Day 3 – 6: Explore and visit in Archidona
Itineraries are over-rated. After three years of working and sharing memories with this community, we see each other as family--so these three days are dedicated to just being together. Of course, being together in the Amazon involves lots of hiking, swimming, farming, and exploring places that are meaningful to our hosts. It also means cooking, cleaning, dancing and preparing medicines together.
Did we mention our special guests yet? In this program we'll enjoy the company of two performance artists from one of our partner communities on the Island of Chiloé, Chile, who are coming to share their talents and skills with our host community. Curious about performance art? There is no better time to try it out!
Day 7 – 8: Camp and visit in the Amazon rainforest
This day is an opportunity to connect more intimately with the people you will meet by visiting their homes. By the way, when we say "homes" we don't mean "houses," but remote, micro-communities deep in the forests. Most likely you'll fish your own dinner and harvest fruits you've never seen before to have with dessert.
Day 9 – 10: Final days and feast
Our last day is dedicated to honouring the knowledge and experiences that were shared with us. It is also be our turn to prepare a feast and a night of games, laughter and music for the community. After the feast, it has become a tradition to head out to the local dance hall as a massive group for a night of salsa dancing and laughter.
Our feet might be sore from dancing all night, so the next day we make a stop at a volcanic hot springs site on our way back to Quito. We'll share a warm, wet and peaceful good-bye with the community and be on our way to the airport. Believe us, after the hot springs you will sleep your way back to Winnipeg!
Debrief with program team
Get together one more time with your program team to reflect on your Reading Week experience. By this time, strangers have become like family, and it's a good chance to talk over your growth with people who understand.
Our past experiences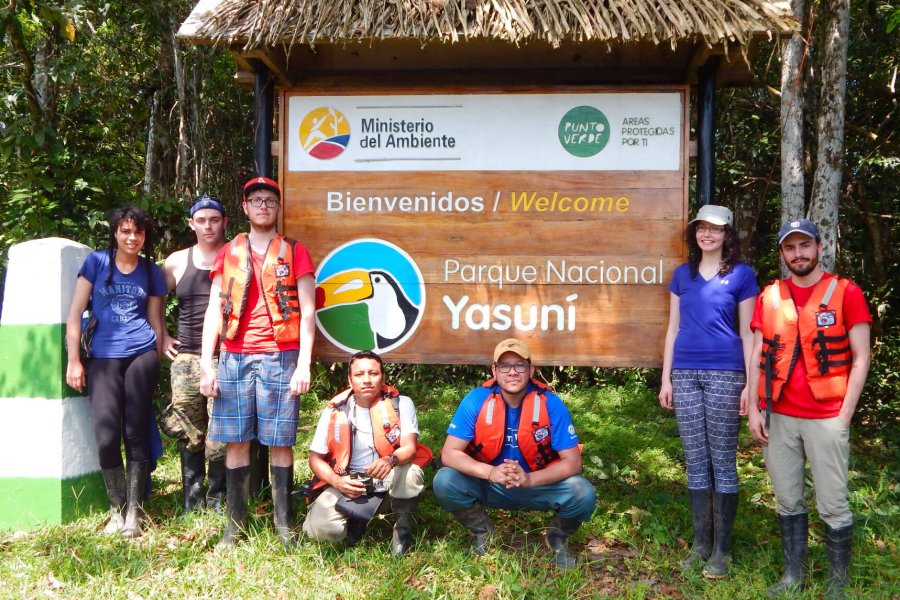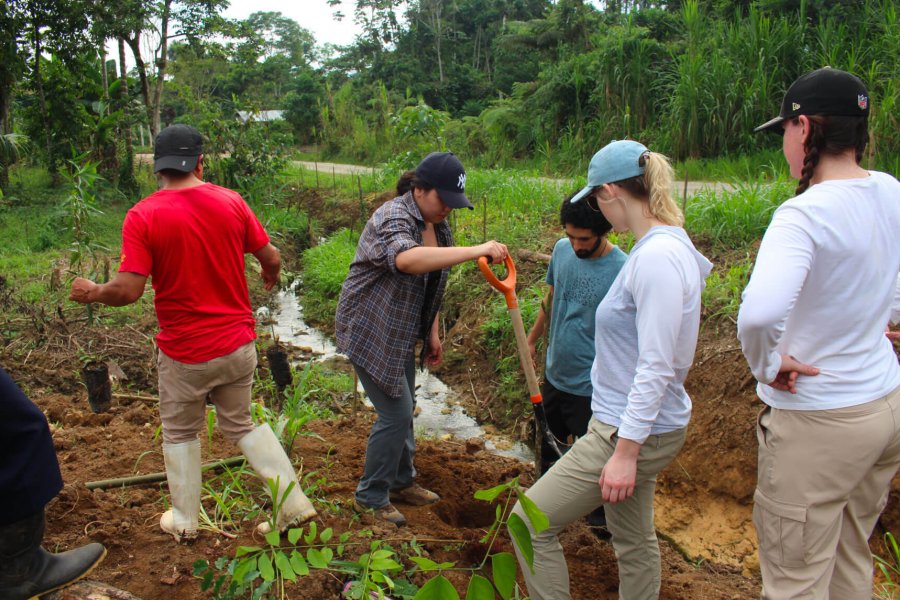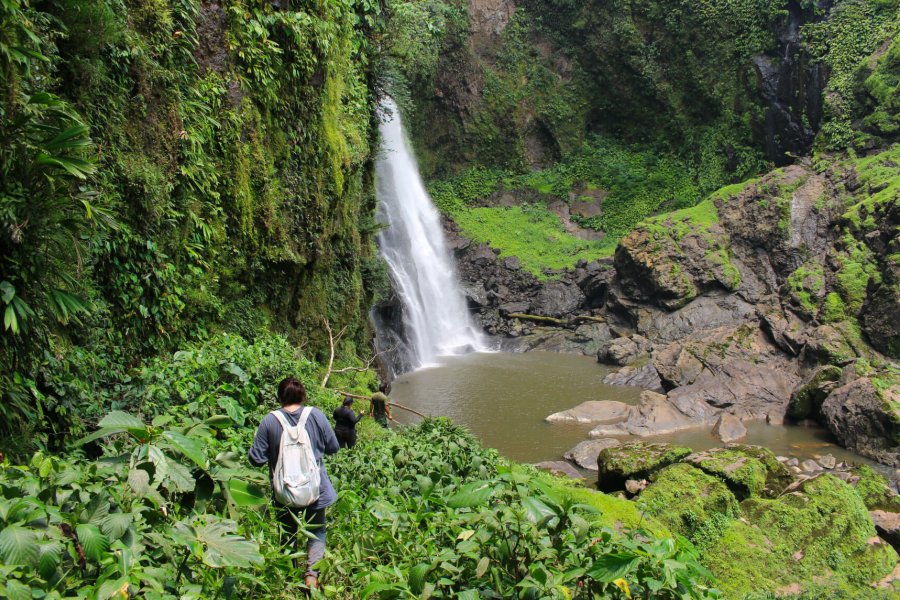 About the Amupakin Collective
The Amazon program is a collaboration between UM's Community Engaged Learning program and the Amupakin Collective—a group of female Kichwa health practitioners who work to keep alive the knowledge of their land, culture and traditions.
Amupakin has been providing free traditional healthcare and midwifery services for their communities for more than 20 years. In spite of their long history as trusted health providers in their community, they are  still struggling to be recognized by the public health system of Ecuador. Some of their current struggles include fighting against the government's efforts to discourage people from seeking traditional healthcare and the compulsory "training and certification" of Indigenous midwives—who have been practicing midwifery since childhood by assisting their mothers and grandmothers who in turned learned midwifery from their mothers and grandmothers.
The Amupakin Collective also includes "the volunteers"—a self-organized group of Kichwa youth that works closely with the midwives to learn from them and provide economic support. "The volunteers" receive ongoing training as outdoor guides and rescuers, chefs, translators, facilitators and cultural interpreters.
This program is 100% not for profit. Beyond your airfare and in-transit expenses, all remaining proceeds go to support our community partners with salaries, equipment, training, facility maintenance, wages, travel opportunities and other resources that help them achieve their goals.
Our coordinator
Gerardo Villagrán was born and raised in Mexico. He has a Master of Arts in Philosophy and is especially interested in questions of inter-generational democracy and climate change. Upon finishing his graduate degree, he joined Global Affairs Canada and the Young Lives Research Lab (UPEI) in southern Chile to support the creation of an Indigenous-led intercultural school on the Island of Chiloé. 
Program fee
Your all-inclusive fee covers your return airfare, all in-country transportation and accommodations, three daily meals, pre-departure training, salaries for the community, a financial contribution to our host, and also helps finance our Community Partner Exchange program.
Financial assistance for travel
When you apply online for this program, you have the option to self-declare financial need and apply for a Community Engaged Learning bursary. Successful applicants receive bursaries that cover up to 25% of the cost of their program.
You may also be interested in