UMSU University Centre
The activity hub of the Fort Garry campus, it is the location of the BookStore, the UMSU Service Centre, a convenience store, many food and dining options, and a range of student services and commercial businesses. Its array of meeting rooms also make it a popular conference, meeting and event centre.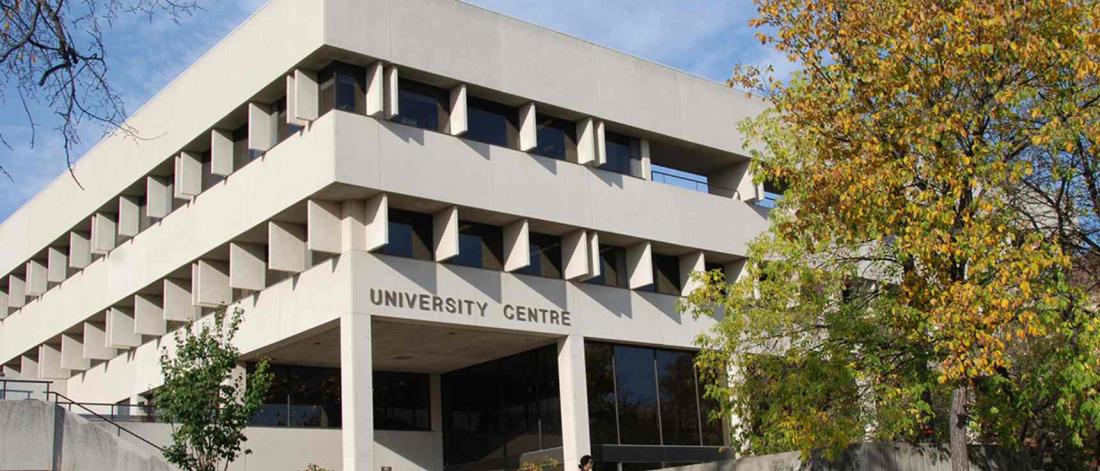 Masks are currently mandatory for staff and visitors within all public spaces of UMSU University Centre.
Entrance into the building during hours of operation is currently restricted to east side lower level across from the Admin Building, as well as via second floor Helen Glass and the Parkade.  
Click the appropriate topic below for information and status on the businesses and services within UMSU University Centre:
Food, beverage and dining options
All food and beverage options within UMSU University Centre are currently closed. 
Visit the Eat on Campus website for information on available food services.
BookStore
The BookStore is currently open for in-person shopping, Monday through Friday, 10am - 4pm.
Check BookStore hours of operation

- - - - - - - - - - - - 
Textbook and merchandise orders can also be placed
Your online orders can be retrieved at the Fort Garry Bookstore, weekdays (and Saturday January 30) between 10am and 4pm.
Please ensure you have received your Ready for Pickup Confirmation Email before coming down.
Pharmacy and Postal Outlet
G.P.A.'s Campus Convenience
University Health Service
Focal Point Optician
The Focal Point Optician and the offices of Dr. Judy McNeil and Dr. Leanne Soronow are open weekdays between 9:00am to 4:00pm.

Call 204-474-7090 to book an eye exam appointment.
Reider Insurance
Reider Insurance is temporarily closed. Please contact them at their listed phone numbers for assistance.
World Safari Travel
World Safari Travel Agency is temporarily closed. Please contact them at their listed phone numbers for assistance.
All other businesses and services
As the University of Manitoba works toward protecting the health of our community, all businesses, services and departments within UMSU University Centre are closed to the public. Please visit the website of the relevant department for more specific information.
Meetings and special events
All meetings and special events, both public and private, are currently canceled. Please visit the event planning website for more information.
University Centre
University Centre Services
139 UMSU University Centre
University of Manitoba
Winnipeg, MB R3T 2N2 Canada