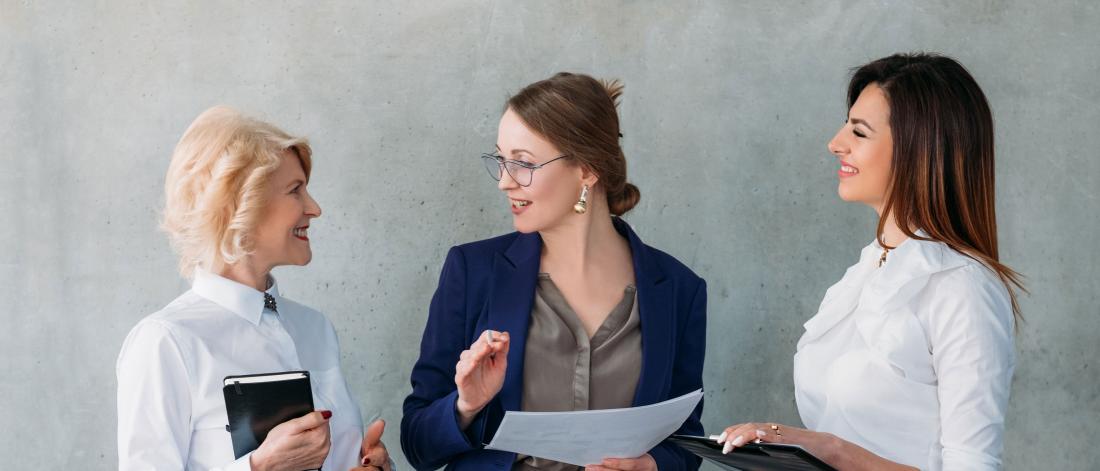 Why this program?
You will work with an experienced communication coach from The Humphrey Group, who will guide you to script yourself with clarity and intention, unlock the power of your voice and achieve a confident and authentic presence.
This two-day program includes workshops and personalized coaching sessions in a small, supportive group that will enable you to practice speaking as a compelling leader in a variety of situations. You will have the opportunity to prepare and deliver a brief talk, receive personalized voice and presence coaching and role-play conversations.
Benefits
Through this program, you will learn to:
View every communication as an opportunity to influence
Craft and communicate a strong leadership identity
Identify minimizing habits that undermine how you are perceived
Adopt the mindset to lead with confidence
Deliver clear messages using a logical structure
Use strong language that is assertive, not aggressive
Adopt a powerful vocal presence
Achieve an authentic physical presence that conveys confidence
Capitalize on conversations as leadership opportunities
Effectively navigate conflict in conversations
Who should attend?
This program is ideal for women of all levels who wish to strengthen their ability to convey their ideas and project a strong leadership presence.
Instructor
Maggie Huculak, Consultant, The Humphrey Group

Maggie is a Consultant based in Toronto. She is a highly talented and committed coach and instructor. Since joining The Humphrey Group in 2003, Maggie has worked with a broad range of clients to strengthen their communication skills. Maggie has coached and led seminars and workshops across Canada and internationally.

She has provided training for senior leaders in many large organizations, in formats ranging from long-term, individual coaching engagements to small-group courses. She is a sought-after coach to leaders who wish to strengthen their scripts, develop a stronger executive presence, or prepare for an upcoming speech or talk. Maggie's warmth and personal connection to clients are an important part of her success in working with leaders.

She brings her professional training in theatre performance to her work with executives in helping them develop an authentic, engaging delivery style. When not coaching or teaching for The Humphrey Group or performing in plays, Maggie teaches for the Toronto District School Board. She received a B.A. in English and Drama from the University of Saskatchewan in 1971 and earned a Professional Certificate–Secondary School Teacher– from the University of Saskatchewan in 1972. Maggie is also an accomplished actor and a distinguished playwright, having co-authored a number of award-winning plays.
Upcoming sessions
Fall 2022 session
PROGRAM SCHEDULE
Date: September 20-21, 2022
Time: 8:30am-4:30pm (CST)
LOCATION
PROGRAM COST
Have questions?
Our team is happy to help! Contact us for more details.

You can also find additional details, including our cancellation policy, on our frequently asked questions (FAQ) page.
Custom program
Do you have 10 or more team members who would benefit from taking this program? Many of our open enrolment programs can be customized for your team and delivered exclusively to your organization. Find out more about our custom programs by contacting us today at 204-946-0232 or via email at ExecEdInfo@umanitoba.ca.
Contact us
Sign up for our email newsletter and be the first to hear about program updates from the James W. Burns Executive Education Centre.
James W. Burns Executive Education Centre
2nd floor
177 Lombard Avenue
Winnipeg, Manitoba  R3B 0W5