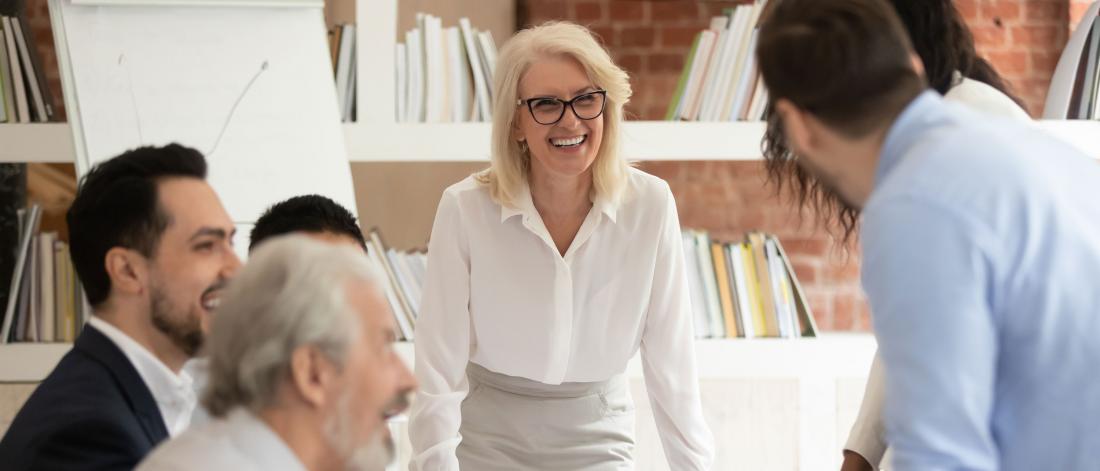 Why this program?
This program will enable you to step confidently onto any stage, and hold the room with an unmistakable presence that distinguishes you as a seasoned speaker and strong leader. You will come away with the ability to represent your organization in a way that is engaging, persuasive and memorable.
Through this program you will learn how to engage others through listening techniques, a warm and empathetic tone, and political savvy - skills that are demonstrated so frequently by executives, and that are necessary for anyone who aspires upward in their organization.
Delivered in partnership with The Humphrey Group, you will be led through an intensive series of workshops; almost every moment will present you with opportunities to bring out the "executive performer" that lives within you. Explore the active connection between leadership and communication, as you hone your skills in a supportive learning environment. 
Benefits
Through this program, you will:
Develop the presence and clear communication style of a true leader
Use an authentic presence to inspire others
Make an immediate, and lasting, impression with strong entrances and exits
Take your speaking skills to the next level, by developing a powerful stance and expressive voice
Read the audience through active listening
Overcome nerves and fear of public speaking
Use improvisational techniques to speak with passion and energy
Project a dynamic image that elicits trust and respect
Who should attend?
This two-day program is for business professionals who wish to develop an inspirational leadership presence.
Instructor
Maggie Huculak, Consultant, The Humphrey Group

Maggie is a Consultant based in Toronto. She is a highly talented and committed coach and instructor. Since joining The Humphrey Group in 2003, Maggie has worked with a broad range of clients to strengthen their communication skills. Maggie has coached and led seminars and workshops across Canada and internationally.

She has provided training for senior leaders in many large organizations, in formats ranging from long-term, individual coaching engagements to small-group courses. She is a sought-after coach to leaders who wish to strengthen their scripts, develop a stronger executive presence, or prepare for an upcoming speech or talk. Maggie's warmth and personal connection to clients are an important part of her success in working with leaders.

She brings her professional training in theatre performance to her work with executives in helping them develop an authentic, engaging delivery style. When not coaching or teaching for The Humphrey Group or performing in plays, Maggie teaches for the Toronto District School Board. She received a B.A. in English and Drama from the University of Saskatchewan in 1971 and earned a Professional Certificate–Secondary School Teacher– from the University of Saskatchewan in 1972. Maggie is also an accomplished actor and a distinguished playwright, having co-authored a number of award-winning plays.
Upcoming sessions
Have questions?
Our team is happy to help! Contact us for more details.

You can also find additional details, including our cancellation policy, on our frequently asked questions (FAQ) page.
Custom program
Do you have 10 or more team members who would benefit from taking this program? Many of our open enrolment programs can be customized for your team and delivered exclusively to your organization. Find out more about our custom programs by contacting us today at 204-946-0232 or via email at ExecEdInfo@umanitoba.ca.
Contact us
Sign up for our email newsletter and be the first to hear about program updates from the James W. Burns Executive Education Centre.
James W. Burns Executive Education Centre
2nd floor
177 Lombard Avenue
Winnipeg, Manitoba  R3B 0W5