Sonic Trails: Lockdown
Max Sandred and Örjan Sandred
What is the pulse of a city when citizens go silent? What are the scenes of a city when society recedes? What qualities and processes remain when everyday activities are abandoned?
Sonic Trails is an immersive multimedia polyphony, layering sights, sounds, echoes and rhythms of a city in lockdown. Though seemingly devoid of people, this world is not without pulse. This immersive installation awakens an ambient social imaginary within the persistent sensorium of music and architecture.
101 hours continuous Livestreaming from the A2G Gallery
Tuesday, September 7, 11:00 AM to Saturday, September 11, 4:00 PM CDT
Join the Livestream here
Live Online Conversation
Saturday, September 11, 2021 at 11:00am CDT
Register here
Join artists Max Sandred and Örjan Sandred in dialogue with composer Hans Tutschku, Professor and Director of the Harvard University Studio for Electroacoustic Composition. Introduced by Lisa Landrum.
___
Sonic Trails: Lockdown is part of the Theatres of Archimagination contribution to SunShip: The Arc That Makes The Flood Possible, as part of the Arts Letters & Numbers (ALN) exhibition in the CITYX Venice Italian Virtual Pavilion of the 17th Venice Architecture Biennale.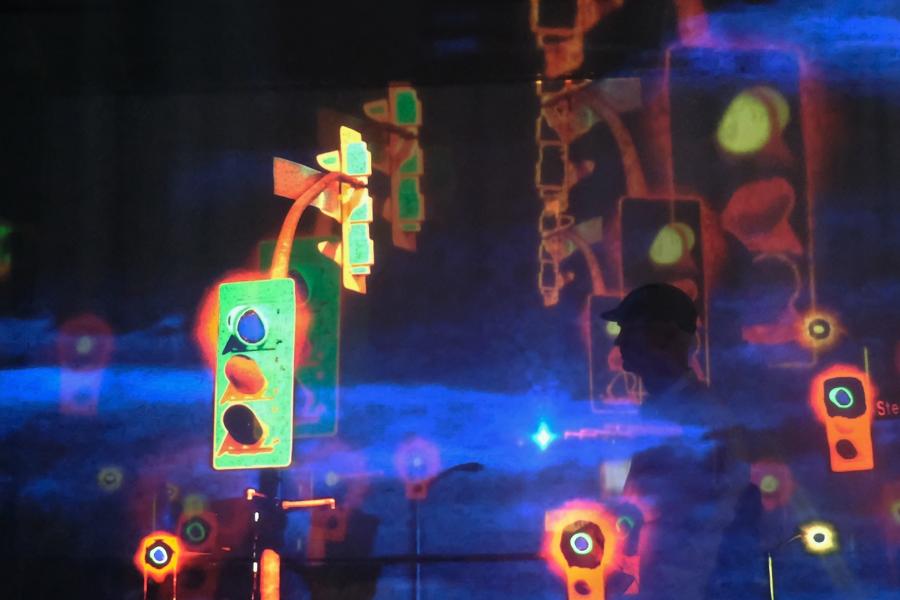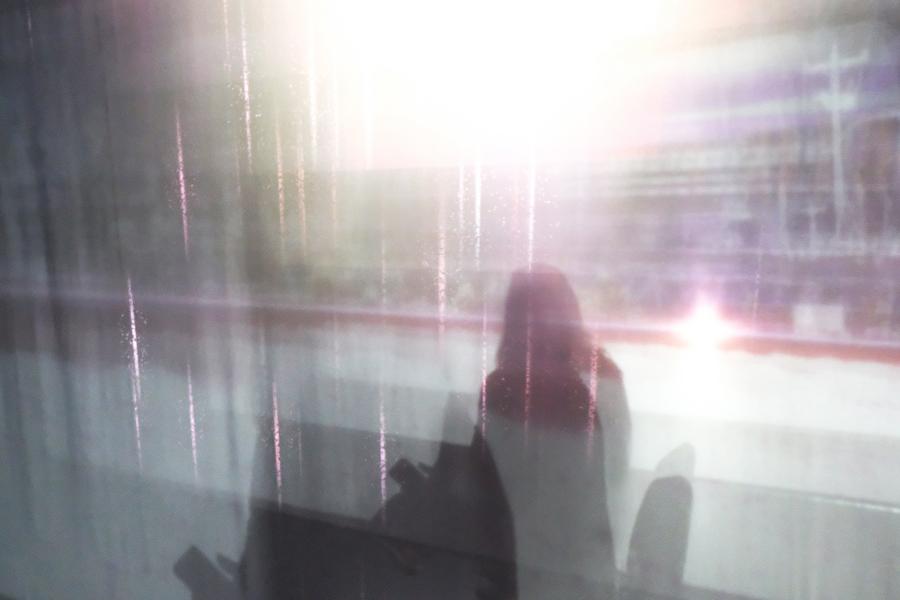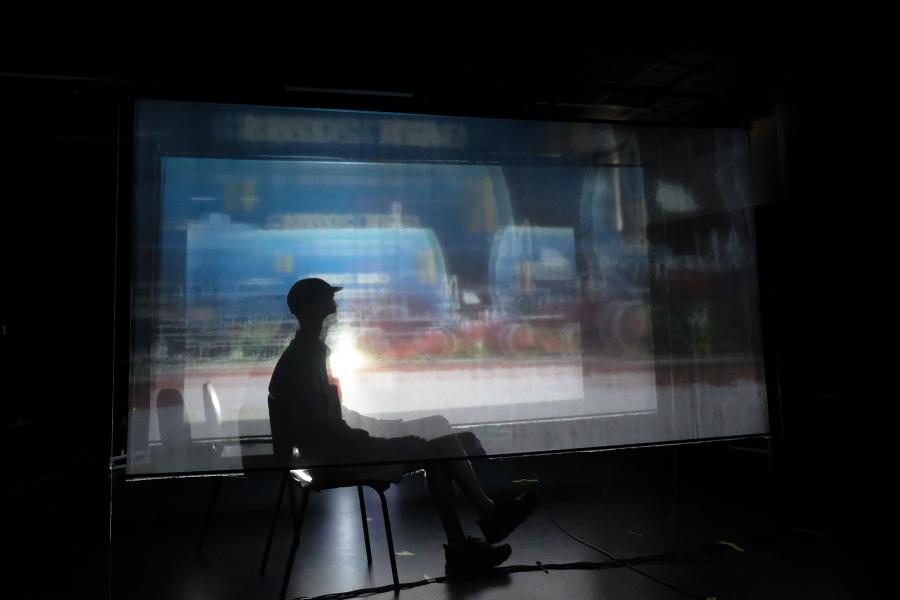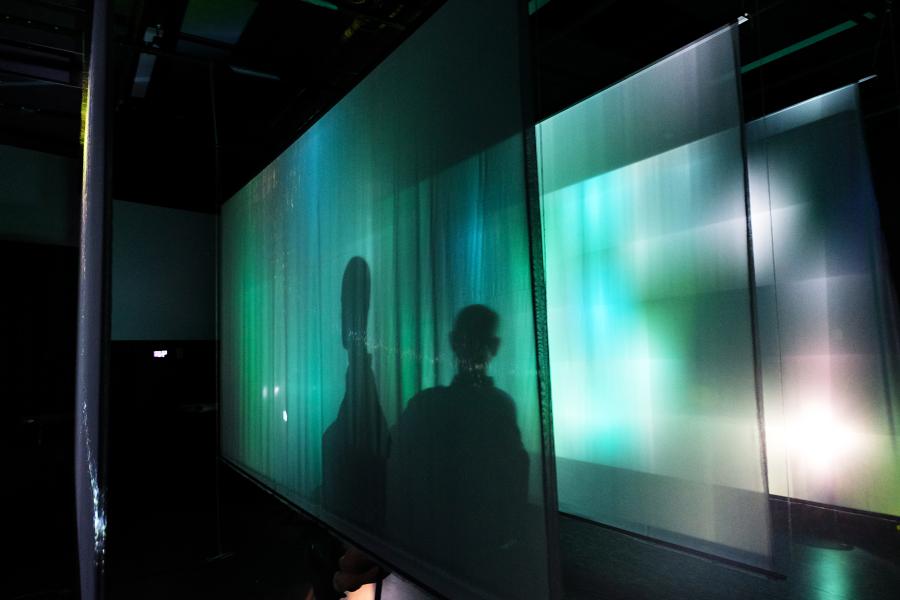 About Sonic Trails: Lockdown
As the city enters a state of "Lockdown," the urban environment loses its most distinctive element: human presence. Nonetheless, it would be a mistake to consider the city abandoned. As human activity withdraws, other processes and activities come into focus. Cars pass through empty streets, trees sway in deserted parks, birds roam uninhabited spaces.
In Sonic Trails: Lockdown, visitors are immersed in various events of a lockdown city occurring regardless of their presence. Using multiple audio-visual samples of these urban phenomena, the installation creates a new inhabitable place using layered projections and four loudspeakers.
Artificial intelligence algorithms determine the composition of this environment in a constant process of deconstruction and reconfiguration. Pitches and harmonies are dissected from environmental noises, familiar objects and places are reduced to abstract visuals and spaces, rhythms and motifs are brought to focus. The AI leaves nothing to chance by structuring its actions and interactions, constantly revealing new material and juxtapositions while occasionally bringing back existing themes. In this sense, the installation is a precise musical composition, experienced beyond the realm of sound as synesthetic, audio-visual, spatial experience.
Watch a trailer of Sonic Trails: Lockdown here
Sonic Trails ultimately leads us somewhere beyond the samples of the alienating lockdown city. The patient visitor will discover an aesthetic world that is both abstract and palpable, static and active, infinite and intimate, rhythmic and disordered, clear and unclear.
The installation generates its musicality by manipulating architectural qualities of sound, light, and space. Music and architecture are not treated as separate entities; rather, the environment of Sonic Trails becomes the musical experience. Ultimately, Sonic Trails: Lockdown attempts to unlock the reciprocity of music and architecture, through an embodied aesthetic experience of a city alive and evolving on its own.
About the Artists
Max Sandred is a fourth-year undergraduate architecture student at the University of Manitoba. His interests in architecture are influenced by other creative fields of study, notably, his background in music. He has performed as a jazz musician, and in 2019 and 2020 he released his own music. Max believes that architecture is an integral part of our everyday consciousness, and a medium through which ideas and relationships can be developed. He will continue to question conventional boundaries of architecture in his graduate studies and professional career. See further at http://maxsandred.wordpress.com.
Sonic Trails: Lockdown stems from work on Theatres of Architectural Imagination conducted with Prof. Lisa Landrum, through the Undergraduate Research Award program.
Örjan Sandred is a Sweden-born composer and professor at the University of Manitoba's Desautels Faculty of Music, where he founded Studio FLAT, an experimental research studio for electro-acoustic music and computer-assisted composition. He has composed a series of compositions with live electronics, including solo parts for guitar, pipe organ, oboe, saxophone, piano, percussion, violin, cello and voice.
Sandred's compositions have been commissioned by ensembles around the world, including (in Canada) the Winnipeg Symphony Orchestra; (in Germany/France) the Camilla Hoitenga and Heloïse Dautry duo, Ensemble Ader; and (in Sweden) organist Hans-Ola Ericsson, the Peärls Before Swïne Experience, Das Orchestra and the Swedish Radio Orchestra.
Exploring the impact of technology in the arts Örjan Sandred has led seminars at international institutions including Harvard University, the University of California at Berkeley and Davis, the Conservatoire National Superieur de Musique in Paris, the Sibelius Academy in Helsinki, the Bartok Seminar in Szombathely (Hungary), Universität für Musik und darstellende Kunst Wien, the Shanghai Conservatory of Music, McGill University in Montreal, the Interdisciplinary Centre for Computer Music Research at the University of Plymouth, at the Iceland Academy of the Arts in Reykjavik and other places. Sandred's music is available on the CDs "Sonic Trails" (2020) and "Cracks and Corrosion" (2009). More here: https://sandred.com/
Stay tuned for all five acts of Archimagination!
Thanks to FAUM student team Alixa Lacerna, Andria Langi, Max Sandred and Sabba Rezai.
Follow all SunShip events on Instagram @artslettersandnumbers