Bah: A Fusion of Flood Myths and Cosmic (Re)Beginnings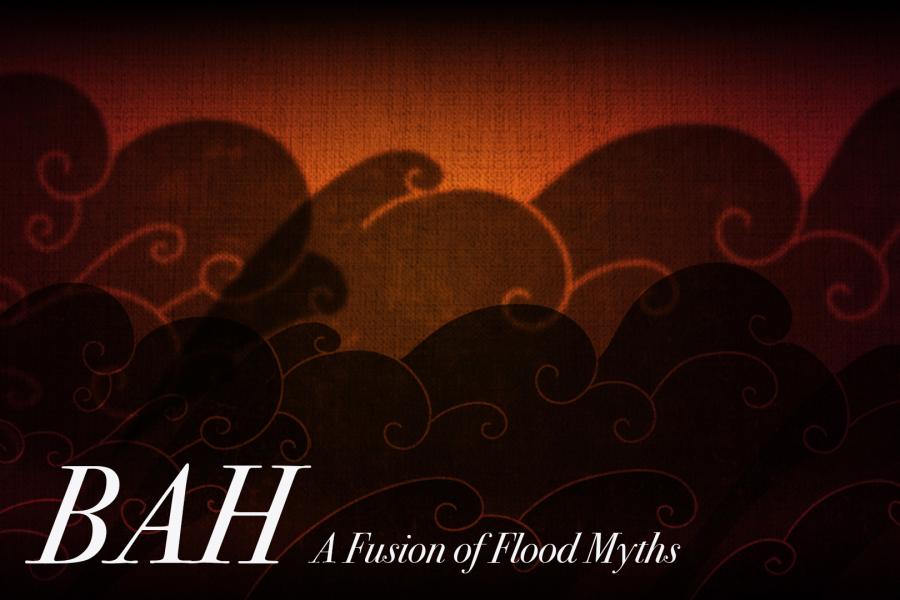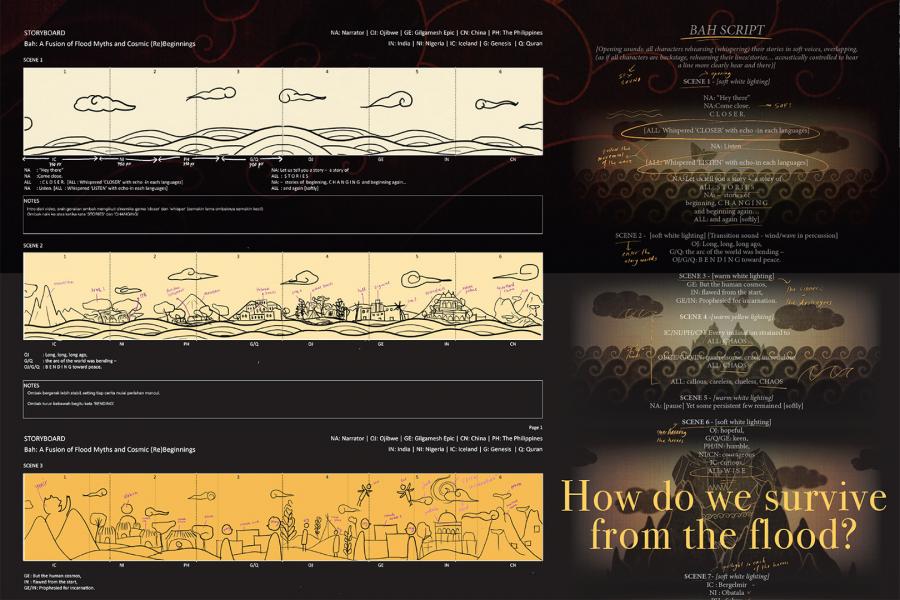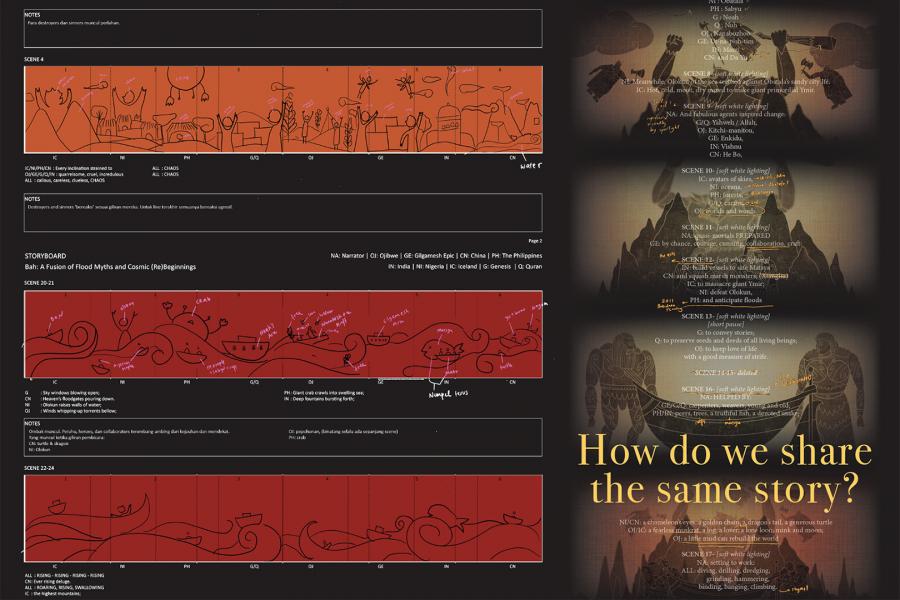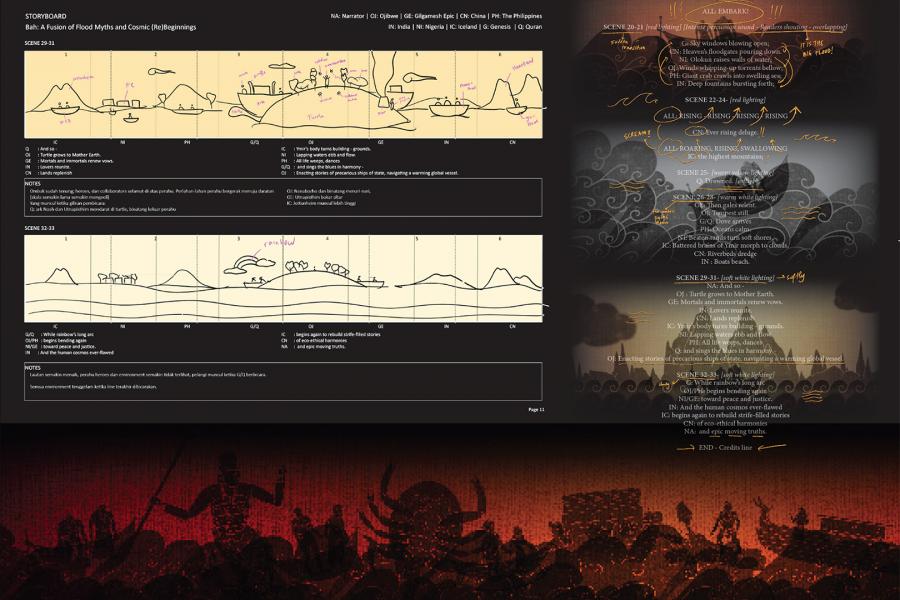 About Bah
In the beginning there were stories. Around the world, many cultures have creation stories that include episodes of annihilation and beginning again, striving to recreate the world anew. Floods figure prominently as forces of renewal.
In our present era of global warming and rising sea levels, it is both timely and illuminating to reconsider the diversity of flood myths, the precarity of our shared world, and our collective responsibility to imagine better futures.
What forces are destroying our present world? What agencies can remake it? What resources will be preserved, and how?
The mythopoetic work of Bah suggests stories are among the most valuable cultural cargo to survive the ravages of time, and, if preserved, may buoy our sinking global vessel.
Bah (also commonly known as air bah), is Indonesian for 'flood' in its most overwhelming and destructive sense. Bah: A Fusion of Flood Myths and Cosmic (Re)Beginnings, integrates flood stories of multiple global cultures to invent a common epic arc: rising and falling, building and rebuilding, surviving and thriving.
The Bah narrative fuses a flood story of First Nations peoples (the Ojibway creation story of Turtle Island) with eight tales of deluge from other cultures prominently represented in Winnipeg by settlers and immigrants. Specifically, the stories derive from the Sumerian Epic of Gilgamesh, a sacred Hindu Vedic myth, the Hebrew book of Genesis (the B'reshit in the Torah), the Arabic Quran, excerpts of Norse mythology, as well as folklore from the Philippines, China and Nigeria. While these stories have important differences, they share many themes and struggles, including confrontations with mortality and immortality; the limits of individual heroism and need for communal cooperation; and the obligations of humans to respect the environment and to humble themselves to the awesome powers of the more than human world.
Bah also represents the stories of migrants with rich cultural inheritance striving for new light and hope, risking their lives on precarious vessels. In gathering a fusion of stories and storytellers, this work itself becomes an ark preserving the emotional and transformative experience of migration journeys.
Nine female Winnipeg storytellers with different ethnic and religious backgrounds, each proudly represent the role of the male heroes of the tale. Through this experiment, Bah amplifies voices and aspirations of minorities, aiming to inspire others.
Integrating traditional Indonesian puppetry (wayang) with contemporary digital animation, environmental sounds, and the emotional voices of multicultural storytellers, Bah leads listeners into the woods of a trans-cultural and trans-historic narrative.
Bah helps us reimagine how we might avert total ecological disaster, while suggesting how we might all live together in strife-spiced harmony.
_
Andria Langi
Andria is an Indonesian designer and storyteller. She believes stories of people, space and place are keys to reaching an inclusive environment. She explores architectural experience through various art forms to create place-making, place-knowing and community engagement. She holds a Bachelor of Science in Architecture from the Bandung Institute of Technology in Indonesia, and completed her Master of Architecture at the University of Manitoba in 2021 with a thesis entitled, "Tales of the People: Folklore and Heritage Preservation in a Multicultural City", which included several interviews with multicultural storytellers. Her curiosity and design research has been expressed in several illustration and video projects, including "Project Uncover" - a multidisciplinary art project to promote heritage preservation in Bandung, Indonesia.
Bah is supported in part by the Maxwell Starkman Scholarship in Architecture and the Bill Allen Scholarship in Architecture, Faculty of Architecture, University of Manitoba.
STORYTELLERS:
Mackenzie Skoczylas - voice of Nanabozho, Ojibwe/Anishinaabe trickster
Mackenzie is an Indigenous designer and 2021 graduate of the Master of Architecture program at the University of Manitoba. She is a member of Shoal Lake 40, but has lived in Winnipeg the entirety of her life. Mackenzie is passionate about implementing traditional knowledge and cultural values into contemporary work, whether that being art or architecture.
Suzan Palani - voice of Utnapishtim, counsellor to Gilgamesh, from the Gilgamesh Epic
Suzan Palani is a 25-year-old Kurdish Canadian who immigrated to Canada in 2001 from Ramadi, Iraq. She currently attends the University of Manitoba and is working towards her Nursing degree. She is passionate about various topics and loves to learn and try new things, constantly searching for opportunities to broaden her horizons.
Maia Mozes - voice of Noah, descendant of Adam, from the book of Genesis and B'reshit in the Torah.
Maia is a 26-year-old Argentinian living in Winnipeg. She moved to Israel when she was four and went to school there before immigrating to Canada at age 12. Her greatest passion includes travelling as it allows her to get out of her comfort zone by exploring the unknown.
Sarah Alabdulridha - voice of Nuh, Islamic Prophet, from the Quran
Sarah Al-Abdul Ridha is a 22-year-old Iraqi-Canadian, born and raised in Winnipeg. She recently finished her last year in the Faculty of Education with a major in English and a minor in History. She has been fortunate to work with immigrant and refugee students, and since then has felt the need to help guide and encourage them within their own education. She hopes to use her career as a way to empower students and give a voice to those who may have been silenced.
Jingwen (Dorothy) He - voice of Da Yu, legendary founder of the Xia Dynasty
Dorothy came from China and immigrated to Canada when she was 17 years old. The sense of needing and wanting to design has become something of utmost importance in her life. Life in Winnipeg allows her to explore the endless possibilities that are prevalent within the world. See Dorothy's portfolio here. 
Cyrelle Layawan-Mandac - voice of Sabyu, the wise advisor in folklore of Bukidnon
Cy is a 28-year-old Filipino-Canadian. Her father is a Native of Bukidnon. Her day job is with research and she loves baking and exploring cities. A life-turning moment for her was the Sendong flood of 2011 which made her more resilient and ready to take on any challenge that came her way.
Sukhjot Parmar - voice of Manu, the first ruler and progenitor of humans in Hindu mythology
Sukhjot is 21 years old. Her parents came from Punjab, India but she was born and raised in Indonesia. Sukhjot moved to Canada in 2018 and has finished her last year in the Faculty of Health Science at the University of Manitoba. She believes in the importance of preserving cultural identity in her life. 
Bola Oriyomi - voice of Obatala, god of sky and creator of the Yoruba people of Nigeria 
Bola Oriyomi is a cultural performer who hails from the Yoruba tribe in southwestern Nigeria. She has lived in Winnipeg for over 30 years and is passionate about supporting and sharing arts and culture. Bola heads Ariya Africa Cultural Group, a contemporary African dance troupe. She has also been working on a collection of African folktales, and has released 'Thirty Fabulous Yoruba Tales'.
Gunnvör Danielsdóttir Ásmundaaon - voice of Berglemir, the frost giant in Norse mythology
Gunnvör came to Canada 1970 with her husband and 4-year-old daughter. During the last 13 years before retirement she worked at the Icelandic Consulate of Iceland in Winnipeg. Her home is now in Gimli Manitoba where she is an active member of the Icelandic National League of North America (INLofNA), volunteers at the New Iceland Heritage Museum, and teaches Icelandic.
ANIMATION:
Seeds Motion
Seeds Motion is a multi-disciplinary design studio based in Bandung, Indonesia. Started in 2015, this creative collective specializes in multimedia content, exploring various means to achieve creative ends using motion graphics, animation, projection mapping, and more. A first-time collaborator for the Venice Biennale with a project lead by Andria Langi, Seeds Motion is proud to help tell stories from a multitude of cultures in a contemporary medium.
Maulana Aziz - Producer
Banu Wirandoko, Rheza Arden Wiguna - Production Supervisors 
Ephraim Tan - Art Director
Raissa Azalia - Illustrator
Restu Dicky - Layout Artist
Gentha Yoma Putra - Animation Director
Mika Reksowardojo - Animator
Bintang Olii - Sound Designer & Composer
Follow all five acts of Archimagination!
Thanks to FAUM student team Alixa Lacerna, Andria Langi, Max Sandred and Sabba Rezai.
More on SunShip @artslettersandnumbers