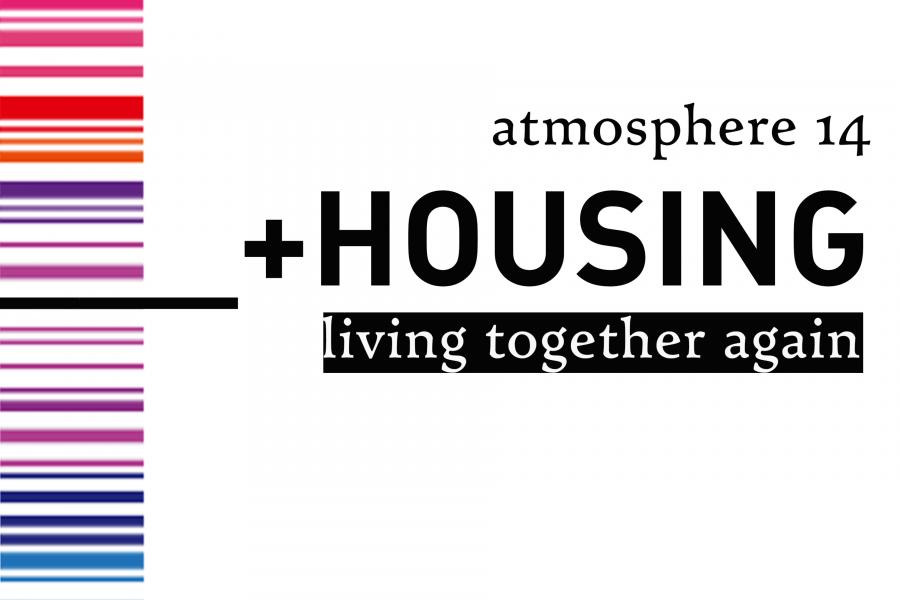 __________ + HOUSING: Living Together Again
'Living together' is arguably the most ancient task of architecture and the built/designed environment and is becoming the single most challenging and complex topic as we move towards the post-pandemic paradigm. 
Atmosphere 14 | __________ + HOUSING, the 14th annual symposium at the Faculty of Architecture, University of Manitoba, invites projects and discussions that questions the status quo practice and understanding of housing and speculates how we could live together again. What are the new and emerging normalities? What are the parameters of the living realigned through the pandemic? How can we live together with land and with each other? How dense can we live together; with whom or with what? How long can or should we sustain our living in a region/context, at what cost? What/how can we rethink/reform housing based on what we are experiencing?
The symposium invites projects and discussions that respond to living together again within the present/projected contexts of the post-pandemic world(s). Through the lens of housing, the symposium will examine and imagine emergent ideas and issues related to lifestyle, density, spatial typologies, history & theory, technology & construction, policy & development, regions and territories, environmental strategies and science, social and health parameters, and so 
Neeraj Bhatia | THE OPEN WORKSHOP
Tuesday, February 3, 2022
12:00 pm | Zoom
Moderator: Ryan Coates (ED)
Professional: Kent Mundle (HKU)
Student/Graduate: Connery Friesen (2 Architecture)
More information about Neeraj Bhatia
Collective Living as a Way of Life 
How and where to locate our collective values is at the core of reconciling what it means to live in a pluralistic society. If we understand pluralism as the dialectic of individual distinction and collective equality, the public realm becomes the arena for political negotiation. How the individual and collective are mediated through architecture is most precisely unpacked in collective housing typologies, where a renegotiation between the public and private realm offers new social and spatial organizations. This lecture will unpack how the individual and collective are organized through hardware, software, and orgware of a range of collective living case studies  and speculative design projects as a way of providing more agency to residents on shaping their own way of life.
About Neeraj Bhatia
Neeraj Bhatia is an architect, urban designer, and educator whose work resides at the intersection of politics, infrastructure, and urbanism. He is the founder of the design practice, THE OPEN WORKSHOP as well as an Associate Professor at the California College of the Arts where he also directs the urbanism research lab, the Urban Works Agency  Select distinctions include the Architectural League Young Architects Prize, Emerging Leaders Award from Design Intelligence, and the Canadian Prix de Rome. THE OPEN WORKSHOP's design-research has been commissioned by the Seoul Biennale, Venice Biennale, Chicago Architecture Biennial, and the Yerba Buena Center for the Arts, amongst other venues.
Lois Weinthal | Ryerson U
Friday, February 4, 2022
12:00 pm | Zoom
Moderator: Jason Shields (ID)
Professional:  Caroline Bosc (Number TEN)
Student/Graduate: Emily Barber
More information about Lois Weinthal
Elastic Poche: Pliable Bubble Diagrams
Interior spaces have been given greater focus over the past two years as the pandemic reshaped the immediate layers that surround us. Thresholds have been re-evaluated in response to one's personal bubble, drawing into question where boundaries begin and end. This talk will look at pliable layers and surfaces that wrap and surround us, including the conceptual bubble that expands and contracts to accommodate one or many, altering our understanding of enclosure.
About Lois Weinthal
Lois Weinthal is a Professor in the School of Interior Design at Ryerson University in Toronto. Her research and practice investigate the relationship between architecture, interiors, clothing and objects resulting in works that take on an experimental nature. Her teaching explores these topics where theoretical discussions in seminars are put into practice in the design studio. Edited books include Toward a New Interior: An Anthology of Interior Design Theory, and co-editor of After Taste: Expanded Practice in Interior Design, and recently, Digital Fabrication in Interior Design: Body, Object, Enclosure, co-edited with Jonathon Anderson. Previously, she taught at The University of Texas at Austin and Parsons The New School for Design. She studied architecture at Cranbrook Academy of Art and the Rhode Island School of Design. Currently, she holds the position of Honorary Professor at the Glasgow School of Art and Visiting Professor at the Faculty of Arts & Creative Industries at Middlesex University London.
 
Anupama Kundoo | Anupama Kundoo Architects
Monday, February 7, 2022
12:00 pm | Zoom
Moderator/: Dietmar Straub (LA)
Professional: Peter Hargraves (PHA)
Student/Graduate: Teresa Lyons
About Anupama Kundoo
Rethinking Urban Materiality: Time as a Resource
Our built environment is the physical stage on which all human stories are lived out. This physical stage is the historical and ongoing manifestation of human imagination operating within real (or, imaginary!) constraints. Anupama Kundoo advances the idea that architectural imagination must transcend design and enter the realms of materials science and economics where some of the bigger questions reside. She will discuss the thrust of her inquiries which have been to find practical ways to fulfill the universal human aspiration for refuge, purpose, and social engagement through extensive material research and experimentation. She will discuss 'Human Time as a Resource' in the quest for new materiality and critically examine the way the time value of money has nudged us towards code-based design and the industrialized production of building components and, sometimes, even entire buildings themselves. She will discuss materiality and consumption of finite natural resources alongside their impact on human wellbeing and human resourcefulness.
About Anupama Kundoo
Anupama Kundoo graduated from University of Mumbai in 1989 and received her PhD degree from TU Berlin in 2008. Her research-oriented practice started in 1990 in Auroville has generated people centric architecture based on spatial and material research for low environmental impact while being socio-economically beneficial. Her body of works was recently exhibited as a solo show 'Taking Time' at Louisiana Museum of Modern Art, Denmark till 16 May 2021. She has taught Architecture and Urban Management at various international universities strengthening her expertise in rapid urbanization and climate change related development issues and was the Davenport Visiting Professor at Yale University in Spring 2020. She is currently Professor at Potsdam School of Architecture, Germany. She is the recipient of the 2021 RIBA Charles Jencks award for her contribution to architectural theory, the 2021 Auguste Perret Prize for architectural technology and the 2021 Building Sense Now global award of the German Sustainable Building Council. Her studios are based in Berlin in Germany, and Pune and Pondicherry in India. Kundoo's rigorous research and experimentation in new materiality for architecture is the result of questioning basic assumptions, construction habits that humanity has adopted during the long process of industrialization. Rather than focussing on shortage, she sought abundance through investing in human resources and human resourcefulness, such as ingenuity, time, skills, care and sense of community. The act of building produces knowledge just as the resulting knowledge produces buildings.
Jing Liu | SO-IL
Thursday, February 10, 2022
12:00 pm | Zoom
Moderator: Neil Minuk
Professional: Sasa Radulovic
Student/Graduate: Ben Greenwood 
About Jing Liu
Housing and Houses
What can the myriad global challenges currently faced by humanity teach us where our homes are concerned? The time is now for a radical, revolutionary shift in our approach to housing in a rapidly shifting environment.
About Jing Liu
Jing Liu has been practicing for over 15 years, working on a wide range of projects in the US and abroad. Through building practice and interdisciplinary research, Liu has led SO – IL in engaging with the socio-political issues faced by urban environments. Her projects range from artistic collaborations with contemporary choreographers and visual artists, to master plan and major public realm design in cities like Melbourne and Indianapolis.
Michael LaFond | ID22
Monday, February 14, 2022
12:00 pm | Zoom
Moderator: David van Vliet
Faculty/Professional: Melissa McAlister
Student/Graduate: Sarah Manteuffel
More information about Michael LaFond
Social-Ecological Cooperative Housing
We, the humans inhabiting this planet Earth, have created what is known as the Anthropocene, and in this context are now collectively entering a time of crisis. The various crises are not only somewhere far away and at some time in the distant future, but around us, now. Yes, some of us are relatively privileged while many others are indeed left to do more of the suffering. It is however time for all of us to try to recognize the challenges - as well as the opportunities - that are indeed emerging. As others are suggesting, we have to reconsider the very narrative we are working with. We are asked to define our questions in new ways to come up with answers that will truly help us with the necessary processes of transformation and regeneration. 
Regarding the particular challenges and opportunities humans are facing with respect to housing, I am advocating working with a social-ecological approach, which argues that our ecological problems are very much connected to our social problems. Even more, this proposes that we first deal with the social questions, and in any case, calls on us to be looking for integrated solutions which look for synergies among social and ecological opportunities. More specifically, this perspective is encouraging us to take advantage of the great opportunities found in strategies for the development and management of housing which ambitiously seek to provide affordable, community-led housing which is at the same time what we would like to call sustainable, or even regenerative. 
Applying a social-ecological approach to housing leads to positions such as the following: 
Many technologies and organizational strategies critical to just and regenerative housing already exist, some of them for hundreds or even thousands of years, as long as humans have been living and sharing in groups and communities. 
Our current challenges, as well as opportunities, are best faced collectively, taking advantage of amazing human abilities, for example,  communicating effectively with each other, coordinating complex actions, and most importantly, sharing and cooperating. 
Some advantageous structures, like the housing cooperative, have emerged in the last century or so, also in response to crises. 
We are encouraged to work for combinations of energy efficiency and resource sufficiency. 
There is most certainly no easy, simple, or one solution to our present challenges, but rather a great range and variety of partial solutions.
Successful strategies will lead to improvements in quality of life. 
I am arguing for increased study of, development, and support for housing cooperatives, as local, hopeful, integrated projects, taking advantage of as many opportunities and synergies as possible. With this presentation, I will be introducing a number of examples of housing cooperatives, especially from Europe's German-speaking cities. These model projects do not pretend to be utopian but do offer themselves as living research and demonstration centers, as schools for democracy, as places of hope in these challenging times.
About Dr. Michael A. LaFond
Cooperative and CoHousing Expert, Common Good Community Developer & Urban Activist
Founder id22: Institute for Creative Sustainability (2003)
Publications: CoHousing Cultures and CoHousing Inclusive 
Online Platform CoHousing|Berlin
Interdisciplinary background in art, architecture, urban design and planning, community development Teaching: TU Berlin Habitat Housing Seminar and CIEE Design and Sustainability Seminar 
Research: self-organization, urban democracy, cooperatives, edible landscapes, conviviality 
Chair of the Board of Trustees of the Stadtbodenstiftung in Berlin, Germany's first example of a Community Land Trust
Board member of the Spreefeld Housing Cooperative; living since 2014 in the Spree WG shared-living group
Tilman Latz | LATZ+PARTNER
Thursday, February 17, 2022
12:00 pm | Zoom
Moderator: Dietmar Straub
Professional: Suzy Melo
Student/Graduate: Naomi Ratte
More information about Tilman Latz
Urban Adaptations - Center, Periphery, Transition
Today, people in our cities are expressing increasingly different demands on life in our cities. There is a growing desire for spaces that emphasize living together and experiencing the city in a positive way. In this context, the car, previously the central determinant of urban development, is being pushed more and more into the background. Climate change, digital worlds of work and shopping, and the desire for participation and integration reinforce this development. The pressure for change on public space in our cities will intensify in the coming years. I would like to show built responses from our office, based on three projects in Germany, Holland and Belgium. 
About Tilman Latz
Tilman Latz has been running the practice LATZ+PARTNER since 2011 after ten years of partnership with Anneliese and Peter Latz and from 2016 together with his wife Iris Dupper. He is a member of the Federation of German Landscape Architects bdla and the Deutscher Werkbund Bayern. He is involved in the profession on the board of the bdla Bayern and in the international project group of the Bavarian Chamber of Architects. 
Tilman Latz studied landscape architecture at the University of Natural Resources and Life Sciences in Vienna and at the University of Kassel, where he graduated in 1993. He went to study architecture at the Architectural Association in London and then at the University of Kassel, where he completed his studies in 1997 with a diploma in architecture.
From 1997 to 2001 he worked as a project manager for Jourda Architectes Paris. In 2001 and 2003 he was guest lecturer at the University of Pennsylvania in Philadelphia and from 2012 to 2014 guest professor at the University of Kassel. Since February 2022, he has been Professor of Planning and Design in Landscape Architecture at the HSWT in Freising, Weihenstephan.
 
Pat Hanson | GH3
Friday, February 18, 2022
12:00 pm | Zoom
Moderator: Herbert Enns
Faculty/Professional: Michael Butterworth
Student/Graduate: Dylan Moll
About Pat Hanson
Living Together / Urban Water Projects
The built environment, and its use and care of resources, plays a central role in the sustainability and resiliency of our life on this planet. While climate change is impacting many areas, water is foremost among the resources that humans must learn to use less of and care better for. gh3* has worked to leverage the power of architecture and landscape to advance this issue over numerous projects and two decades, including our Ashbridges Bay Wastewater Treatment Facility masterplan and Edmonton's Real Time Control Building #3. The innovations of the Natural Swimming Pool, the Stormwater Quality Facility, and most recently the Blatchford District Energy Sewer Heat Exchange systemically and didactically, are the culmination of this extensive engagement with urban water issues, and represent a model for civil and architectural projects to lead the way in both performance and profile as we transition to more sustainable ways of living in our urban environments.
About Pat Hanson
Pat Hanson is Principal at gh3, a Toronto-based architecture, landscape and urban design practice renowned as one of Canada's most innovative and progressive. Pat founded gh3 in 2006 with the conviction that excellent design is a necessary part of everyday life, and that spatially and visually engaging places inspire joy, promote health and generate civic pride.
Over her 30-year career, Pat has advanced an agenda of environmental sustainability and ecological resilience, creating meaningful connections between architecture and landscape design particularly in an urban context. Project innovations seen in the Ashbridges Bay Wastewater Treatment Facility Masterplan, Edmonton's Real Time Control Building #3, the Natural Swimming Pool and the Toronto Stormwater Quality Facility, are the culmination of her extensive engagement with urban water issues, representing a model of sustainable city building. Pat has received four Governor General Medals in Architecture for projects across Canada, with two specifically related to urban water.
Pat's dedication to the future vitality of our cities goes beyond gh3's work. As a member of the Waterfront Toronto Design Review Panel, Pat has advised Waterfront Toronto and the City of Toronto on consequential issues, helped create RFPs to the development industry, adjudicated international design competitions, guided corporate strategies and advocated for responsible, resilient development. Committed to advancing the profession and supporting young designers, Pat has taught at the schools of architecture at University of Toronto and University of Waterloo.
Pat is a former senior adviser to BEAT, (Building Equity in Architecture Toronto); an organization dedicated to promoting equality in the profession and was a founding member of the Women's Architectural League in 1985. Pat was inducted into the RAIC College of Fellows in 2014, named a WLI champion by the Urban Land Institute in 2015, and was recognized by the International arcVision Prize for Women and Architecture in 2016.
Pat is a strong advocate for the potential for built form to transcend the merely functional, to integrate the pragmatic with the poetic, and to achieve an aesthetic impact that brings pleasure to everyday uses. Pat's career demonstrates the positive impact visionary individuals can have on our communities, cities and landscapes, and the importance of providing visible leadership and mentorship to future generations seeking to do the same. 
 
A conversation on Living Together Again (Publications on Housing)
Friday, March 11, 2022
12:00 pm | Zoom
Johanna Hurme  |  5468796 Architecture Inc. |  Cornell U
platform.MIDDLE
Diana Lind  |  Bold Type Books
BRAVE NEW HOME: OUR FUTURE IN SMARTER, SIMPLER, HAPPIER HOUSING
Megan Marin  |  CCA
A Section of Now: Social Norms and Rituals as Sites for Architectural Intervention
 
About Johanna Hurme
Johanna Hurme is an architect and co-founder of Winnipeg-based 5468796 Architecture. In the past 14 years the firm has received numerous awards and recognitions regionally, nationally and internationally, and its work has been published in over 200 books and publications. 546 seeks projects that explore the potential for density, affordability, sustainability achieved through non traditional means and a dynamic design approach.
In addition to practice, Johanna is an advocate for modern urban design policy. She is passionate about making the creative sector an integral part of broader culture by spearheading ventures like Table for 12 + 1200, Chair Your Idea and Design Quarter Winnipeg, which she leads as CEO. With a keen interest in grounding her firm's work in contemporary issues, her pursuits centre around understanding how an architect's role in challenging contexts must increasingly intersect with politics, economics, social activism, and other forms of cultural and scholarly research.
Johanna is past Chair of the Winnipeg Chamber of Commerce Board of Directors [2017] and on the National Board of Directors of the Royal Architectural Institute of Canada. She has taught design at the University of Manitoba, the University Toronto, the University of Montreal, the Illinois Institute of Technology, Cornell Architecture, Art and Planning in NY and lectures at institutions, forums and festivals across Canada, the United States, Europe and Asia. In 2017, she was shortlisted for the International Moira Gemmill prize for Emerging Architecture and is a recipient of the Manitoba Woman Entrepreneur of the Year Award.
Johanna is a contributor to Cambridge Scholars' 2019 publication, Innovative Solutions for Creating Sustainable Cities, and and author of platform:MIDDLE, Housing for the 99%, to be published in late 2022.
About Diana Lind
Diana Lind is a writer and urban policy specialist who has worked at Architectural Record magazine, Next City, the Philadelphia Inquirer and the University of Pennsylvania. She is currently the Executive Director of the Arts + Business Council for Greater Philadelphia. She lives in Philadelphia.
This smart, provocative look at how the American Dream of single-family homes, white picket fences, and two-car garages became a lonely, overpriced nightmare explores how new trends in housing can help us live better.
 
Over the past century, American demographics and social norms have shifted dramatically. More people are living alone, marrying later in life, and having smaller families. At the same time, their lifestyles are changing, whether by choice or by force, to become more virtual, more mobile, and less stable. But despite the ways that today's America is different and more diverse, housing still looks stuck in the 1950s.
In Brave New Home, Diana Lind shows why a country full of single-family houses is bad for us and our planet, and details the new efforts underway that better reflect the way we live now, to ensure that the way we live next is both less lonely and more affordable. Lind takes readers into the homes and communities that are seeking alternatives to the American norm, from multi-generational living, in-law suites, and co-living to microapartments, tiny houses, and new rural communities.
Drawing on Lind's expertise and the stories of Americans caught in or forging their own paths outside of our cookie-cutter housing trap, Brave New Home offers a diagnosis of the current American housing crisis and a radical re-imagining of future possibilities.
About Megan Marin
A Section of Now: Social Norms and Rituals as Sites for Architectural Intervention reflects upon the relationship between architecture and society amidst expanding notions of housing, family, labour, agency, and technology. Accompanying the exhibition of the same name, on view at the Canadian Centre for Architecture from November 2021 through May 2022, the publication seeks to catalyze design interventions that accommodate, influence, and, in some cases, pre-empt our new lived realities. Bringing together analytical essays on the contemporary moment, projective texts that outline new spatial frameworks, and numerous architecture and design proposals that respond to shifting societal norms and conditions, A Section of Now outlines a new set of relationships between individuals, communities, and the spaces in which they coexist.
About Megan Marin
Megan Marin currently works as a curatorial assistant at the Canadian Centre for Architecture (CCA) in Montreal. In this role, she has contributed to the research and development of several exhibitions and publications at the intersection of architecture, design, and contemporary social issues. Her recent work has focused upon the spatial implications of labour, including a role as co-editor of Workplace, a collaboration between e-flux Architecture and the CCA. She is the recipient of a Master of Design Studies from the Harvard Graduate School of Design and a Bachelor of Industrial Design from Carleton University.