Biking to campus
Cycling can be a fast, fun, and inexpensive way to travel to University of Manitoba campuses. As cycling facilities continue to expand both on and leading to our campuses, more and more University community members are arriving by bike.
Cycling tips
Gear up. Take the weight off your back with bike panniers, and don't forget a good U-lock and bike lights, especially if you're riding at dawn or dusk.
Get protection. Register your bike with City of Winnipeg Community Services Bicycle Recovery Section.
Stay safe. Manitoba Public Insurance (MPI) has a wealth of information on cycling safely. 
Lock it up. The frame and one wheel should be secure with a solid steel U-lock. Secure any additional quick-release parts, including your second wheel and seat, with another U-lock or a double-end cable lock.
See something, say something. Report bike theft or suspicious behaviour to Campus Security Services and Winnipeg Police.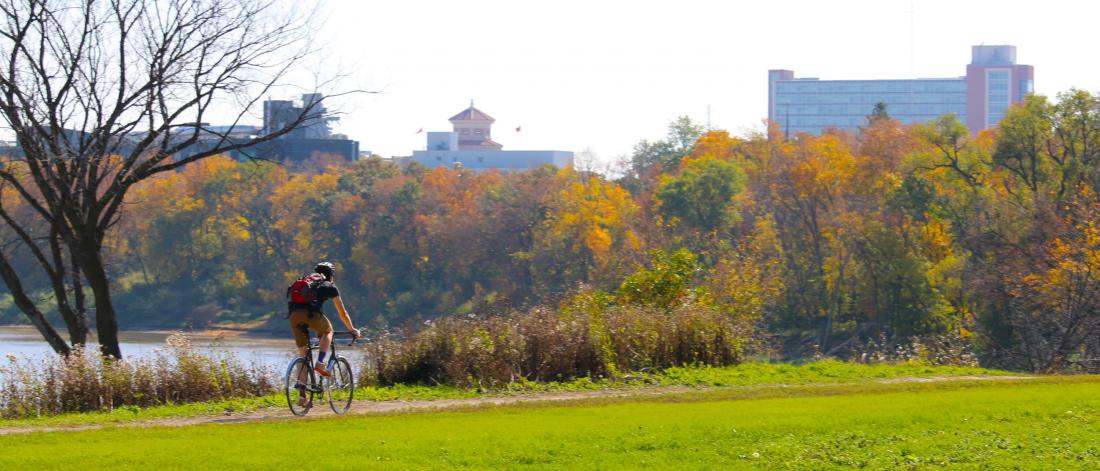 Showers
Staff who bike, run or walk to campus can purchase a shower-only pass at Max Bell on Fort Garry or Joe Doupe on Bannatyne campus. Purchase day pass access for $2, or monthly pass access for $10. Register at Recreation Services Reception in Frank Kennedy Centre (Fort Garry campus), or in Room 030 at the Brodie Centre (Bannatyne campus).
Bike lockers and parkade
Weather-protected bike lockers are available for rent on the Fort Garry campus.
Located on the ground level of the University Parkade, the Bike Station is a covered, enclosed parking facility for 100 bikes, secured with a card-lock system. Fill out a registration form for access. U of M card programming available through Physical Plant. $10 admin fee applies.
Bike servicing
Keep your bike in good working order with these on-campus options