Biking to campus
Cycling can be a fast, fun, and inexpensive way to travel to University of Manitoba campuses. As cycling facilities continue to expand both on and leading to our campuses, more and more University community members are arriving by bike.
Bike Parking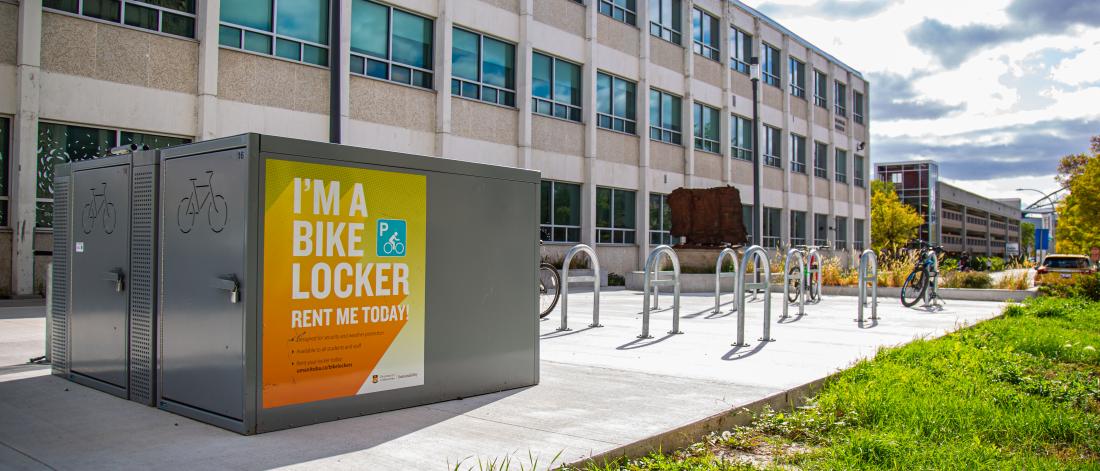 Bike Station
Located on the ground level of the University Parkade, the Bike Station is a covered, enclosed parking facility for 100 bikes, secured with a card-lock system. Permits are available through the Parking Portal using your UM Net ID login.
If you have previously held swipe card access with the University, your card will be automatically activated within 1 business day of purchasing your Bike Station permit.
For those who have never had swipe card access or have a new card, your card will need to be manually activated by the Physical Plant office. Please contact their office at accreqfg@umanitoba.ca to set up a time to have your card activated.
Bike Lockers
The University of Manitoba offers 18 secure bike lockers located across the Fort Garry Campus, providing a personal, weather protected and secure enclosure for storing your bicycle.
Lockers are custom designed for the Winnipeg climate and are intended to fit most bikes. Each locker is 75 inches deep, 50 inches tall and 33 inches wide (at the door).
To request a bike locker, please fill out our Bike Parking Waitlist Webform. Parking Services will contact you via e-mail once a bike locker is available. Should space be available immediately, Parking & Transportation Services will advise.
Rental Rates
Bike lockers are available to the University of Manitoba community in terms of up to one year. The rental rate has a one-time refundable key deposit of $75.00 which must be paid in advance. Rental terms are based on the University's academic schedule and begin in line with fall, winter and summer terms. Renters can hold a locker for a maximum of one year before they must renew their spot. 
Rental Period    
 Price (incl. GST)
 1 Month
 $15.00
 4 Months
 $60.00
 8 Months
 $120.00
12 Months
 $180.00
Locker Locations at Fort Garry Campus
Locations can also be found on the Ft. Garry parking map.
- Extended Education (4 lockers)
- EITC (4 lockers)
- Science Complex (4 lockers)
- Dafoe Library (5 lockers)
- University Centre (1 locker)
For more information about bike lockers and other sustainable transportation options at the University of Manitoba, please contact parking@umanitoba.ca
Cycling Tips
Gear up. Take the weight off your back with bike panniers, and don't forget a good U-lock and bike lights, especially if you're riding at dawn or dusk.
Get protection. Register your bike with City of Winnipeg Community Services Bicycle Recovery Section.
Stay safe. Manitoba Public Insurance (MPI) has a wealth of information on cycling safely. 
Lock it up. The frame and one wheel should be secure with a solid steel U-lock. Secure any additional quick-release parts, including your second wheel and seat, with another U-lock or a double-end cable lock.
See something, say something. Report bike theft or suspicious behaviour to Campus Security Services and Winnipeg Police.
Showers
Staff who bike, run or walk to campus can purchase a shower-only pass at Max Bell on Fort Garry or Joe Doupe on Bannatyne campus. Purchase day pass access for $2, or monthly pass access for $10. Register at the customer service desk in the Active Living Centre (Fort Garry campus), or in Room 030 at the Brodie Centre (Bannatyne campus).
Bike servicing
Keep your bike in good working order with these on-campus options
Self-serve Bike Repair
Bicycle repair tools and pumps are available for sign-out on Bannatyne campus at the Neil John Maclean Health Sciences Library during regular library hours.