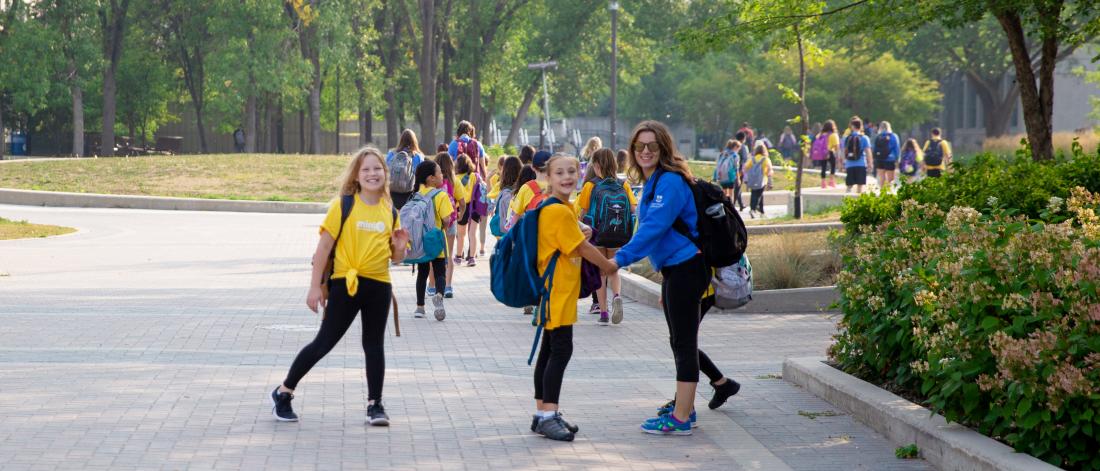 Unfortunately, we are not able to offer our busing service for our programs offered in summer 2021.
Offered: fall, winter, spring, summer Subsidies
The Faculty of Kinesiology and Recreation Management recognizes that fees can pose a barrier when engaging children and youth in programming. Various subsidy opportunities are available to offer assistance and spots will be reserved each week for successful subsidy applicants.
Thank you to the Barkwell family! A portion of this fund is provided by the late Edward James (Ted) Barkwell, whose lifelong passion for sport lives on. The Ted Barkwell Memorial Fund allows underprivileged children to meet new friends and learn new skills in a university setting.
Applicants are required to pay a $60.00 fee as contribution towards their selected program. The remaining fees will be covered by the Faculty.

Subsidy Programs
Low-Income - Available for participants/athletes who do not have the financial means through parents, guardians or agencies.
Indigenous Engagement - Available for participants/athletes of Indigenous cultural backgrounds (status, non-status, Metis, Inuit). 
Special Needs - Available for participants/athletes with developmental and/or physical disabilities. 
Our subsidy program is now closed for this year. We will look forward to connecting with you again next summer!
Questions regarding this subsidy option can be directed to  mini.u@umanitoba.ca.
The Mini Print
Applications are assessed on a first-come, first served bases. Opportunities are available while funds remain. Limitations to the number of programs subsided may apply per child per calendar year may apply. We do not hold spots in programs during the period in which your application is being reviewed. Applications are received in-person, by mail or fax (online registration is not available). Once all required documents are provided, our staff will inform you (within 10 days) of whether or not you qualify for subsidy.
Offered: summer Support leaders
Having unique needs is not unique. We understand that everyone has preferences, needs and requires some form of accommodation in order to be most successful.
Prior to their arrival to the program, families are provided the opportunity to identify and share any special needs that are important to their child's success while attending our programming.
Learn more about attending our programs with special needs here. 
Requesting a support leader
All support leaders are to be booked through our online registration system and are allocated on a first come first served basis.
Registering for a support leader
Reserve a support leader for the week of your choice.  
Register for a program of your choice during the same week.  
Once your registration has been processed, submit a completed special needs form. A new form is required each year of participation.
Support leaders are funded in one of two ways:
Mini U funded
Mini U funded support leaders are available each week for children who do not have funding through any other agency. Each child may request a maximum of two weeks of support per summer at no additional cost.
Family funded 
A limited number of support leaders may be available to families who wish to pay for the cost of the employee. This option is available to anyone who feels their child's experience would be more successful with the support of a one-on-one leader.
Fee: $548 ($441 for a short week)
Bringing external support
If you believe your child would be most successful with one on one support provided by another agency, we would be happy to welcome them. Guardians are not able to act as external support workers during our programs.