Overview
Origin of the PET signal
PET is a functional nuclear medicine imaging modality based upon the detection of energy emitted when a positron produced by decay of a radioactive tracer is annihilated in a collision with an electron.
This energy is emitted in the form of two gamma rays emitted at 180o to each other with an energy of 511 keV.
The gamma rays are detected with a dedicated PET camera system comprised of a ring of detectors. The ring design exploits the fact that that two photons detected in close temporal proximity by detectors separated by 180o in the ring are likely to have originated from a single annihilation event in the sample somewhere along a line between the two detectors. This simultaneous detection is termed a "coincidence" event.
All of the coincidence events detected during an imaging period are recorded and the raw data is reconstructed to produce cross-sectional images.
PET isotopes
Some positron emitters and their half-lives are shown here.
It is clear from this table that isotopes that decay be positron emission are typically very short lived, meaning that efficient operation of PET imaging facility requires local production of isotopes. Isotopes for our facility are produced at the Winnipeg Cyclotron Facility on the Health Sciences Centre campus.
PET isotopes may be incorporated into a variety of tracers, depending upon the nature of the isotope and the physiological process under investigation. The most common clinical application of PET is the detection of increased metabolic activity by imaging the distribution of the PET tracer 18F-fluorodeoxyglucose (18F-FDG).
FDG is a non-metabolizable analogue of glucose that is taken up by cells by the same transport mechanisms used to take up glucose. FDG therefore accumulates in metabolically active tissues.
Imaging the distribution of the PET analogue of FDG, 18F-FDG, allows investigators to assess variations in metabolism in various tissues. Such imaging has proven valuable in localizing elevated metabolic activity associated with proliferating tumours and inflammatory responses.
Physiologically useful PET tracers
PET isotopes incorporated into ligands for clinically important cellular receptors can be used to determine the distribution and density of such receptors, as well as to assess the affinity of ligands for receptors for example 18F labelled L-Dopa can be used to localize dopaminergic receptors.
In addition to diagnosis, PET imaging can therefore also be used to study the efficacy and pharmacokinetics of therapeutics.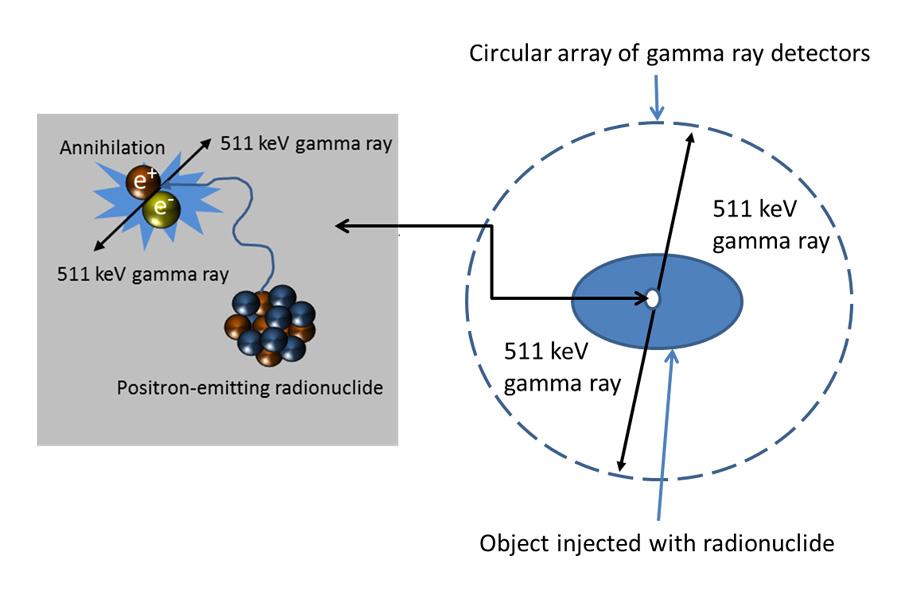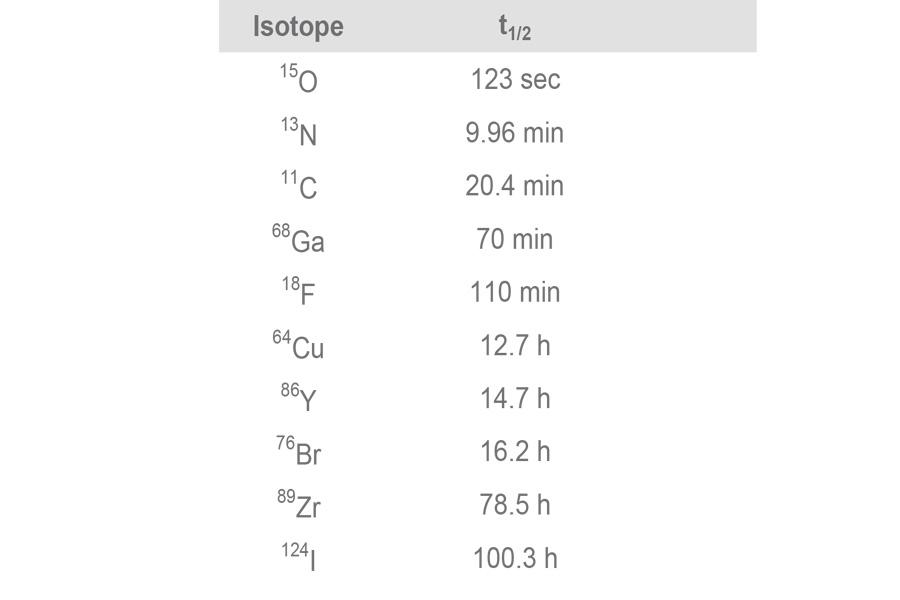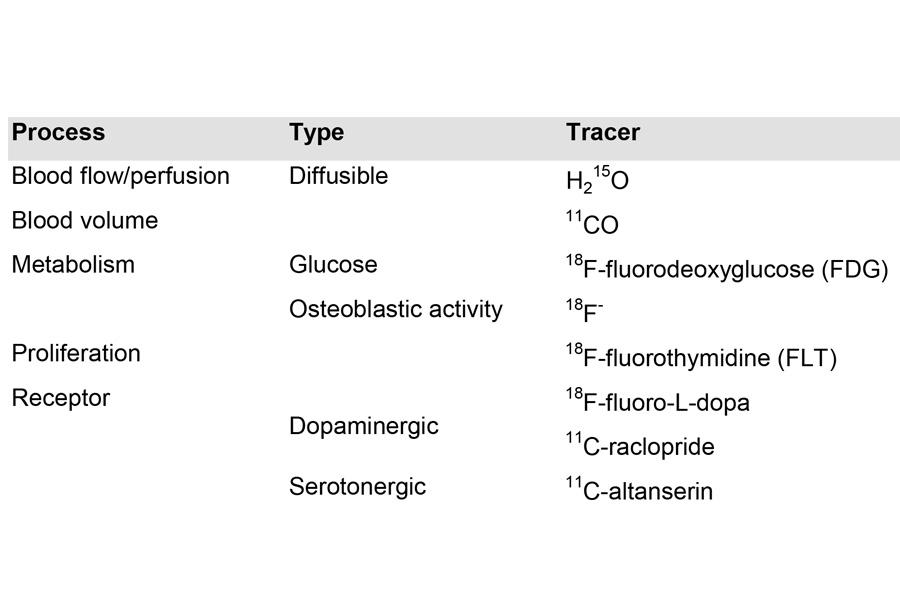 Examples
Cardiac ischemia
Due to the high metabolic rate of cardiomyocytes, the heart is an excellent target for PET studies using 18F-FDG.
Shown here is PET imaging of rat heart during an ischemic insult. In this example, a clear zone with no 18F-FDG activity is seen in the heart following a period of ischemia, indicating an area of the myocardium is not being perfused by blood.
Acquisition time: 20 minutes. Tracer: 18F-FDG.
Images acquired under a CIHR Emerging Team Grant in the Regenerative Medicine and Nanomedicine Initiative (P.I. Ganghong Tian, NRC-IBD).
Cerebral ischemia
As with the myocardium, the brain is an excellent candidate for PET imaging using 18F-FDG. Figure 2 shows the distribution of 18F-FDG in a geriatric rat, with a clearly discernible region of low 18F-FDG uptake indicative of a perfusion defect.
PET images of geriatric rat brain during. Acquisition time: 20 minutes: Tracer 18F-FDG. Images acquired under a CIHR Emerging Team Grant in the Regenerative Medicine and Nanomedicine Initiative (P.I. Ganghong Tian, NRC-IBD).                    
Biodistribution of stem cells
PET imaging can also be used to study the biodistribution of cells introduced into an animal.
Here we see biodistribution of labelled stem cells, as a function of time. PET images were acquired over a three-hour period following tail vein injection of adipose derived stem cells previously incubated with 18F-FDG.
Acquisition time: three-hour dynamic study.
Tracer: 18F-FDG labelled adipose tissue stem cells.
Images acquired under a CIHR Emerging Team Grant in the Regenerative Medicine and Nanomedicine Initiative (P.I. Ganghong Tian, NRC-IBD).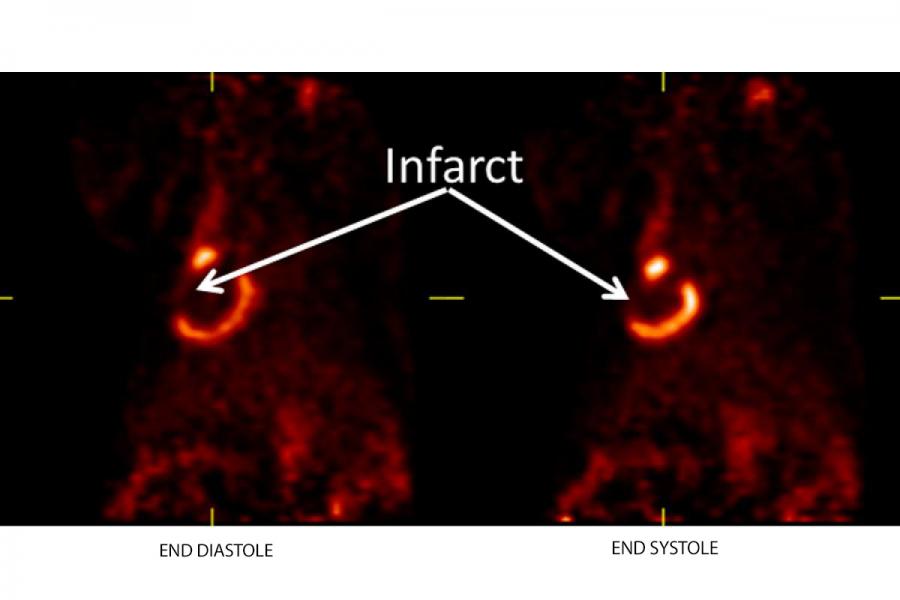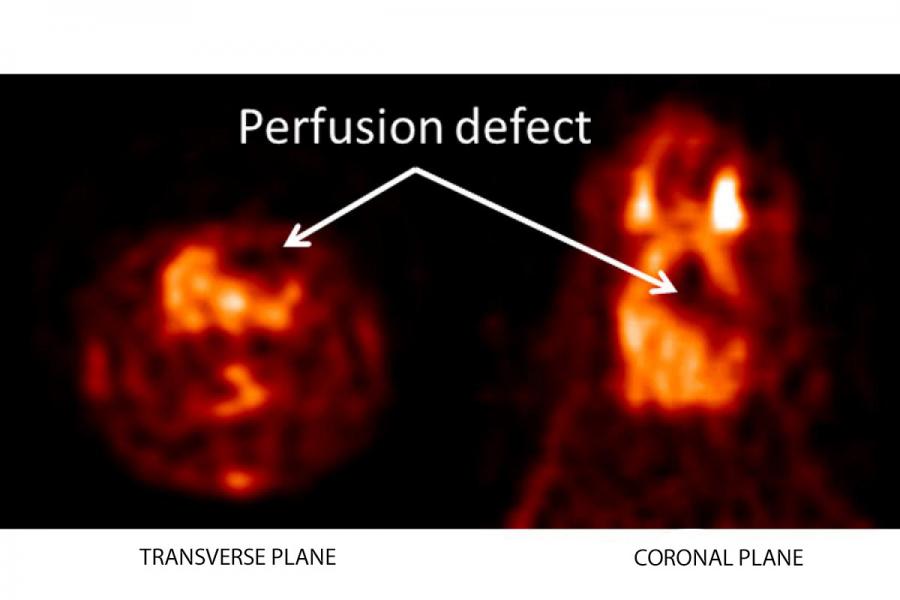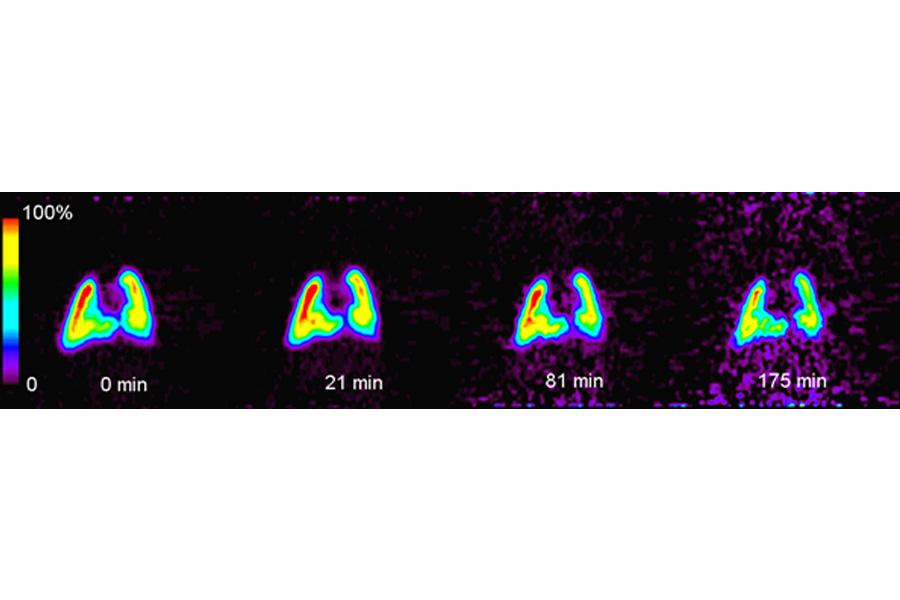 Instrumentation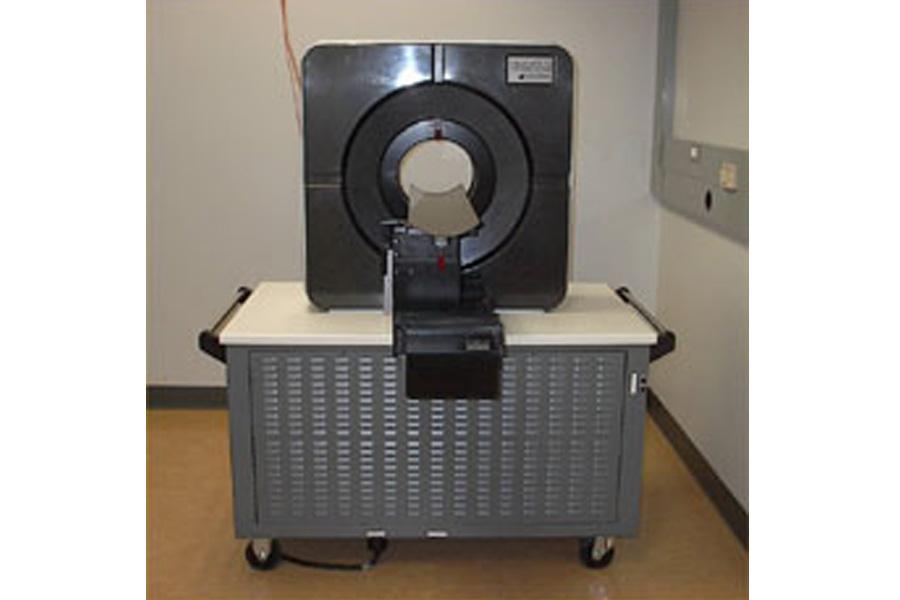 Siemens Preclinical Solutions PET imaging system
PET images are acquired on a Siemens Preclinical Solutions PET imaging system equipped with 168 detector modules arranged as four rings of 42 modules.
Additional information
Fluorescence and bioluminescence images are acquired using a high sensitivity, back thinned, back illuminated CCD camera cooled to -90 degrees Celcius.
Spectral region selected is enabled by 10 narrow band excitation (430, 465, 500, 535, 570, 606, 640, 675, 710 and 745 nm, 30 nm bandpass) and 18 narrow band emission (500, 520, 540, 560, 580, 600, 620, 640, 660, 680, 700, 720, 740, 760, 780, 800, 820 and 840 nm, 20 nm bandpass) filters, optimized to allow data acquisition from the blue to near infrared wavelength regions (430 nm to 850 nm).
For fluorescence imaging, the IVIS Spectrum allows investigators to use either trans-illumination (from the bottom) or epi-illumination (from the top) to illuminate experimental animals. Using a combination of a structured light source and trans-illumination investigators can perform 3D diffuse fluorescence tomography to determine source localization and concentration.
Four fields of view, (22.5 cm, 12.5 cm, 6.5 cm, and 3.9 cm) are selectable, allowing studies of up to 5 mice simultaneously or a single sample with high spatial resolution (up to 20 um).
Applications
Applications include:
Non-invasive imaging of animal models of human disease
Non-invasive imaging of genetically engineered animals
Assess efficacy, pharmacokinetics and biodistribution of novel pharmacological agents
Assess novel drug delivery and gene therapy approaches
Develop new radiotracers for diagnostic imaging
Contact us
Central Animal Core Imaging and Transgenic Facilities
23 Basic Medical Sciences Building
745 Bannatyne Avenue
University of Manitoba
Winnipeg, MB R3E 0J9 Canada
Transgenic services: transgenicservice@umanitoba.ca
Imaging services: SAMICF@umanitoba.ca