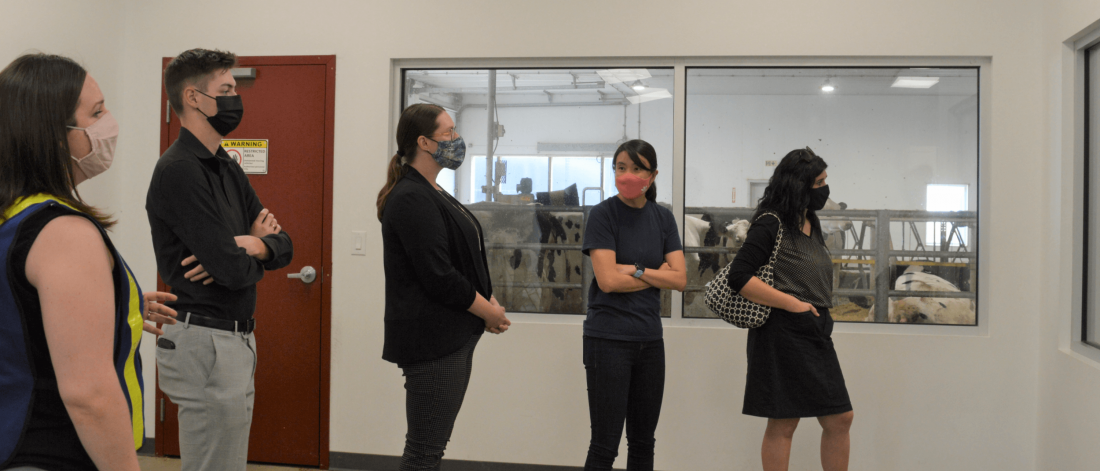 Come explore the Discovery Centre to learn about how food is produced and processed in Canada! Whether you're dropping in for a self guided tour, booking a private tour for your group of friends or family, joining us for an educational program or birthday party, or booking our versatile meeting space, the Farm and Food Discovery Centre welcomes you with open arms and a smile on our faces.
Hours of operation
Operating hours
Tuesday - Saturday from 10:00 am - 4:00 pm
We are currently only open for pre-booked visits. There are no drop-ins at this time. 
Visit our COVID-19 Information page for more details on our safety protocol. 
Closures
We are closed on long weekends and all holidays observed by the University of Manitoba.

Upcoming Closures: 
November 11 for Remembrance Day
December 12 to January 4 for FFDC & UM Holiday Closure
Admission
| Drop-in admission | Price (taxes included) |
| --- | --- |
| Children (0-2 years old) | FREE |
| Youth ages (3-17 years old) | $4.00 |
| Adults ages (18+) | $5.50 |
| Seniors (65+) | $4.00 |
| Family Rate (1-2 adults, 2-4 youth) | $20.00 |
| Add on a dairy barn tour | $1.00 / person |
Note, these prices reflect drop-in rates only. Additional rates may apply for specialty tours.
For prices on educational programming, meetings, team building, facility rentals, or birthday parties, follow the links on the right to their webpages. 
COVID-19 update
In accordance with Manitoba Public Health Orders and University of Manitoba COVID-19 procedures, FFDC:
- requires masks to be worn by anyone ages 5yrs +,
- requires proof of vaccination for eligible guests (born on or before December 31, 2009)
- is enforcing physical distancing standards
- is keeping certain exhibits that are unable to be sanitized closed among other safety procedures. 
For full details on the safety protocol in place to keep you, our staff and our community safe, head to our COVID-19 Information page. 
Upcoming events
The Farm and Food Discovery Centre hosts a wide range of family fun events throughout the year. Some crowd favourites include Ice Cream Party, Breakfast with Santa, Pumpkin Carving Party, Open Farm Day, and Pizza Party. Make sure your crew doesn't miss out on all the fun at the Discovery Centre!
Pumpkin Carving Party
October 30, 2021
Join us on Saturday October 30th for our annual Pumpkin Carving Party! During your visit you will be able to:
Carve your jack-o-lanterns using the stencils and tools provided by FFDC
Tour the dairy barn
Explore the discovery centre
Try out your halloween costume
Get a halloween treat bag
and best of all, leave the clean up to us!
 
You can bring your own pumpkin or buy one from us (must be requested when registering) to carve! There are two event times available: 10:00 am - 12:00 pm & 1:00 pm - 3:00 pm. Pre-registration is required and spots are very limited. Book your spot today using our online booking form. 
 
Price List:
Event admission: $6.00 / person 3 years old +, free for children 0-2 yrs
Purchase a pumpkin: price to be determined based on pumpkin purchasing costs to FFDC.
All COVID-19 safety protocols will be maintained.
Details on current protocol are available on our COVID-19 page.
Current protocol is subject to change based on Public Health Orders and University of Manitoba policy.
Find us
Bruce D. Campbell Farm and Food Discovery Centre
1290 Research Station Road
Glenlea Research Station | University of Manitoba
Glenlea, Manitoba, Canada, R0G 0S0
1-204-883-2524
1-204-883-2532