Asper return to in-person learning strategy
The Asper School of Business will continue to follow-up COVID-19 health and safety measures set out by the University of Manitoba. Winter 2023 classes and events on our campuses will continue to be in-person with masks being mandatory on campus until further notice. Please review the frequently asked questions below for more information.

For the latest update, please review the mask policy for Winter Term 2023 from Dr. Michael Benarroch, President and Vice-Channcellor.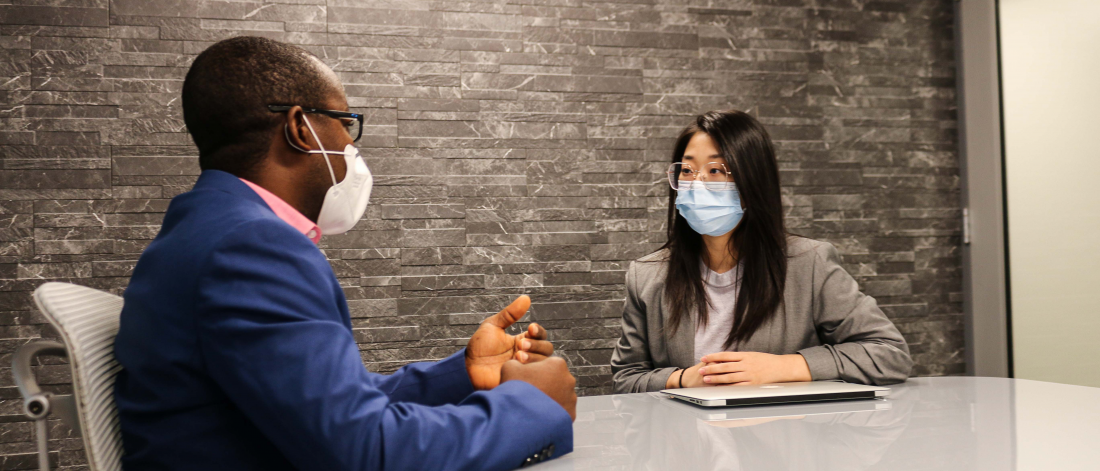 Frequently asked questions
The content on this page will evolve and be updated based on information we receive and questions as they arise. All decisions are made using the guidance of Shared Health and the University of Manitoba.
Please check back regularly.
Is the Drake Centre open?
Drake Centre hours (September 6, 2022 - January 3, 2023)
Monday - Friday, 7 a.m. - 10 p.m.
Saturday - Sunday, 8 a.m. - 6 p.m.
How do I access the student lounges in the Drake Centre?
To access Asper student lounges or the computer rooms your card must be set up as an Asper Student.  To set up your card please visit Physical Plant at 89 Freedman Crescent to have your card encoded to access the card accessible rooms in Drake.
Can I use the study spaces at the Drake Centre? Where can I work?
Yes during the Drake Centre's open hours. The quiet and loud study areas, fishbowl, and commemorative room are all open.
What is UM doing about air quality and ventilation?
UM heating, ventilation, and air conditioning (HVAC) systems are maintained in accordance with the requirements for building occupancy, and are maintained regularly for filter and operating conditions. The UM HVAC systems meet the standards in place at the time of construction or renovation, and provide good ventilation to our campus buildings. These standards are supported by the Government of Canada and are part of the guidance for ventilation created by the Public Health Agency of Canada to prevent COVID transmission.

Ventilation systems will also continue to be improved to ensure a healthier environment for all.

More information about UM building ventilation measures
Can I have a club, team, or other meetings and events at Drake?
Yes.  Meetings and other gatherings of fewer than 100 people are allowed.  Any events of more than 100 people, on-campus or off, or any events in which alcohol is served, must still apply for approval.
Can I book a meeting room or classroom at Drake for an event or meeting?
Yes - email larah.combate@umanitoba.ca with your request. 
Can I eat and drink at Drake?
The cafeteria space remains closed. You may eat at the University Centre food court area or other cafeteria spaces, as long as you follow social distancing requirements when your mask is off.
What are the hours of the Scotiabank Technology Centre?
Opens the same time as the Drake Centre. Closes half hour before the building closes.
Is the Albert D. Cohen Library open?
No, it is temporarily closed.
Is the CIBC Business Intelligence Centre open?
Opens the same time as the Drake Centre. Closes half hour before the building closes.


Vaccines, masks and safety
Are masks still required?
Yes. Masks will continue to be mandatory in indoor spaces throughout the Winter 2023 semester.
KN95 masks are highly recommended, but 3-ply medical masks (minimum ASTM Grade 2) will also be acceptable. Regardless of the mask type, please ensure your mask is fitted properly to maintain maximum effectiveness. Masks are not required indoors.

If you do not have a mask and enter the Drake Centre, please go to the Dean's Office reception in room 324 for a mask.
Do I need to be vaccinated to attend classes?
UM  staff, students or visitors coming to our campus to have proof of vaccination.

Although, we strongly recommend students, staff and faculty receive a third (booster) shot of a COVID-19 vaccination to increase your protection against symptomatic COVID-19 and against serious illness.
Is physical distancing still required?
No physical distancing is required in any classroom or workplace or other general on-campus spaces. Physical distancing is still encouraged in areas designed for food consumption (where masks can be removed).   
In addition: 
absolutely no food or drink is allowed in study spaces 
masks must be worn at all times in these spaces (see mask guidance above)  

eating outside is encouraged when weather permits  
Are we going to receive rapid tests?
Students, staff, and faculty will not be receiving rapid tests. If you are not feeling well, please stay home and use the Shared Health Screening Tool to determine if you should be tested. There is also a testing site on campus at 1 Research Road. Rapid tests are also available at testing locations, MPI and for purchase at some pharmacies. Please visit the Province of Manitoba website to see a complete list of testing locations.


Classes, convocation and learning activities
What happens if my professor/instructor gets sick?
In the case of instructor illness, you will receive information from the instructor ASAP prior to class time. Depending on the situation and in the following order of priority, this may involve a replacement instructor for those sessions, a synchronously delivered online class or a recorded (asynchronous) class posted on UM Learn.
What if I am sick and unable to attend class?
The Asper School of Business and University of Manitoba has the health of our students, staff, and faculty top of mind. If you are sick and unable to attend class due to illness, you are required to communicate your absence due to illness in advance to the instructor ASAP. Students should complete and send a missed academic work form to the instructor by email ASAP. After that, one or more of the following options will be made available to provide reasonable accommodations:
1.     If instructor permits, ask another student registered in the class to audio record the lecture. Students must seek permission from instructor before audio recording the class;
2.     Coordinate with one or more classmate(s) to take class notes on your behalf and share them with you after class;
3.     Connect with your instructor and request to meet one-on-one virtually or in-person (once you are well) to address any specific questions you have related to the missed class. Please come prepared and review all course materials on UM Learn plus possible materials from options 1 and 2 above prior to setting up a meeting with your instructor.
Can students join a class virtually if the class is scheduled to be in-person?
There will not be an automatic virtual option for those classes returning in-person. Instructors may make accommodations on written request if a student has symptoms and cannot attend in person. For any other circumstances, the Associate Dean will determine whether an accommodation is possible upon written request from a student and after conferring with the instructor.
If a class is taught in-person, will exams be in-person as well?
In most cases. However, instructors will make a decision and communicate with students the modus operandi of the exams (i.e., midterm and final).
Will in-person classes be recorded?
Where circumstances warrant, i.e. to accommodate students who may be ill, instructors may make an audio recording or allow students to audio record the class. Please see section regarding student illness.
My course has a graded component that requires in-person activity. However, my course is continuing remotely. What do I do?
Check with your instructor. You instructor may change the guidelines for the assignment or replace the in-person assignment with one that could be performed remotely.
I am graduating this term. Will my convocation be virtual or in-person?
All ceremonies will be held in-person unless notified. Please visit the university's graduation webpage for updates.
Will the Asper School be holding a reception for graduating students as it has done in the past?
An in-person reception will be held for graduating students unless otherwise notified. All activities held on campus will require attendees to wear a mask.
You might also be looking for