Anna Binta Diallo: Wanderings
Curated by Blair Fornwald, Director/Curator
October 14 to December 4, 2021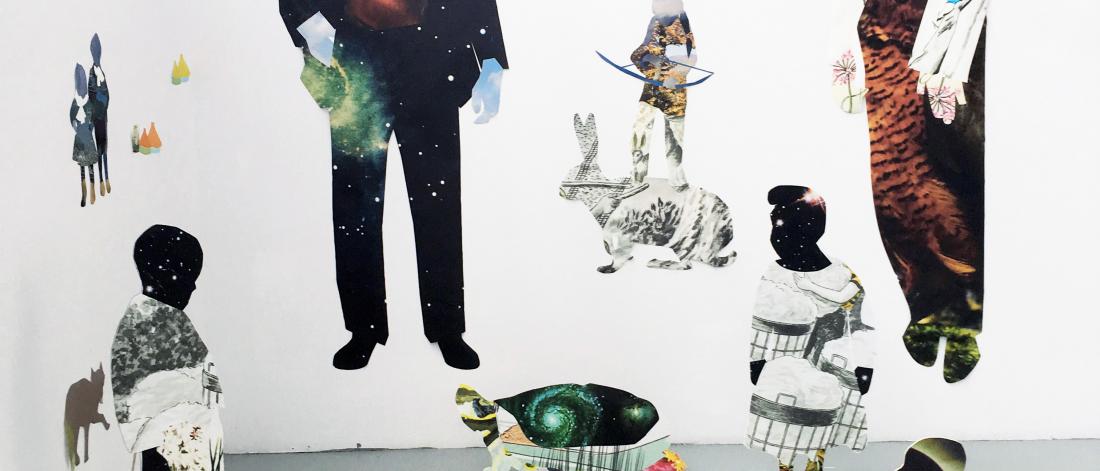 About the exhibition
A body of work with seemingly limitless bounds, Anna Binta Diallo's Wanderings is comprised of an expansive collection of human and animal figures collaged from celestial and terrestrial images, maps, charts, diagrams, illustrations, and texts. Diallo draws from a vast archive of primarily 20th-century print media, including folktale anthologies, children's books, encyclopedias and atlases, and science and history magazines, working with materials that attest to a collective impulse to describe, define, delimit, classify, and hierarchize. This desire to make sense and order out of complexity and chaos is both deeply human and deeply flawed. Diallo's archive reveals how these processes can be reductive and even violent, depicting the world and its inhabitants through an ethnographic, patriarchal, and imperialist lens.
Diallo's archetypal figures reference folk stories from the artist's Senegalese and French Métis heritage, as well as places she has lived and places her work has been presented.  In each iteration, they are arranged differently, creating new narratives and engaging with architecture of the space, with the viewer, and with each other.  Diallo's reconfigurations ease-out affinities with and disjunctures between mythologies. Refusing to privilege one system or body of knowledge over another, her work instead points to the myriad ways that these systems and bodies are connected, and to the brilliant complexity of human experience and identity.  
Anna Binta Diallo is a Canadian multi-disciplinary visual artist who was born in Dakar, Senegal and raised in Saint-Boniface, on the traditional territory of Anishinaabeg, Cree, Oji-Cree, Dakota, and Dene peoples, and the homeland of the Métis Nation. She received a BFA from the the University of Manitoba School of Art (2006) and her MFA from the Transart Institue in Berlin (2013). Her work has been shown in galleries across Canada and internationally in Finland, Taiwan, and Germany. In 2019, Diallo's work was shortlisted for the Salt Spring National Art Prize and in 2021, was awarded the Barbara Sphor Memorial Prize from the Walter Phillips Gallery and the Black Designers of Canada Awards of Excellence. Her works are in the collections of the Royal Bank of Canada, Equity Bank, Scotia Bank, and private collections. After 15 years based in Montreal, or Tio'tia:ke, on the traditional territory of the Kanien'kehá:ka, Diallo has returned to the Prairies to teach at the School of Art.
You may also be looking for
Visit the gallery
School of Art Gallery
255 ARTlab
180 Dafoe Road
University of Manitoba (Fort Garry campus)
Winnipeg, MB R3T 2N2
Monday to Friday, 9:00 am – 5:00 pm
CLOSED all statutory holidays