Andrea Oliver Roberts: Sickroom
Curated by Blair Fornwald, Director/Curator
January 5 to May 6, 2022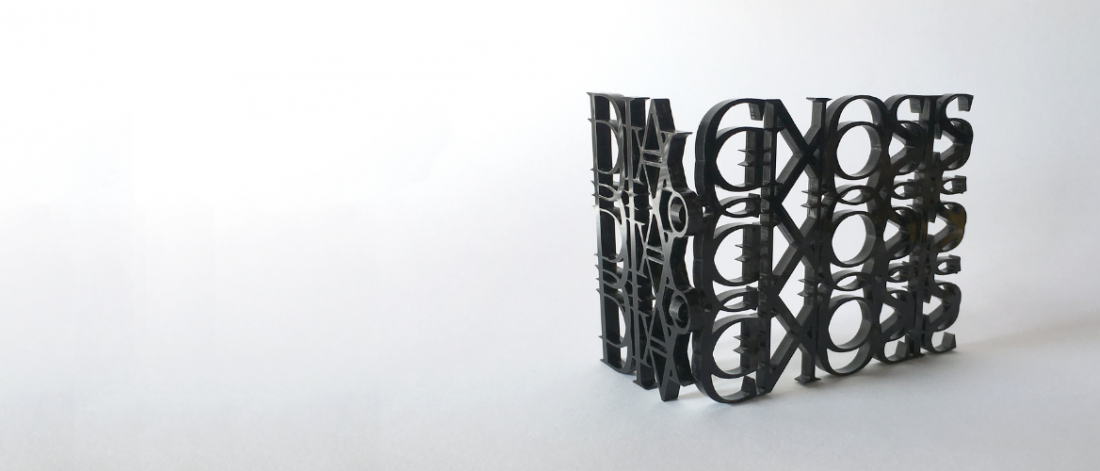 About the exhibition
Andrea Oliver Roberts' Sickroom is a sound and sculpture-based installation bringing together ideas about healing and protection, property and bodily autonomy, care and control. Taking formal cues from garden architecture, the artist has crafted sculptures that resemble wrought iron gates, trellises, and a  domed gazebo, as well as miniaturized forms that recall amulets or talismans. Potent words and phrases related to health and illness are arranged to form decorative pattern work: an iron garden gate, for instance, offers both CURES and a CURSE to the reader who can decipher its incantations. Another heavily abstracted design reveals the word DIAGNOSIS in the grillwork of a filigreed metal screen, fence, or room divider – fittingly, both are thresholds that must be passed in order to respectively treat or retreat. Mere suggestions of walls and ceilings, these garden structures indicate that a little piece of nature has been tamed, but offer little to no shelter or protection from the elements. And they offer security from trespassers only if tacitly-agreed upon notions of property ownership and privacy are upheld. Drawing on personal experiences of navigating and accessing support as a person with chronic illness, Roberts' installation reveals the magical thinking that reinforces the permeable, indistinct, and ultimately temporary boundaries between chaos and order, between sickness and health, and between what is yours, what is mine, what is shared, and what can never be owned. 
Andrea Oliver Roberts is a Winnipeg-based, multidisciplinary artist known for sculptural installations and sound works that contend with loss, technology, gender, and language within capitalism.  Roberts has shown at galleries internationally and composes and performs the solo experimental sound project under the name VOR. They hold an M.F.A. in Sculpture from California College of the Arts, and an Honours B.F.A. in Sculpture from the University of Manitoba.
The artist gratefully acknowledges the support of the Canada Council for the Arts and the Manitoba Arts Council.
You may also be looking for
Visit the gallery
School of Art Gallery
255 ARTlab
180 Dafoe Road
University of Manitoba (Fort Garry campus)
Winnipeg, MB R3T 2N2
Monday-Wednesday, Friday, 9:00 am – 5:00 pm
Thursday: 9:00 am – 7:30 pm
CLOSED all statutory holidays