Bauhaus (Canada) 101
February 13 to March 27, 2020
(currently closed)
Events
Reception and lecture, 4:30 p.m. to 9 p.m.

Tour with the curator, 1 p.m. to 2 p.m.

Keynote lecture by Elizabeth Otto, 7 p.m. to 9 p.m., 611 Main Street
About the exhibition
Curated by Oliver A.I. Botar
The School of Art Gallery is pleased to present Bauhaus (Canada) 101, the only major exhibition in Canada to celebrate the centenary of the Bauhaus, the legendary German design school. This exhibition provides a crash course on the Bauhaus, founded in 1919. It offers insight into the school's influence on Canadian architecture, furniture design, graphic design, art and pedagogy.
A good number of Canadians studied under the former Bauhaus directors Walter Gropius and Ludwig Mies van Der Rohe, and important Bauhaus pedagogues such as Marcel Breuer, László Moholy-Nagy, Josef Albers and György Kepes, all of whom had settled in the Unites States just before WWII. These Canadian students then brought Bauhaus ideas back with them to Canada, and to the University of Manitoba School of Architecture in particular. This show demonstrates that it was mainly via the University of Manitoba that Bauhaus architectural and pedagogical concepts spread throughout Canada.
But there were direct influences as well. Three Bauhaus alumni settled in Canada, including David Feist, a photographer and graphic designer best known for his Bick's Pickles logo and ad campaign, and artist Andor Weininger, a key figure in the social life of the original Bauhaus. Breuer built a cottage near Lake of the Woods and a factory in Oakville, Ontario. Mies designed three major developments in Toronto and Montreal, largely due to the influence of Montrealer and Mies-student Phyllis Lambert, founder of the Canadian Centre for Architecture.
Canada's pre-eminent landscape architect Cornelia Oberlander and Blanche Lemco van Ginkel, the first woman in Canada to act as Dean of Architecture (at the University of Toronto), were among the first women to graduate from the Harvard School of Design, both studying with Gropius. A number of Canadians studied at Moholy-Nagy's Institute of Design in Chicago and returned to Canada to transform childrens' art education.
This exhibition reveals how Canada's important Métis architects Étienne Gaboury and Douglas Cardinal were inspired by Bauhaus ideals early in their careers. Similarly, a prominent Indigenous artist such as Alex Janvier readily acknowledges the effect that the Bauhaus professor Wassily Kandinsky had on his practice, while the Structurist artists of the Prairies, students of Eli Bornstein of the University of Saskatchewan, were partly rooted in Bauhaus aesthetics.
Like Canada itself, the Bauhaus was an institution that displayed a surprising diversity of peoples, practices and styles, and the exhibition highlights these parallels and influences.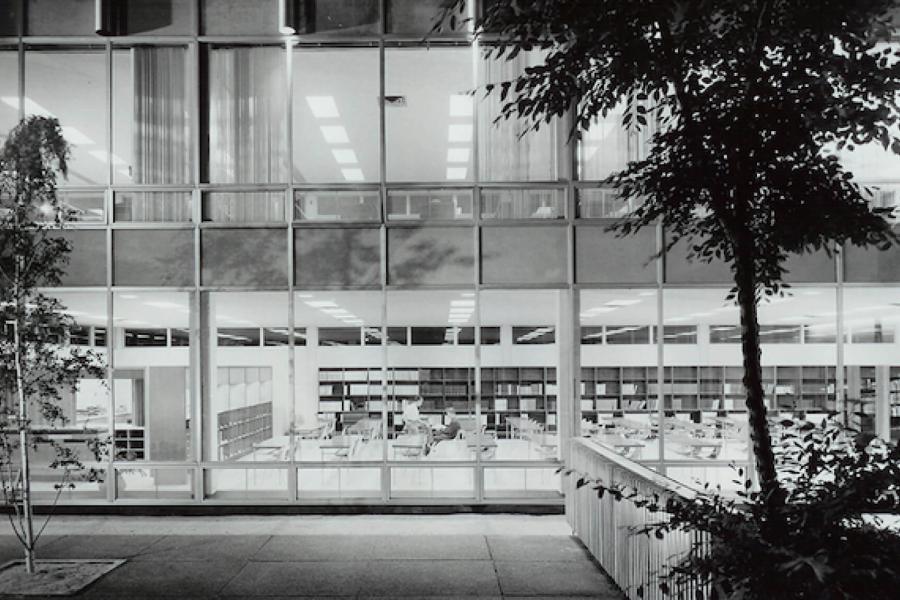 Many thanks to our generous lenders
Dr. Oliver Botar
Canada Modern
Centre du Patrimonie de la Société historique de St. Boniface
Casey Dixon
Prof. Herbert Enns and Maem Slater-Enns
Alison Gillmor
Antoine Holtmaat (Tilburg, Netherlands)
Dr. Serena Keshavjee
Dr. Michael Nesbitt
Michael Szarvasy (New York)
The Salgo Trust for Education (New York)
Jeffrey Thorsteinson and Brennan Smith
The University of Manitoba Faculty of Architecture
The University of Manitoba Libraries
The University of Manitoba Archives and Special Collections
The Winnipeg Architecture Foundation
Thanks also to:
Susan Algie
Thomas Derda (Berlin)
Terri Fuglem
Marieke Gruwel
Phyllis Lambert (Montreal)
Paul Mezei (Toronto)
Sara Sutcliffe (Toronto)
Blair Thomson (Toronto)
The Canadian Architectural Archives at the University of Calgary
The Canadian Centre for Architecture (Montreal)
Presented in partnership with the University of Manitoba's Faculty of Architecture and the University of Manitoba Institute for the Humanities. Co-sponsored by Arthur and Judy Drache, Ottawa, and The Salgo Trust for Education, New York.
Photo credit: Bauhaus (Canada) 101 exhibition view, 2020. Photo: School of Art, University of Manitoba, courtesy of School of Art Gallery.
Visit the gallery
School of Art Gallery
255 ARTlab
180 Dafoe Road
University of Manitoba (Fort Garry campus)
Winnipeg, MB R3T 2N2
Monday–Wednesday, Friday: 9:30 am–5:00 pm
Thursday: 9:30 am–8:00 pm
Closed: 12:00-1:00 pm (lunch hour)
All attendees must wear a 3-ply mask in all in-door spaces.