Marcel Dzama: A Game of Chess
Curated by Lindsay Inglis
July 22 to September 24, 2021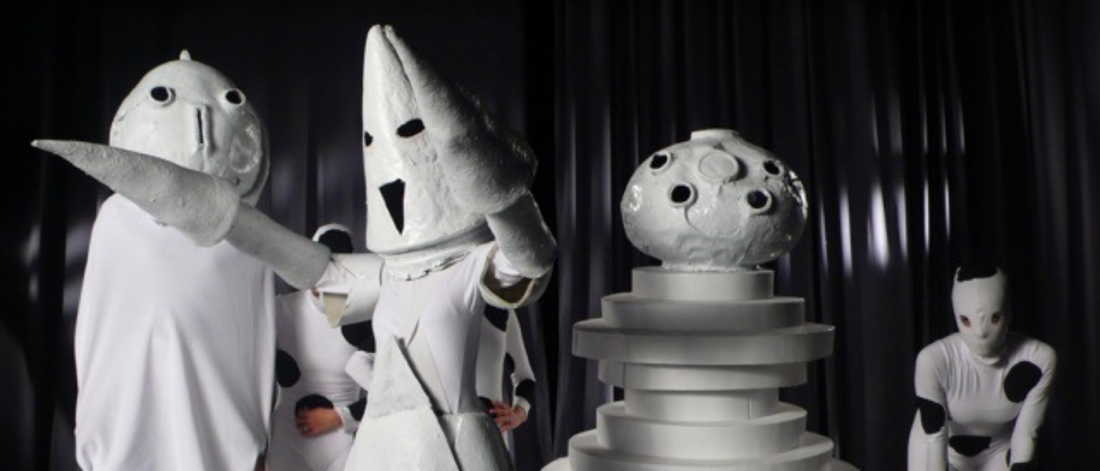 About the exhibition
A Game of Chess is an homage to one of Marcel Dzama's primary influences, Marcel Duchamp, an artist who nearly gave up art in favour of chess. In 1932, Duchamp wrote Opposition and Sister Squares, a book on chess that is equally considered an artist's book. While it was originally commercially unsuccessful, Dzama was so fond of the book that he reprinted it in 2011, the same year he produced A Game of Chess.
In Dzama's film, which owes much to Dada, Surrealism, and Bauhaus theatre, people are forced to become chess pieces and polka-dotted pawns.  They dance across a giant chessboard, entertaining an uncanny audience of captivated yet inexpressive masked figures. Here, chess combines the elegance of ballet with the high stakes of a gladiator ring. Like gladiators, these individual's fates are not their own; they are controlled by two men simply playing a game of chess. Only when these two worlds intertwine and the men playing chess are no longer safe in their own environment does a true winner emerge.
About Marcel Dzama
Marcel Dzama is a multidisciplinary artist born and raised in Winnipeg and currently based in New York City. He graduated from the School of Art in 1997 and was one of the founding members of The Royal Art Lodge, a drawing collective active from 1996-2008. Dzama is currently based in New York City.  He is represented by David Zwirner Gallery in New York City and Sies + Höke in Düsseldorf.
Visit the gallery
School of Art Gallery
255 ARTlab
180 Dafoe Road
University of Manitoba (Fort Garry campus)
Winnipeg, MB R3T 2N2
Monday–Wednesday, Friday: 9:30 am–5:00 pm
Thursday: 9:30 am–8:00 pm
Closed: 12:00-1:00 pm (lunch hour)
All attendees must wear a 3-ply mask in all in-door spaces.