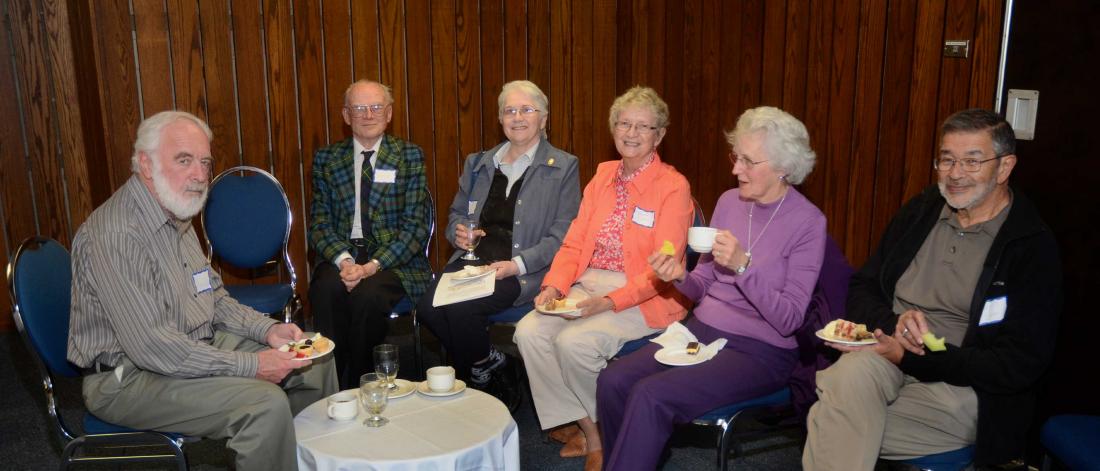 Why join UMRA?
Keep informed about UM and colleagues
UMRA provides an informative newsletter twice a year. It's a great way to stay in touch not only with the activities of your Association, but with everything happening at UM, and to hear news from and about colleagues.
Stay connected with campus life
UMRA offers a wealth of opportunities to remain connected with campus life, providing information about many events of interest at the university.
Associate with peers and colleagues
UMRA provides a forum for renewing your acquaintance with colleagues and peers, making new friends and enjoying social activities such as the semi-annual President's Reception and other organized events.
Help represent UM retirees' interests
UMRA defends the interests of retirees in the university's pension and benefits plans and has a representative on the UM Staff Benefits Committee. UMRA full members can actively participate in the governance of the Association by serving as voting members of the executive committee, and may participate in the annual general meeting as a voting member.
Enjoy special benefits such as discounted insurance rates
UMRA has benefits the university offers only to retirees who are UMRA members, and discounted insurance rates for travel, trip cancellation, car, house, and pets available through Johnson Insurance, thanks to UMRA's membership in CURAC.
Make an impact
UMRA continues to make an impact through our endowment funds (a bursary and scholarship) that support learning and research at the University of Manitoba.
Membership options
We offer two membership options: Associate and Member. Discover the best option for you by clicking on the links below.
Member
One year $15.00
Two years $25.00
Lifetime $100.00
Participate in activities, such as receptions and field trips 
Eligible to serve on the various committees 
Stay up-to-date with spring and fall retiree newsletters 
Participate in the governance of UMRA, vote in elections and serve as a voting member of the Executive committee 
Enhanced benefits from College & University Retirees Association of Canada (CURAC)

Economical car and home insurance
PetSecure™  pet care insurance 
RTO/ERO insurance which provides extended health benefit insurance 
MEDOC travel insurance that provides trip cancellation/interruption and emergency health care. Medoc also provides trip cancellation insurance for those who already have out-of-province medical insurance 
Travel planning
The annual membership year is October 1 to September 30. Member fees support UMRA's operations, activities and student awards.
Associate
No fee
Participate in activities, such as receptions and field trips
Eligible to serve on the various committees
Stay up-to-date with spring and fall retiree newsletters
UMRA has over 800 members and associates. Annual and bi-annual members are notified by mail regarding membership renewal. A member who does not renew will be kept on the membership list as an associate. 
Please notify UMRA if you have recent changes to your email or mailing address by emailing retirees@umanitoba.ca  
Note that your @umanitoba.ca or @umr.umanitoba.ca (retiree email account) may have expired because an annual password change is required.
Need help with your email? see the general UM email login page or get help with your retiree email account.
How to join UMRA
We're so excited for you to join us! Find out how to join below.
The Use of Personal Information 
Signing the membership form is your consent for UMRA to collect information that will be used to correspond with you by mail, telephone or e-mail. UMRA will use the information solely for the purpose of communicating with its Members and Associates.  The information will not be provided to any other organization for any reason except for the mass mailing of a publication. The organization doing our mailing shall guarantee the list will be kept confidential. For more information about the Association's Privacy Policy visit our website by clicking on the link or contact the UMRA office.
Contact us
University of Manitoba Retiree Association
c/o Learning & Organizational Development
309 Administration Building
University of Manitoba
Winnipeg, MB R3T 2N2 Canada