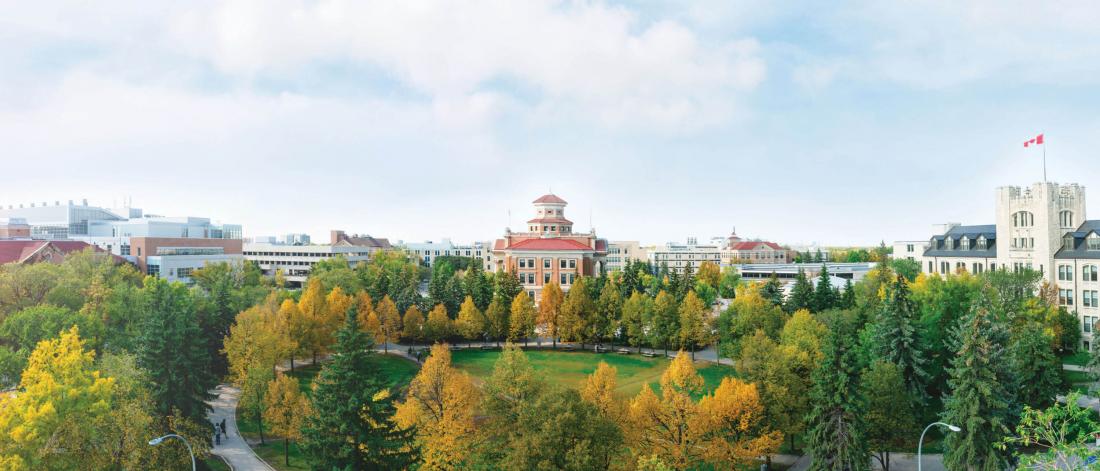 Have your say in UM's newest Strategic Plan
The world has changed significantly since we created Taking Our Place more than seven years ago. Now is the time to ask ourselves how we will bring about the most needed change in this new era—how we will inspire and advance big ideas and solve the world's pressing problems.
The University of Manitoba has sought the expertise of Alex Usher and his team at Higher Education Strategy Associates to support our work. They have helped us design the consultation process, provided a brief on trends in the sector, are providing ongoing support to our facilitators, and will help interpret the results of the consultation that will lead to our final plan.
Strategic Plan Town Hall
Thank you to everyone who attended the January 26 Strategic Plan Town Hall. Roughly 370 community members took part in-person and online to help shape how we inform the development of the next UM strategic plan.
If you were unable to join us for the discussion, you can view the event on YouTube or review the event presentation given by President and Vice-Chancellor Michael Benarroch, Provost and Vice-President (Academic) Diane Hiebert-Murphy, and CEO of Higher Education Strategy Associates Alex Usher.
Watch the event on YouTube View the Strategic Plan Town Hall presentation (PDF)
Ongoing opportunities to engage
Phase three (June 2023)
The third phase of the strategic planning process will launch in June 2023. Check back soon for further details. 
Phase one (January 30 to March 3, 2023)
The first phase of the strategic planning consultation process involved a series of community consultation sessions held between January 30 through March 3, 2023. Over 1,000 community members participated in 60 different sessions and we would like to thank everyone for their participation, engagement, and thoughtful feedback.
View list of phase one community consultation sessions (PDF)
Phase two (March 16 to March 31, 2023)
The second phase of the consultation process asked faculty, staff, and students to provide feedback and answers a series of questions informed by what was heard in the first phase of consultation sessions. The online feedback form provided an opportunity to dive deeper into the UM community's thoughts and goals about the university's future. The feedback form was open from March 16 to March 31, 2023.  
Phase two faculty and staff feedback form questions
Our university is invested in acting in accordance with a communally established set of values. To better understand what these are, describe a time when our university did something or acted in a way that made you very proud of the institution. Why did you choose that moment?
 
Pretend it is 2040. The province of Manitoba is flourishing and has achieved several notable successes in the past two decades. Tell us about the differences of the Manitoba of 2040 you have just envisioned compared to today. What role can our university play in helping the province realize this state?
 
The University of Manitoba community identified its strong ties to the city of Winnipeg as one of its main strengths and assets, but also raised concerns that the campus and academic community continues to feel disconnected from the general public, physically and figuratively. How might we change this perception for members of the community not directly affiliated with the university?
 
Our university is invested in making a real community impact. What could that community impact be, and how would we know if we were successful?
 
While our university has begun meaningful work on advancing Reconciliation, there remains much more work to be done. Describe, in your own words, two important cornerstones of Indigenous engagement and achievement as well as a decolonized institution, that the University of Manitoba should develop (or, if applicable, develop further).
 
A common perception at our university is that it is here to meet the needs of Manitobans but with Manitoba having the highest Indigenous population in Canada, Indigenous Peoples are very much underrepresented within the student body. What are up to three of the most important actions the university could undertake to increase Indigenous student representation on campus?
 
What kind of environment do we need to consistently attract and retain great faculty and staff at our university?
 
Aside from limited funding, what is preventing our university from being the best it can be?
 
What is the most important role of research, scholarship, and creative expression in creating our ideal university?
Phase two student feedback form questions
If you were to attempt to convince someone to attend the University of Manitoba, what would you particularly emphasize?
 
If you could go back in time, would you still choose to come to the University of Manitoba? Why or why not?
 
What do you believe the University of Manitoba does best?
 
If you could change up to three things about the student experience at the UM, what would it be?
 
How well is the University of Manitoba preparing you for your future goals? What could the University of Manitoba do more of, or less of, to help you achieve your goals?
 
Aside from a credential, what is something you hope to gain from your time at the University of Manitoba?
 
Aside from paying for your studies, what is the biggest barrier you face when it comes to completing your education?
 
What is the single most important investment the university could make to increase accessibility to the UM? (Some examples might include: offering more student housing options, offering more pathways into different programs, expanding online learning, etc.).
 
Despite the University of Manitoba's expansive size, it's often described as a close-knit and friendly community. Does this ring true in your experience? What are some benefits or drawbacks of this atmosphere?
Strategic Plan Committee 2023 - Membership
Co-chairs
Michael Benarroch
President and Vice-Chancellor
Diane Hiebert-Murphy
Provost and Vice-President (Academic)
From senate
Stephan Pflugmacher Lima
Dean, Clayton H. Riddell Faculty of Environment, Earth, and Resources
Susan Prentice
Professor, Department of Sociology and Criminology, Faculty of Arts
John Sorensen
Associate Head Undergraduate (Courses and Programs); Professor, Department of Chemistry, Faculty of Science
From Board of Governors
Lynette Magnus
Vice-Chair, Board of Governors
From deans/directors and senior administrative leaders
Tina Chen
Executive Lead (Equity, Diversity and Inclusion), and Distinguished Professor, Department of History, Faculty of Arts
Peter Nickerson
Vice-Provost (Health Sciences) and Dean, Rady Faculty of Health Science; Dean, Max Rady College of Medicine
From faculty
Shawn Bailey
Assistant Professor, Department of Architecture, Faculty of Architecture
Namita Bhatnagar
Professor and F. Ross Johnson Fellow, Department of Marketing, I.H. Asper School of Business, Faculty of Management
Afra Bolefski
Head, Library Social Sciences, Libraries
Katherine Boyer
Assistant Professor, School of Art
Robert Mizzi
Canada Research Chair and Associate Professor, Department of Educational Administration, Foundations & Psychology
Kim Ominski
Professor and Head, Department of Animal Science, Faculty of Agricultural and Food Sciences
Leisha Strachan
Associate Dean, Research and Graduate Studies and Professor, Faculty of Kinesiology and Recreation Management
From staff
Jeff Adams
Registrar and Executive Director of Enrolment Services
Carla Loewen
Director, Indigenous Student Centre
From students
Tracy Karuhogo
President, UMSU
Uche Nwankwo
Senator, UMGSA
From senior executive team
Naomi Andrew
Vice-President (Administration)
Catherine Cook
Vice-President (Indigenous)
Mario Pinto
Vice-President (Research and International)
Vanessa Koldingnes
Vice-President (External)
Resources
Cassandra Davidson
Academic Program Specialist, Office of the Provost
Kelsey Evans
Associate Director, Office of the President 
Randy Roller
Executive Director, Office of Institutional Analysis
Higher Education Strategy Associates (HESA):
Alex Usher
Maica Murphy
Janelle Curry
Other resources as needed
Building on our Strategic Plan
In imagining the path to set forward for our University, we remain committed to academic and research excellence, an accessible, inclusive and supportive environment on our campuses, and engagement and Reconciliation with Indigenous peoples and communities. We continue in our commitment to consulting with our entire UM community for strategic direction.
The University's mission, vision, values and the current Strategic Plan Taking Our Place 2015-2020 will continue to guide us.
Our work will build on the pillars in Taking Our Place 2015-2020:
Inspiring Minds through innovative and quality teaching
Driving Discovery and insight through excellence in research, scholarly work and other creative activities
Creating Pathways to Indigenous achievement
Building Community that creates an outstanding learning and working environment
Forging Connections to foster high impact community engagement
Our success also continues to be supported by, and build on, the success of the Front and Centre campaign and enhanced by big, bold ideas to inspire the highest levels of philanthropic support for our academic, research, and engagement mission.
The online consultation process will solicit input from our academics, students, staff, administrators, retirees, and alumni, the Board of Governors, and from the wider community on several areas of focus across the pillars of Taking Our Place.
These focus areas will bridge to a robust strategic planning process with broad community engagement, leading to the introduction of a new plan in 2023.
Taking Our Place: University of Manitoba Strategic Plan 2015 – 2020
This final report on Taking Our Place: University of Manitoba Strategic Plan 2015 – 2020 summarizes the progress made on achieving the goals and priorities set out in the original plan. It provides a broad overview of the major highlights and insights into the many ways in which UM as a whole has worked together to advance our collective priorities.
This report was prepared in the spring of 2020: COVID-19 has changed our circumstances significantly. The content in this report focuses on the period prior to the onset of the pandemic.