Security Services
Ensuring a safe environment in which members of our community can live, work, study and enjoy life at the University of Manitoba is our highest priority. Our department is comprised of full-time security guards who are licensed with the Province of Manitoba. We provide security services 24 hours a day, seven days a week.
Emergency numbers
Call 911 first (Ambulance, Fire, Police)
Then call Security Services:
555 from any university phone
#555 from Bell MTS or Rogers Wireless
204-474-9341 from all other phones
Any emergency phone on campus
Email Security Services at emergency_response@umanitoba.ca.
Non-emergency numbers
Safe Walk/Ride, 204-474-9312
Fort Garry Campus , 204-474-9312
Fort Garry Fax, 204-474-7534
Bannatyne Campus, 204-789-3330
Bannatyne Fax, 204-789-3902
Winnipeg Police, 204-986-6222
Report a non-emergency incident or Silent Observer form
If you would like to report a non-emergency incident, please complete the form below. You will have the option to submit it anonymously. (Silent Observer) If you would like to contact Security Services, please call 204-474-9312.
Your safety on campus
The Security Services department has implemented many safety initiatives to better improve safety and security on campus. These initiatives were launched by our department or developed in consultation with student groups and departments on campus, such as the Environmental Health and Safety Office.
UM Safe App
UM Safe is a mobile safety app that enhances the safety of students, staff and faculty on campus. The app sends safety alerts and provides instant access to campus safety resources.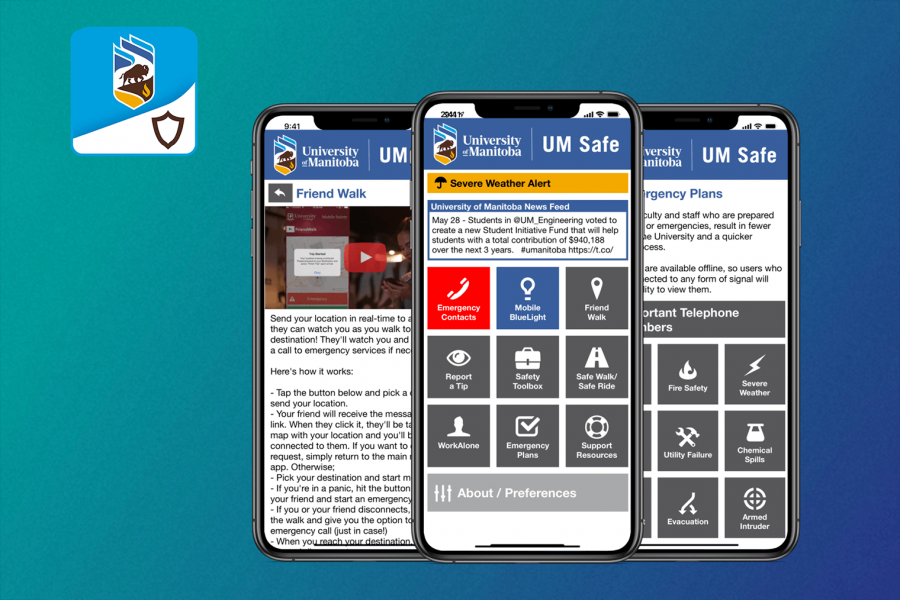 Emergency phones
There are two types of emergency phones on campus:
Code Blue emergency poles
Emergency Red Phones
When a Code Blue or Emergency Red Phone is activated, Security Guards will be priority dispatched to the location and in most cases, will arrive in under two minutes. While the Security Guards are on route, our dispatcher continues to have two-way voice communication with the caller.
Code Blue emergency poles
The Code Blue poles are a welcome sight when walking alone at night on the Fort Garry or Bannatyne campus. The poles are nine feet high and strategically placed at various locations throughout both campuses. They provide area lighting, project a visible blue light 24 hours a day, and provide instant, two-way voice communication with the Security Services department. The current Code Blue stations are in the following locations:
Fort Garry Campus
Northeast corner of U Parking Lot
West side of Mary Speechly Residence
Front of Tache Hall West
Northwest corner of B Parking Lot
Southeast corner of K Parking Lot - off Dysart Road
M Parking Lot -Southeast corner of Stadium Lot
North side of University College
North side of P Parking Lot
South of St. Paul's College
Southwest corner L Parking Lot
Northwest corner of R Parking Lot
Southwest corner of U Parking Lot
North side of D Parking Lot
Northeast corner of R Parking Lot
Parking Lot of Richardson Centre for Functional Foods and Nutraceuticals
CTC Parking Lot - East side of Dafoe Road
Fort Garry campus Code Blue stations map (PDF)
Bannatyne Campus:
Northwest side of Dentistry Building
Northwest side of Brodie Building
South side of Brodie Building
Tecumseh Parkade
Emergency Red Phones
Emergency Red Phones can be found on almost every floor of every building located at both Fort Garry and Bannatyne campus. These phones provide two-way voice communication with the Security Services department.
Closed-circuit television (CCTV)
There are currently almost 1000 closed-circuit television cameras at the University of Manitoba located in various classrooms, hallways, parking lots and other public areas.
Closed-Circuit Television (CCTV) is becoming more prevalent in our daily lives. Be it in the form of cameras used to monitor traffic flow, cameras inside taxi cabs, or cameras inside restaurants, it is difficult to avoid this ever-expanding technology. The University of Manitoba's view on the use of CCTV is that it serves a valuable role in our community. Although having a CCTV camera in an area may not always prevent a crime from happening, it can be used to record the crime taking place and later used by law enforcement agencies to make an arrest.
Bike unit
The main objective of the Uniformed Bicycle Patrol Unit is to provide a safe environment for all campus users including students, staff, faculty and visitors. The unit is a highly visible and very effective method for crime prevention and law enforcement because Bike unit members:
Are more approachable on bikes versus patrolling by vehicle.
Can also perform their duties in a manner that is not possible with a patrol vehicle such as riding through crowded areas, around buildings and obstacles.
Can approach criminal activity without being seen or heard and provide a quick response to calls for service.
Our bike unit can be identified by their reflective pants, shorts, jackets and cycling jerseys bearing the University of Manitoba Security Services shoulder flashes and epaulettes.
Crime prevention through environmental design (CPTED)
Crime Prevention Through Environmental Design (CPTED) can be defined as "the proper design and effective use of the built environment that can lead to a reduction in the fear and incidence of crime and an improvement in the quality of life." The goal of CPTED is to reduce crime by examining the environmental factors that may be contributing to criminal activity.
How does CPTED work?
CPTED works by manipulating the physical environment, which in turn affects people's behaviour and can lead to a reduction in criminal or unwanted activity. Key CPTED concepts include natural surveillance, natural access control, territorial behavior and maintenance.
What can CPTED do for you?
By addressing the key CPTED concepts mentioned above, CPTED can reduce crime in your area and produce an environment that is more enjoyable for both work and leisure activities.
CPTED assessments
A CPTED trained member of our department will do a site assessment of your area/building and provide recommendations that are designed to reduce or prevent crime and improve the quality of life in your work area. You will receive a copy of the final report which will outline the findings of the safety audit and any recommendations deemed necessary. A formal presentation of the assessment can also be arranged. Security Services staff offering CPTED audits have all been trained by the Winnipeg Police Service.
For further information or if you would like an assessment of your area, please contact:
Gordon Perrier
Director, Security Services
Gordon.Perrier@umanitoba.ca
(204) 474-8709
Security Services on Twitter
Safety programs
The Security Services department offers a variety of programs and services to help make our community safer and more enjoyable for students, staff and visitors.
Room access request
Security Services provides weekend and holiday access to locked buildings and rooms when prior consent has been granted by a department or faculty. Please use the Astra Schedule for room bookings on weekdays and evenings.
https://umanitoba.ca/registrar/request-book-room-campus
Statistics
Security Services Monthly is a newsletter that provides a window into the day-to-day operations of University of Manitoba Security Services. The Monthly focuses on safety measures for students and staff.
You may also be looking for
Contact us
Security Services, Fort Garry
423 University Crescent, Welcome Centre
University of Manitoba (Fort Garry campus)
Winnipeg, MB R3T 2N2 Canada
Security Services, Bannatyne
750 Bannatyne Avenue, S105 Medical Services Bldg.
University of Manitoba (Bannatyne campus)
Winnipeg, MB R3E 0W2 Canada
Fort Garry campus: 204-474-9312
Bannatyne campus: 204-789-3330