Fellowship details
Perioperative medicine is an evolving aspect of clinical anesthesiology. Through the fellowship, experience is gained by taking on the unique challenges in assessing and optimizing high risk patients and then managing their perioperative care at the Health Sciences Center Progressive Care Unit - Surgery (PCUS).
Multidisciplinary training
Work alongside a diverse group of 12 perioperative medicine anesthesiologists with expertise in intensive care, perioperative echocardiography, acute and chronic pain management and ultrasound-guided regional anesthesia.
Focus on the care of high risk patients through the perioperative period with the goal of avoiding or managing significant perioperative illness.
Expert perioperative care
The dedicated eight-bed perioperative PCUS provides experience in consolidating expertise in perioperative medicine, particularly in echocardiography, internal medicine and intensive care medicine.
Rotations
Over the course of 12 consecutive months, which includes four weeks of holiday time, your course of study will comprise 48 weeks of core rotations and approved elective time. The core time will be divided between the PCUS, other clinical rotations, research and autonomous OR time.
In addition to rotations in PCUS, ICU, SICU, PAC, echocardiography, cardiac OR and OR, experience additional training in a field of medicine applicable to perioperative patient care. This enhanced skills elective requires pre-approval and includes, but is not limited to, cardiopulmonary exercise testing, sleep medicine, nutrition/TPN and pain management techniques.
For the purposes of confirmation of completion and associated credentials, time spent in approved off-service electives may be credited toward the fellowship, proportionately reducing the required time spent in core commitments.
You'll undertake research in an existing project or develop an original research project, which will be discussed prior to the start of your fellowship. Types of projects include a research paper, clinical audit or review article of sufficient quality to be accepted for publication in a recognized journal.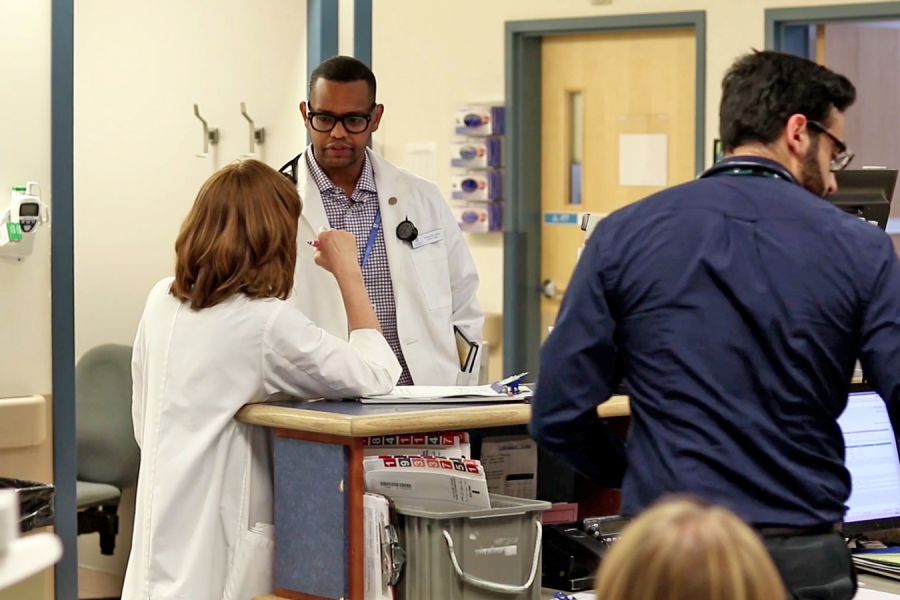 As a fellow in perioperative medicine, your primary responsibility will be to provide expert perioperative care to surgery patients. As your abilities and expertise levels increase, so will your autonomy. 
110

Faculty members in the department

400

Undergraduate medical students

30+

Anesthesia fellows

$300,000

Annual departmental research grants
Admission and application requirements
Application deadline: September 30
To apply for the fellowship program, you must:
Have successfully completed an anesthesia residency program.
Have passed, or meet the requirements to be eligible to sit, the exams of the Royal College of Physicians of Canada, and
Obtain a license to practice independent anesthesia in Manitoba.
For information regarding licensing please visit The College of Physicians and Surgeons of Manitoba website.
Interviews will be offered to select applicants pending the evaluation of application materials. The University of Manitoba Fellowship Selection Committee will accept one or more candidates into the fellowship program following the interview.
We thank all applicants for their interest in our fellowship program, however only those selected for an interview will be contacted.
How to apply
Your application to the fellowship program must include: 
Letter of intent 
Current curriculum vitae 
Certificate of completion for your specialty training 
Names and contact information of three references 
English language requirement IELTS (academic module). Required to have an overall band score of 7 with a minimum score of 7 in each component (only 1 assessment result is required) (IMG only)

Occupational English Test-Medicine (OET-Medicine), with a minimum grade of B in each of the four subsets in the same sitting or

Canadian English Language Proficiency Index Program-General (CELPIP-General) Test, with a minimum score of 9 in each of the four skills in the same sitting.

 
Please direct your completed fellowship program applications and inquiries the department.
Explore the University of Manitoba
We attract people from around the world who share our ideals and vision for positive change. We believe in embracing challenges and taking action. Our students, researchers and alumni bring their unique voices to learning and discovery, shaping new ways of doing things and contributing to important conversations in topics that matter most, from human rights to global health to climate change. We are where imagination and action collide.
Contact us
Cindy Marykuca
Fellowship program administrator
Department of Anesthesiology, Perioperative and Pain Medicine
2nd Floor Harry Medovy House
671 William Street 
Winnipeg, MB R3E 0Z2 Canada