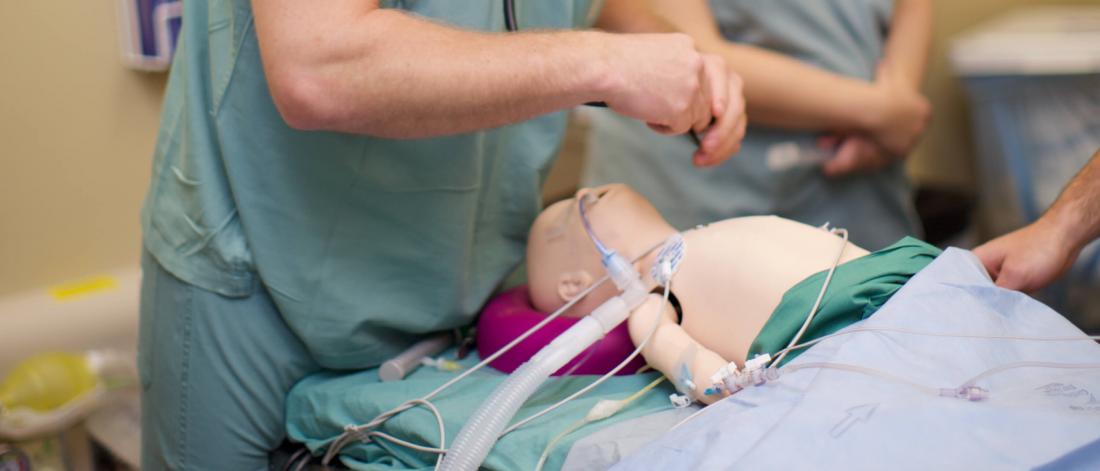 Fellowship details
Effectively collaborate with pediatric surgeons, nurses, other trainees, respiratory technicians and aides in the successful perioperative care of pediatric patients during your fellowship.
Extensive pediatric surgical procedures
Provide pediatric anesthesia and sedation services for off-site procedures such as MRI, CT scan and radiation therapy across 10 locations within the Health Sciences Centre.
Administer pain control after surgery, if needed, with intravenous medications or other analgesic techniques (e.g., regional anesthesia) and gain experience in specialized surgical procedures through other pediatric institutions.
World-class training
Train with clinicians known for their knowledge and experience in regional anesthesia techniques.
Faculty members hold pediatric anesthesia fellowships from centres such as San Francisco, Toronto, Michigan, Australia and Montreal.
Perioperative pain management
Evaluate complex medical problems in infants and children needing surgery and play a critical role in care before, during and after surgery by fostering a non-threatening environment for children in the operating room.
Rotations
Over the course of 12 consecutive months, which includes four weeks of holiday time, your course of study will comprise 48 weeks of clinical and academic time organized into four-week periods compatible with the residency program scheduling structure.
The following pediatric anesthesia topics will be covered during teaching rounds or scheduled discussion periods:
Biliary atresia
Blood component therapy
Bronchoscopy
Burns
Coagulation disorders and Sickle Cell anemia
Difficult airway
Epidural analgesia – pediatric issues
Epidural and caudal analgesia
Genetic metabolic diseases (lactic acidosis)
Infant pharmacology (e.g., opiates, NMB, local anesthetics)
Mediastinal mass
Microlaryngoscopy / LASER airway procedures
Neonatal emergencies: congenital diaphragmatic hernia
Neonatal emergencies: general concepts, gastroschisis, omphalocele, PDA
Neonatal emergencies: meningomyelocele, hydrocephalus
Neonatal emergencies: tracheoesophageal fistula
Neuromuscular disorders (Duchenne's, myasthenia gravis)
Off-site procedures
Pediatric equipment, circuits and ventilators
Pediatric neuroanesthesia
Renal transplantation
Sleep apnea
Spinal anesthesia
The severely handicapped child
Fundamental pediatric anesthesia concepts will be discussed as part of clinical experience. Cardiac and major craniofacial topics are covered elsewhere.
You'll also participate in research opportunities in acute and chronic pain management as well as regional anesthesia.
110

Faculty members in the department

400

Undergraduate medical students

30+

Anesthesia fellows

$300,000

Annual departmental research grants
Admission and application requirements
Application deadline: September 30
To apply for the fellowship program, you must:
Have passed, or meet the requirements to be eligible to sit, the exams of the Royal College of Physicians of Canada, and
Obtain a license to practice independent anesthesia in Manitoba.
For information regarding licensing please visit The College of Physicians and Surgeons of Manitoba website.
Interviews will be offered to select applicants pending the evaluation of application materials. The University of Manitoba Fellowship Selection Committee will accept one or more candidates into the fellowship program following the interview.
We thank all applicants for their interest in our fellowship program, however only those selected for an interview will be contacted.
How to apply
Your application to the fellowship program must include: 
Letter of intent 
Current curriculum vitae 
Certificate of completion for your specialty training 
Names and contact information of three references 
English language requirement IELTS (academic module). Required to have an overall band score of 7 with a minimum score of 7 in each component (only 1 assessment result is required) (IMG only)

Occupational English Test-Medicine (OET-Medicine), with a minimum grade of B in each of the four subsets in the same sitting or

Canadian English Language Proficiency Index Program-General (CELPIP-General) Test, with a minimum score of 9 in each of the four skills in the same sitting.

 
Please direct your completed fellowship program applications and inquiries the department.
Explore the University of Manitoba
We attract people from around the world who share our ideals and vision for positive change. We believe in embracing challenges and taking action. Our students, researchers and alumni bring their unique voices to learning and discovery, shaping new ways of doing things and contributing to important conversations in topics that matter most, from human rights to global health to climate change. We are where imagination and action collide.
Contact us
Cindy Marykuca
Fellowship program administrator
Department of Anesthesiology, Perioperative and Pain Medicine
2nd Floor Harry Medovy House
671 William Street 
Winnipeg, MB R3E 0Z2 Canada