3MP - 3 Minute Postdoctoral Competition
The Faculty of Graduate Studies is excited to announce the inaugural 3MP (3 Minute Postdoctoral Competition) in the Fall of 2023!
2023 Challengers
The challengers in the 2023 3MP Competition are:
Niketa Sareen - Physiology and Pathophysiology
Deepak Kadam - Food Science
Sajad Saraygord Afshari - Mechanical Engineering
Sepideh Mahboobi - Human Nutritional Sciences
Abhay Srivastava - Physiology and Pathophysiology
Olatunde Oladipupo Odunayo - Food Science
Veronica Lai - Applied Health Sciences
Luisa Fernanda Arroyave Echeverry - Comunity Health Sciences
Amanda Gomes Almeida Sá - Food Science
2023 Judges
The judges for the 2023 competition are:
Loren Oschipok
Director, Partnerships, Knowledge Mobilization & Innovation
Joelle Foster
CEO, North Forge Technology Exchange
Keshav Narayan Alagarsamy
PhD Candidate, 2023 UM 3MT 1st Place
2023 3MP Results
1st Place:
Dr. Oladipupo Olatunde
Research Title: Novel and ecofriendly methods for sustainable protein production
2nd Place
Dr. Abhay  Srivastava
Research Title: Stem cell based personalized drug selection platform can help choose the most effective therapy for patients with rare genetic disorders. 
3rd Place and People's Choice
Dr. Niketa Sareen
Research Title: Modulating immunogenicity of stem cells to enhance their post transplantation survival.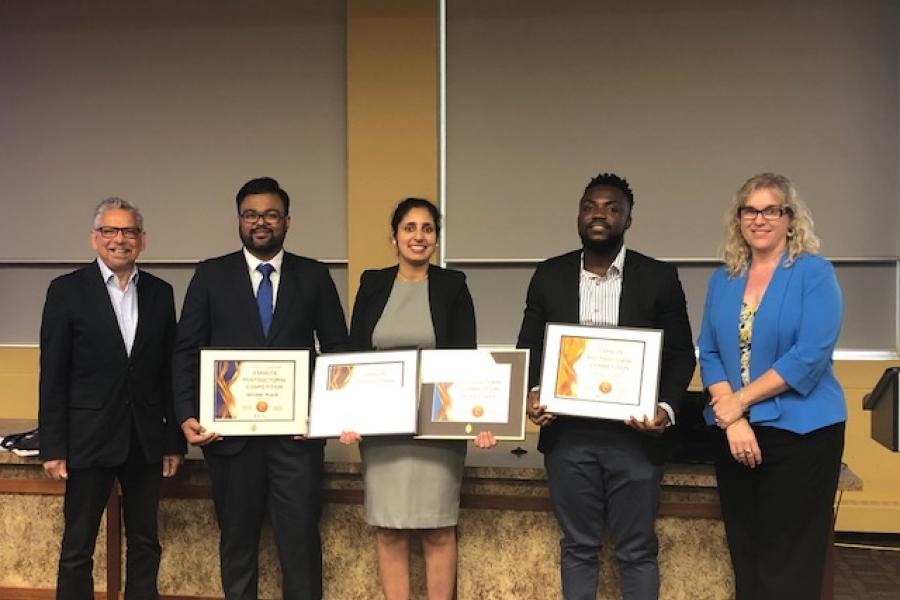 2023 3MP Event Program
Eligibility
This is a university-wide competition where competitors have 1 static slide and 3 minutes to explain the breadth and significance of their postdoctoral research and to highlight their research to a broad and diverse non-specialist audience.   
This event is modelled after the UBC 3-Minute Postdoc Slam,  USask 3MP and the Three Minute Thesis event (with a few adjustments). Three Minute Thesis originated at the University of Queensland in 2008. 
All active UM Postdoctoral scholars are eligible to apply to compete in the 3MP competition
Challengers must apply through the link below, the application includes a 30 second video
Presentations must be based on research that is directly related to the postdoctoral research on campus
Rules
Presenters are allowed a single static PowerPoint slide; no slide transitions, animations or 'movement' of any description are allowed. 
No additional electronic media (e.g., sound and video files) are permitted. 
No additional props (e.g., laser pointers, costumes, musical instruments, laboratory equipment) are permitted. 
Presentations are limited to 3 minutes maximum, strictly enforced. 
Presentations are to be spoken words (e.g. ,no poems, raps or songs).
The decision of the adjudicating panel is final.
Prizes
First Place $500
Second Place $250
Third Place $100
People's Choice Certificate