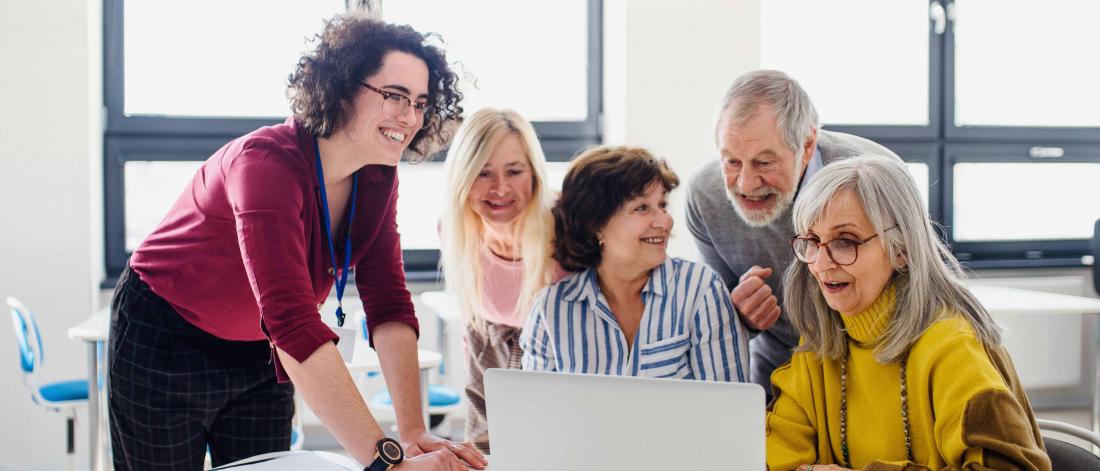 Program details
This program is for Canadian citizens and permanent residents.
This program is also open to international students who can complete all courses in their home country or in Canada via online learning. International students please note:
Immigration - This program does not allow for application for a Canadian study visa or post-graduate work permit.  For programs that qualify for a study visa, see intensive program packages.
Health coverage - This program is not covered under the Manitoba International Student Health Plan (MISHP). If you are completing this program while residing in Canada, you need to ensure you have private health insurance or are covered under Manitoba Health (if you hold a work permit or are a dependent of an individual holding a work permit/permanent resident status in Canada). 
MISHP student health plan
Credential: Micro-certificate in Facilitating Older Adult Learning
Fees: $745 including $100 non-refundable application fee and $215 per course
Expected duration: 12 weeks
Admission requirements: Applicants must qualify for entry to the University of Manitoba.
Program courses
Determine the courses you will need to complete this program.
Required courses
| Course number/outline | Course name | Contact hours | Term(s) offered |
| --- | --- | --- | --- |
| PDAL 0192 | Older Adult Development and Long Life | 12 | Winter 2023 |
| PDAL 0194 | UDL (Universal Design for Learning) to Facilitate Older Adult Learning | 12 | Winter 2023 |
| PDAL 0196 | Using Technology for Teaching and Learning with Older Adults  | 12 | Winter 2023 |
PDF for saving or printing
You may also be interested in
Contact us
Extended Education
185 Extended Education Complex
University of Manitoba (Fort Garry campus)
Winnipeg, MB R3T 2N2 Canada
204-474-8800
Toll free: 1-888-216-7011