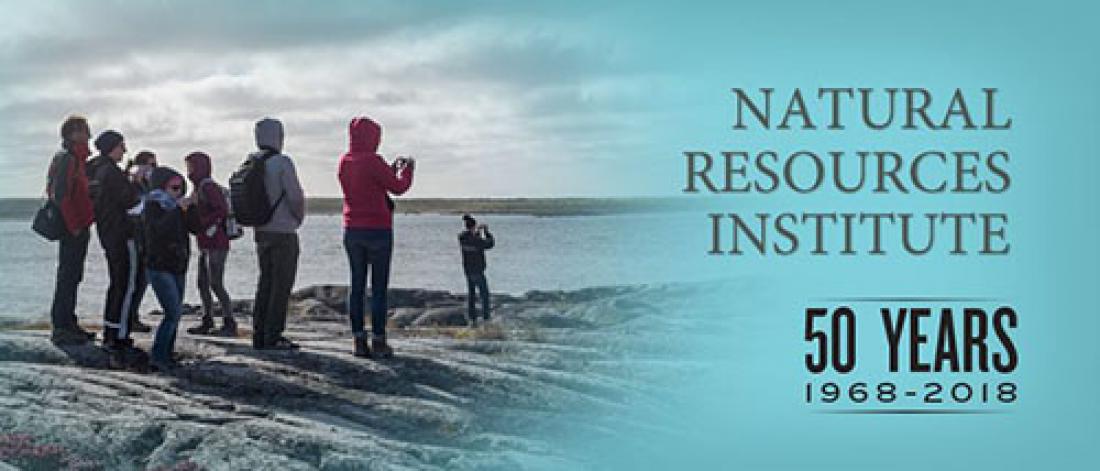 In 2018, the Natural Resources Institute (NRI) celebrated 50 years of success in advanced interdisciplinary education, research, and community service on resource and environmental management. Since 1968, the NRI has integrated knowledge gained from the natural and social sciences to develop holistic perspectives on environmental and natural resources management problems. The impact of NRI's work has been felt throughout the province and around the globe. The number of students interested in the program continues to grow. NRI proudly offers two interdisciplinary graduate degree programs – a Masters in Natural Resources Management (MNRM) and a Ph.D. in Natural Resources and Environmental Management (NREM). As of September 2018, there are 67 students registered in the NRI. Full course tuition for a domestic graduate student is approximately $5,000 per year for two years with books and supplies estimated at $2,000. International graduate student tuition rates are substantially higher at $10,000 per year for two years. Graduate students place priority on two decision factors when choosing between post-secondary options. The first is their area of research and scholarly interest. The second is available funding. More than half of the graduate students who decline an offer to study at the University of Manitoba do so based on better financial incentives offered by competing universities. To recognize the impact that NRI has had and to continue to attract the best and brightest students to the program, we are creating the NRI 50th Anniversary Legacy Awards. Our initial goal is to raise $30,000 to establish an endowed scholarship that will continue to support NRI students in perpetuity.
The NRI 50th Anniversary Legacy Awards will be awarded annually to a student who
• Is enrolled full-time in a Master's or Ph.D. program in the Natural Resources Institute
• has a GPA of 3.50 or more
Two of our fabulous supporters have offered to match gifts to make this award a reality (up to $9,000). You can double your impact by making a gift today!
To make a gift to the NRI 50th Anniversary Legacy Awards, please contact:
Lesley Lewis Donor Relations
University of Manitoba
200-137 Innovation Drive
Winnipeg, MB R3T 6B6
Phone: 204-474-6119 or 1-800-330-8066
Email: lesley.lewis@umanitoba.ca or give.umanitoba.ca/NRI50thAnniversaryLegacyAwards
List of Donors to the Silent Auction
Lakeview Hecla Resort 2-night stay
Nicola Koper, Jonathan Peyton, Shirley Thompson, Emdad Haque, Iain Davidson-Hunt
Delta Waterfowl
Larry Bell
U of M Bookstore
FORTWHYTE Alive
Assiniboine Park Zoo
Dr. Stephen Petersen
Manitoba Sustainable Development
Riding Mountain National Park
Oak Hammock Marsh
Ducks Unlimited Canada
Barnhammer Brewing Company
Wild Birds Unlimited
Bird Studies Canada: Christian Artuso
Kurtis Ulrich
Rick Baydack
Interview with David Young of the starting of the NRI