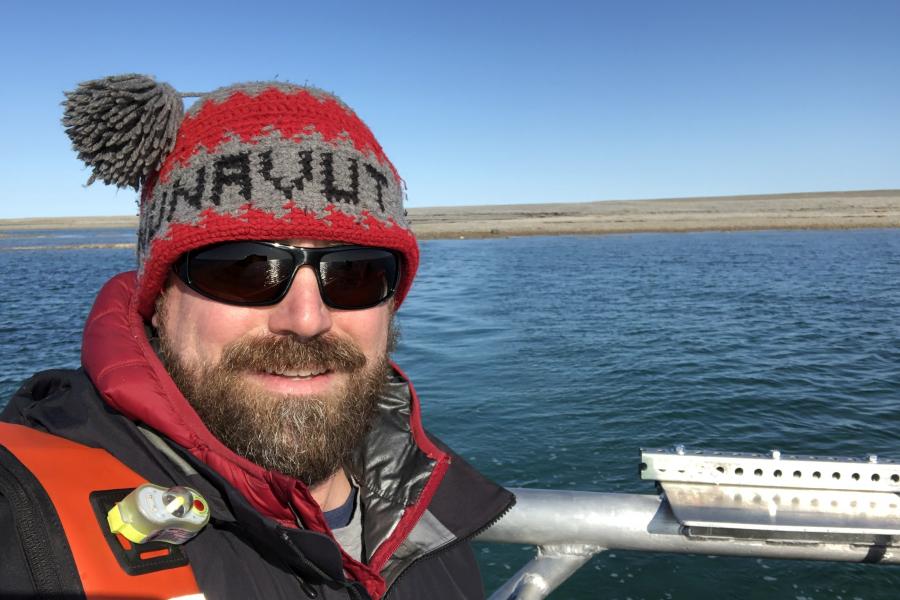 Associate Professor (Biological Oceanography)
Centre for Earth Observation Science
Department of Environment and Geography
582 Wallace Building
125 Dysart Rd.
R3T 2N2
cj.mundy@umanitoba.ca
ORCID: 0000-0001-5945-8305
Academic Background
Ph.D. University of Manitoba (2007) - Geography
Teaching
GEOG 1290 Introduction to physical geography
GEOG 3920 Biological oceanography
GEOG 4670/7940 Sea ice in the Arctic marine system
 
Research Interests
I am a biological oceanographer who examines physical and biological processes in the pan-Arctic marine ecosystem, with particular focus on primary producers in ice-covered environments. My key research foci are algal ecology, primary production, radiative transfer, and nutrient dynamics in Arctic marine ecosystems. I am also interested in ice-pelagic-benthic coupling processes. Data collection in support of this research is strongly field oriented, accessing the Arctic Ocean via sea ice camps or research vessels, including the RV William Kennedy, for which I am Chief Scientist. My research has helped develop new observational techniques for the sea ice environment, greatly advanced research on the development of under-ice phytoplankton blooms, and revealed key processes underlying ice algal production and their response to a climate change influenced icescape.
Current and Recent Graduate Students
Click the ORCID number to visit that student's ORCID page
Recent and Significant Publications
Back, D.Y., Ha, S., Else, B., Hanson, M., Jones, S.F., Shin, K., Tatarek, A., Wiktor, J.M., Cicek, N., Alam, S., Mundy, C.J. (2021) On the impact of wastewater effluent on phytoplankton in the Arctic coastal zone: A case study in the Kitikmeot Sea of the Canadian Arctic. Science of the Total Environment. 
Mundy, C.J., Meiners, K. (2021) Chp 10. Sea Ice Ecology. In Thomas, D.N. (Ed). Arctic Ecology (textbook). Oxford, UK: Wiley-Blackwell.
Ardyna, M. Mundy, C.J, Mayot, N., Matthes, L.C., Oziel, L., Horvat, C., Leu, E., Assmy, P., Hill, V., Matrai, P.A., Gale, M., Melnikov, I.A., Arrigo, K.R. (2020) Under-ice phytoplankton blooms: shedding light on the 'invisible' part of Arctic primary production. Frontiers in Marine Science. 
Matthes, L.C., Mundy, C. J., Girard, S.L., Babin, M., Verin, G., Ehn, J.K. (2020) Spatial heterogeneity as a key variable influencing spring-summer progression in under-ice UVR and PAR transmission through Arctic Sea Ice. Frontiers in Marine Science. 
Dalman, L.A., Else, B.E., Barber, D.G., Carmack, E., Williams, W.J., Campbell, K., Duke, P.J., Kirillov, S., Mundy, C.J. (2019) Enhanced bottom-ice algal biomass along a tidal strait in the Kitikmeot Sea of the Canadian Arctic. Elementa-Science of the Anthropocene.