Our spaces
Gaa-maamawabing - Gathering Place
Located on the original lands of the Anishinaabeg, Cree, Oji-Cree, Dakota and Dene peoples, and on the homeland of the Métis Nation, the University of Manitoba campuses include a vibrant Indigenous community of thousands of students, staff, faculty and alumni.
The Faculty of Education's Gaa-maamawabing (Room 322) serves as an Indigenous community and learning space - a location for teaching, learning, and gathering where First Nations, Inuit, and Métis cultures, knowledges and experiences may be shared.
Anna and Inga Storgaard Learning Commons
The Anna and Inga Storgaard Learning Commons, when complete, will be a vibrant study space for use by Education students, professors and instructors, and support staff. Located in Room 333, it will also house the faculty's K-12 lesson planning and literature library collection. 
The Education collection compromises the Canadian Children's Book Centre collection from 2010 to present. The remaining children's collection, young adult literature, and instructional materials are housed in the Elizabeth Dafoe Library. Requests can be made for this and other library materials to be sent to the Education Learning Commons pickup locker. 
An architectural rendering of the future Anna and Inga Storgaard Learning Commons.
Drama and music classroom
The Faculty of Education's new drama and music space will be a versatile teaching, research, and presentation facility for students, faculty, and staff. Located in Room 340, the drama room will feature a black box-style theatre equipped with professional lighting and sound equipment.
The adjoining music room will be equipped with a variety of musical instruments in use in schools across the province. The two rooms can be used separately or merged into one room for larger classes and musical presentations.
An architectural rendering of the future Education drama and music classroom.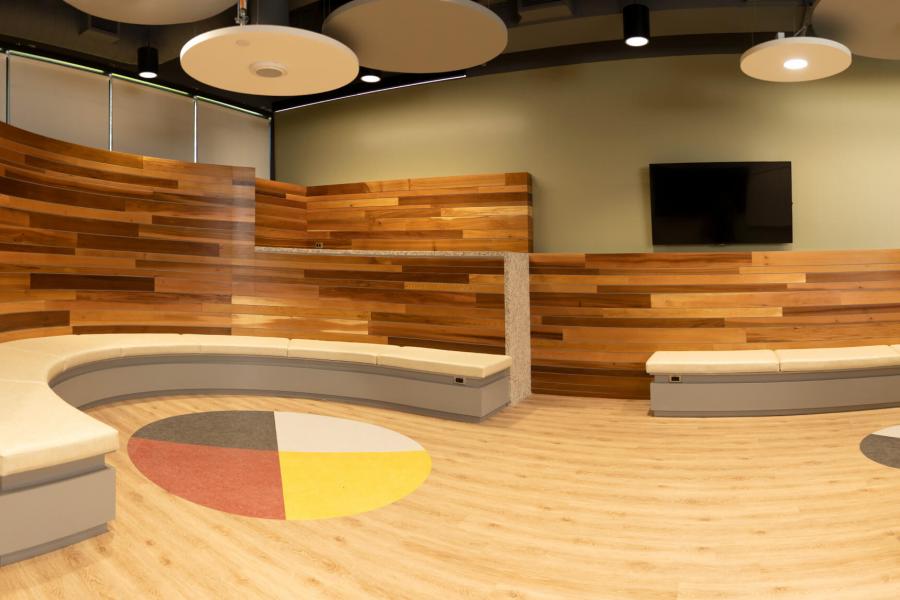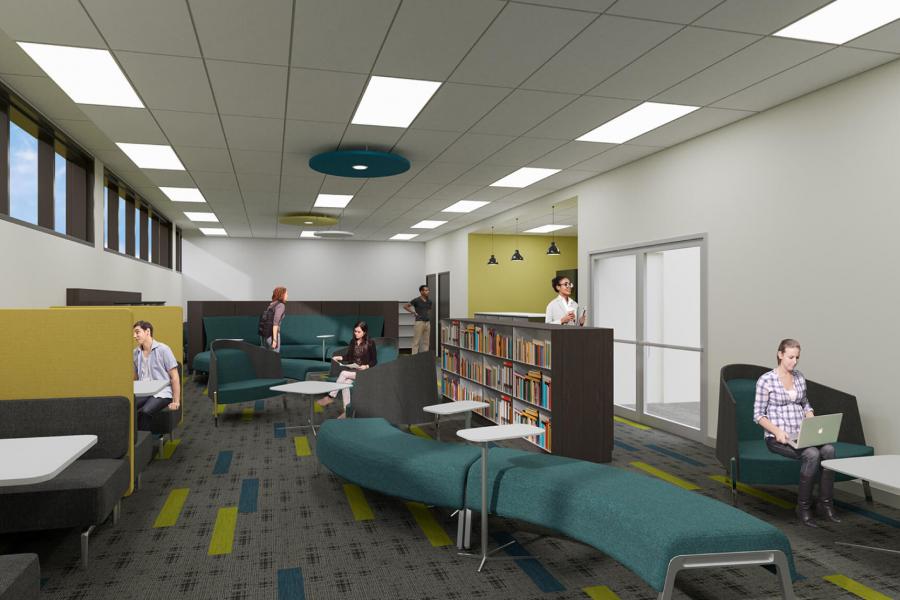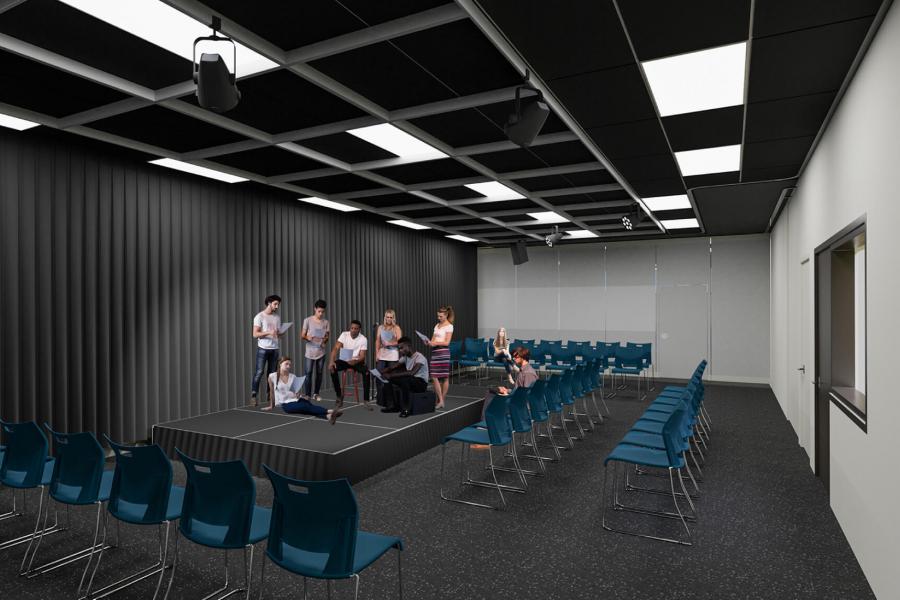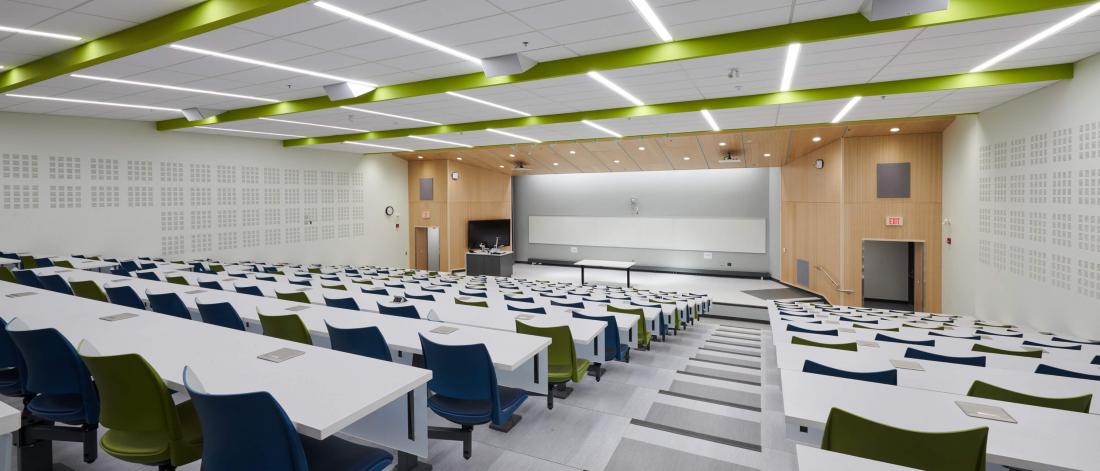 Computer lab
The faculty's computer lab is located in Room 328 and serves Education students, professors and instructors, and support staff for academic purposes. With oversight by friendly and helpful staff, we offer a variety of services.
We have both Windows and Mac computers for hands-on instruction and student use.
The lab can be booked for classes by Education professors and instructors. To book the lab, please use the online booking form.
Lab Hours: Tuesday - Friday 9:00am to 4:00pm (until March 17 - closed during Reading Week Feb 20-24)
Lab computers:
1 Instructional Windows
1 Instructional Mac
23 Student Windows
12 Student Macs
Computer Lab Supervisor: Trudy Bais
Photocopying and printing services
We have self-serve photocopying and printing and pay-as-you-use colour and transparency printing available.
Please bring your student ID to the lab, and staff will set up a printing account for you. You then purchase credits for photocopying and printing services. We do not accept library print cards, UMSU copy cards, or other faculty cards for print services.
Monochrome photocopying and printing prices:
1 credit = 1 side
Good deal – buy 20 credits @ 10¢ = $2
Better deal – buy 50 credits @ 7.5¢ = $3.75
Best deal – buy 100 credits @ 5¢ = $5
Colour printing prices:
50¢ per side (plain paper)
Transparency printing prices:
$1 each – monochrome
$1.50 – colour
(Prices include transparency)
Contact Us
Computer lab
Room 328 Education Building
71 Curry Place
University of Manitoba (Fort Garry campus)
Winnipeg, MB R3T 2N2 Canada
Science labs
Our two new science labs in rooms 300 and 309 are used to conduct science-education classes at undergraduate and graduate levels. The labs are also used for professional development, and to conduct science experiments and activities—mostly based on those found in K-12 science courses. 

The laboratories are furnished with diverse science-related equipment, including lasers, microscopes, data-collection devices and glassware for chemical experiments, as well as gas outlets and required safety equipment. 
Student Association office
Room 308 is home to both the Student Council of the undergraduate Education Students' Association and the executive of the Education Graduate Students' Association. 
Our student associations play an active role in our community, hosting events, donation drives and other activities.
Facility and equipment booking
The Faculty of Education has a number of technology-designated facilities and equipment available for booking by professors and instructors. 
Facilities and equipment must be booked well in advance of the start of the university session you require them for. 
If you  are not associated with the Faculty of Education, please use the University's room booking form.
Contact us
Office of the Dean
Faculty of Education
Room 230 Education Building
71 Curry Place
University of Manitoba (Fort Garry campus)
Winnipeg, MB R3T 2N2 Canada
204-474-9004
1-800-432-1960 (ext. 9004) Toll-free in Manitoba