Aging research workshop series
Join the Centre on Aging as we launch our monthly Aging research workshop series. Meetings will take place virtually and are one hour. The sessions are free to attend, but registration will be required.
The workshops are open to students, post-docs, research staff, and faculty interested in aging research. 
For members of the Students Targeting Aging Research (STAR) group, the workshops can be counted towards your co-curricular record. 
Workshop schedule 
June 6 | 12–1 pm | Via Zoom
Indigenous aging: What we know and what we don't
Michael Yellow Bird, PhD, Dean and Professor, Faculty of Social Work
Join us for the Centre on Aging's workshop in the Research in Aging Workshop Series, Indigenous aging: What we know and what we don't. The aging process in Indigenous populations is unique, and there are knowledge gaps in our research to address this. In this workshop, Dr. Michael Yellow Bird will discuss Indigenous aging by providing examples from various Indigenous cultures from around the world.
June 14 | 10:30–11:30 
Communication is key: How to communicate about aging 
Michelle Porter, Ph.D., Director, Centre on Aging; Professor, Faculty of Kinesiology and Recreation Management 
Download the poster (PDF)
Ageism is rampant across the world and has been identified as a major issue facing older adults. For older adults to be fully valued by society and hence included socially, ageism needs to be overcome. International organizations such as the World Health Organization and The National Center to Reframe Aging have developed reports and toolkits to address ageism in society, at all levels. Despite a global campaign to educate the public about the effects on ageism, many methods that are currently used to communicate about aging might unknowingly have negative effects. This workshop will use a toolkit for communicating about aging to help participants shift their strategies on communicating about aging. 
Centre on Aging 40 years
July 1, 2022 marked the Centre on Aging's 40th year at the University of Manitoba. Established by founding Director, Dr. Neena Chappell, the Centre on Aging continued to thrive under directors Drs. Laurel Strain, Verena Menec, and current Director, Dr. Michelle Porter.
Highlighted are the Centre's accomplishments over the last 40 years (PDF).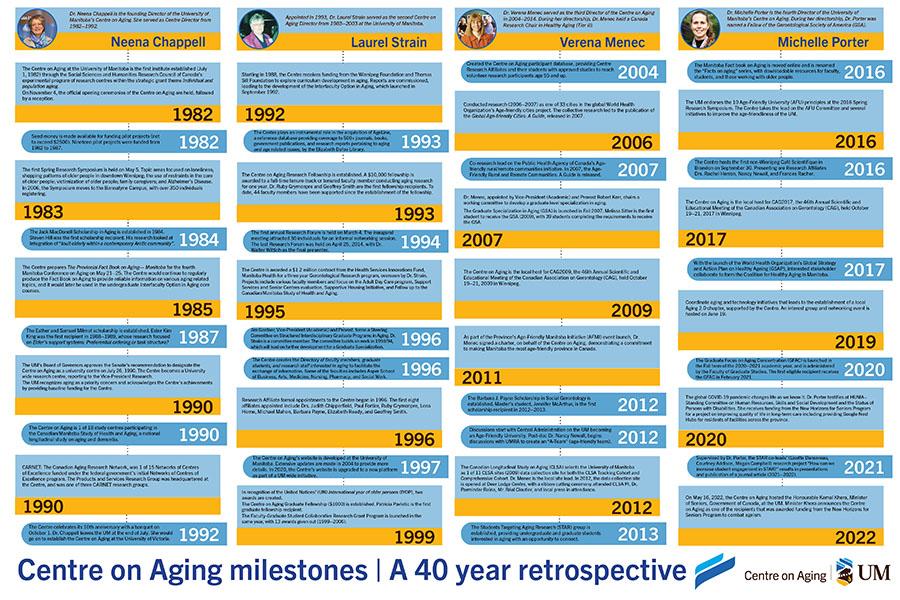 Speaker series
The Centre on Aging hosts a Speaker Series, which regularly is held from October to March during the academic year.
Join us as the Centre's on Aging's Speaker Series presents various aging related presentation online.
As part of the Centre on Aging's outreach to the community, the Centre hosts a Speaker Series, which gives our Research Affiliates an opportunity to share insights into their academic research in aging related fields and discuss current issues.
A goal of this series is to strengthen interdisciplinary research in health and aging.
The Speaker Series is free to attend and all are welcome.
Online presentations
Meetings will be hosted via Zoom and registration is required to participate. Registration details will be made available closer to presentation dates.
Past Speaker Series presentations
November 8, 2022
Oral health, aging and long-term care—a triad of concern
Arlynn Brodie, PhD, RDH 
College of Dental Hygienists of Manitoba 
Oral health is a key indicator of overall health, well-being and quality of life. Although aging need not be associated with poor oral health, there are challenges to maintaining oral health in older age, particularly for those in long term care (LTC) settings. Despite many years of research and intervention, poor oral health is an unresolved problem for residents in LTC care, especially for those with dementia. The solution is complex; will the recently developed National Long Term Care Services Standard adequately incorporate oral health as a care requirement, or will this be another missed opportunity to include oral health as part of overall care in LTC homes?
November 17, 2022
A student is a student is a student is a student: older adult experience in the university classroom
Cicero Club members
Join The Cicero Club—a group of older adult UM graduate students (age 50+)—for a frank conversation. Although many older adult students' experiences are like that of any other student at UM, there are also challenges unique to this demographic. The panel will answer questions such as: Why are you here? (this is not an existential question—or it may be!) Where do you see difference in your student experience? What are the challenges?
November 25, 2022
Centre on Aging student awards event
University of Manitoba student presenters
The Centre on Aging will be hosting a student-focused online event where we will be announcing this year's Centre on Aging student awards, University of Manitoba Retirees Association, and Alzheimer Society of Manitoba Fellowship recipients. As part of our event, student award recipients, graduate, and undergraduate students who are conducting aging related research, will make short presentation as part of the event. 
January 17, 2023
Creatine to enhance aging muscle and brain health
Scott Forbes, PhD, CISSN, CEP
Associate Professor, Dept. of Physical Education Studies, Faculty of Education, Brandon University; Research Affiliate, Centre on Aging, University of Manitoba
Creatine supplementation has been a popular dietary supplement in young active individuals. This presentation will highlight current research demonstrating the effectiveness of creatine supplementation in older adults on muscle quantity and quality. In addition, there is accumulating research that has focused on creatine and the brain. This talk will provide an overview of how creatine works in the body and discuss the current evidence which has shown promising effects of creatine on muscle and brain health.
February 16, 2023
Do pericytes cause reduced blood flow in Alzheimer's Disease? 
Jillian Stobart, PhD
Assistant Professor, College of Pharmacy, Rady Faculty of Health Sciences; Research Affiliate, Centre on Aging, University of Manitoba
One of the key symptoms of Alzheimer's Disease (AD) is a decrease in brain blood flow. This occurs commonly in the smallest blood vessels, known as capillaries. Reduced blood flow limits the supply of energy and oxygen, and this is believed to cause further brain damage and memory loss. Blood flow in capillaries is regulated by cells known as pericytes. Our research is focused on determining how pericytes change in AD and if this causes the reduction in blood flow. We use state-of-the-art imaging techniques and newly developed tools to track pericytes and blood flow in the brains of live mice. By adapting these techniques to a mouse model of AD, we are following individual pericytes and measuring nearby blood flow to show how these change from early to late stages of disease. Our recent findings suggest that pericyte contract early in disease and limit blood flow before the onset of notable AD symptoms. This suggests that drugs to encourage pericyte dilation could be future therapies for improving blood flow in AD.
March 9, 2023 | 2:30–3:30 p.m. 
Cerebrovascular Reactivity Monitoring: Current Perspectives and the Future of Personalized Medicine in TBI
Frederick A. Zeiler BSc MD PhD CIP FRCSC 
Associate Professor, Dept of Surgery, Dept of Human Anatomy and Cell Science, Rady Faculty of Health Sciences; Dept of Biomedical Engineering, Price Faculty of Engineering; Research Affiliate, Centre on Aging, University of Manitoba
Impaired cerebrovascular function after moderate/severe traumatic brain injury (TBI) has recently been identified as a driver of death and disability, with age as an important modifier. Recent advances in bedside cerebral physiologic signal processing have facilitated the derivation of continuously updating indices of cerebrovascular function, leading to personalized medicine approaches that may be tailored to the individual patient, responding to changing conditions in high temporal resolution. With this introduction to real-time cerebrovascular monitoring in TBI care, we will discuss:
Overview of cerebral autoregulation and techniques for assessment in TBI 
Application of advanced continuous multi-modal monitoring of autoregulation in TBI 
Autoregulation and outcome associations in TBI
Drivers of impaired autoregulatory function, with age as a modifier
Current treatment paradigm and future directions 
New Horizons funding announcement: Decreasing internalized ageism
On May 16, 2022 the Centre on Aging hosted the Honourable Kamal Khera, Minister of Seniors, Government of Canada, at the University of Manitoba where she announced that the Centre on Aging was one of the recipients that was awarded funding from the New Horizons for Seniors Program. The New Horizons program included $61 million in funding for more than 3000 community-based projects across Canada. 
Prior to the announcement, members of the Manitoba Seniors Coalition met briefly with Minister Khera and to take some photos. Addressing the audience, were Centre Director, Dr. Michelle Porter; Dr. Annemike Farenhorst (Associate Vice-President Research, University of Manitoba); and Minister Khera, who highlighted the important research conducted at the Centre on Aging and the need to combat ageism. 
Partnering with community organizations, the Centre will be using this funding to develop an intervention aimed at decreasing internalized ageism and its potentially detrimental effects among older adult community members. 
We are sincerely thankful to the Honourable Kamal Khera and the Government of Canada for making this project possible. The archived announcement, can be viewed on the Seniors in Canada Facebook page.
—Dallas Murphy, Student Research Assistant, Centre on Aging
Community workshops
To see reports associated with past events of the Centre on Aging visit our Publications page.
Teaching older adults in university courses
May 18, 2022
The age-friendly university (AFU) movement encourages universities to engage older people in all aspects of the university. Importantly, as an AFU we are encouraged to ensure that there are good opportunities for lifelong learning and inter-generational engagement. One way to engage older people and provide inter-generational opportunities is through for-credit courses that are already offered. 
The Centre on Aging hosted a workshop, where faculty from the University of Manitoba and Brandon University shared their perspectives on teaching older adults in University courses.
Contact us
Centre on Aging
338 Isbister Building
183 Dafoe Rd
University of Manitoba (Fort Garry campus)
Winnipeg, MB R3T 2N2 Canada
Monday to Friday, 8 am to 4 pm