Stu Clark New Venture Championships: Undergraduate Edition
The Stu Clark New Venture Championships: Undergraduate Edition is open to all post-secondary schools across the globe and students can apply individually or as a team. This competition is an excellent opportunity to bridge classroom learning to real life experience as students pitch their ideas in front of judges and gain valuable feedback. 
On this page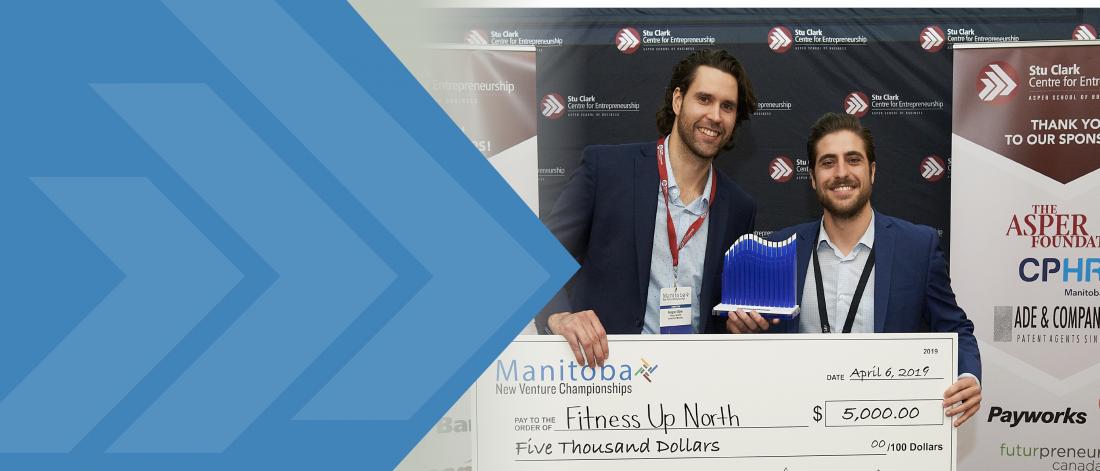 Stu Clark New Venture Championships: Undergraduate Edition
2023 Championships
Dates
March 9 & 10, 2023
Location
TBD
Overview
The competition is for undergraduate students across the globe to gain real experience while developing and growing new ventures based on the student created, managed or owned ventures. Teams will also receive expertise and feedback from our leading industry expert judges.
Throughout this 2-day competition teams will compete in an Elevator Pitch and Business Plan Presentation for and will evaluate the feasibility, market opportunity and business model of a new venture.
Important dates
Deadline to apply (11:59 PM CST)

Teams advised of acceptance

Elevator pitch due (11:59 P.M. CST)

Business plans due (11:59 PM CST)
Prizes
Business Plan Competition

1st Place $10,000
2nd Place $5,000
3rd Place $2,500
4th Place $1,000

Elevator Pitch Competition

1st Place $1,000
2nd Place $750
3rd Place $500
All prizes are in Canadian dollars.
Eligibility
Presenting Team Composition
Individual students qualify as a team entry
Teams must be 1 - 5 students
This competition is for full time or part time undergraduate level students enrolled in the current academic year
Students must be enrolled in a post-secondary institution
If the business is a joint venture, the competing student must be a significant contributing factor to the business and not just a spokesperson
Other
Entries cannot duplicate or copy an already existing/recognized business or franchise
The competition requires students to participate in both events: Business Plan Presentation, and Elevator Pitch
Participants should dress is business or business casual attire
All teams must attest to all rules and guidelines
This document sets out guidelines to capture these goals and not every circumstance can be anticipated. The Competition Director reserves the right to disqualify or penalize any team that violates the rules, regulations or the spirit of the competition
How to apply
Steps
Fill out an application.
Create a 1-2 page executive summary
Submit an application form and executive summary via Startup Tree by January 12, 2023 (11:59 PM CST)
Application requirements
Executive summaries should include:
1 - 2 pages in length
PDF format
1.5 spacing with 12 point font
Magnitude of the problem
Outline of the solution
Market validation
Financial projections
Scalability
Rules and guidelines
The Stu Clark New Venture Championships: Undergraduate Edition is an exciting competition open to all undergraduate students across the globe!
Throughout this 2-day competition individually or as a team, students will compete in an Elevator Pitch and Business Plan Presentation for a generous prize purse!
Business plan presentation rule
Application and executive summaries are due January 12, 2023 (11:59 PM CST)
15 minute presentation hard stop
10 minute Q & A hard stop
5 minute feedback
Only team members who present are able to participate in the Q & A portion
PowerPoint (prezzi, google drive etc) will already be loaded on the computer provided by the venue
Props (prototypes, iPhone apps etc.) are allowed in the presentation
Teams may only videotape or record their own presentation
Only members who actively present are able to participate in the Q & A discussion
Elevator pitch rules
1 minute pitch hard stop
The elevator pitch video may contain graphic images, video enhancements, and background noise, however it must contain at least one student speaking to the business concept
The more creative, the better!
The purpose of the elevator pitch is to capture the attention of the judges while explaining to them the value behind your business
All content and graphics should be relative to the business and enhance the overall message 
Any inappropriate verbiage or graphics will result in disqualification
Plagiarism will result in disqualification
We encourage teams to get creative and to keep in mind that their elevator pitch is being judged on content, professionalism and overall strength of the pitch
Business dress is recommended
Written business plans rules and guidelines
Teams will be chosen and notified by January 19, 2023 regarding their acceptance.

Written business plans from all teams are due to amy.jones@umanitoba.ca by Thursday, March 2, 2022 (11:59 PM CST)
Rules
Submitted in PDF format
Number all pages
Cover page to include venture name, student name(s) and University
Cannot be longer than 21 pages following these limitations below
1 page – Cover Page
1 page – Table of Contents
1 – 2 pages – Executive Summary
Up to 10 pages – Main Report
Up to 6 pages – Appendices
1 page – Citations
Guidelines
Executive summary

Standalone overview of the business plan

Magnitude of the problem

Is this a major problem?
Is it local, national or global?

Outline of the solution

Does the product solve the problem
Is the product protected (IP)
Status (proof of concept / prototype)

Market validation / competition

Is there a clear market need?
Will customers pay a premium?
Competitive landscape

Operational plan

Actual intent to set up operations
Viable plan to set up operations
Ongoing operational capability

Marketing and distribution

Effective marketing strategy
Effective advertising strategy
Clear distribution channels / strategy

Management team

Is team experienced and capable?
Able to overcome risks and changes
Proper board or advisory board

Financial viability / scalability

Attractive revenue / expense margins
Realistic start-up costs
Scalable product or service
Financial projections / returns
No cash flow or balance sheet issues
Realistic funding / capital structure
Attractive investor returns

Others

Intellectual property
Timeline for implementation
Realistic
Professional
Convincing strategy
Privacy disclaimers
As this competition is open to the public, data or information discussed or divulged throughout the competition is considered information that can enter the public domain therefore teams requiring non-disclosure agreements (NDAs) should not participate.
Any footage of the event will be used for marketing, PR, promotional materials.
 
Prize awards
All prize money is in Canadian dollars and will be distributed after the competition.
Contact us
Amy Jones
Program Coordinator
Stu Clark Centre for Entrepreneurship
Room 212 Drake Centre
181 Freedman Crescent
University of Manitoba
Winnipeg, MB R3T 2N2 Canada