Robert Houle: The Sandy Bay Residential School Series
October 14 to December 4, 2021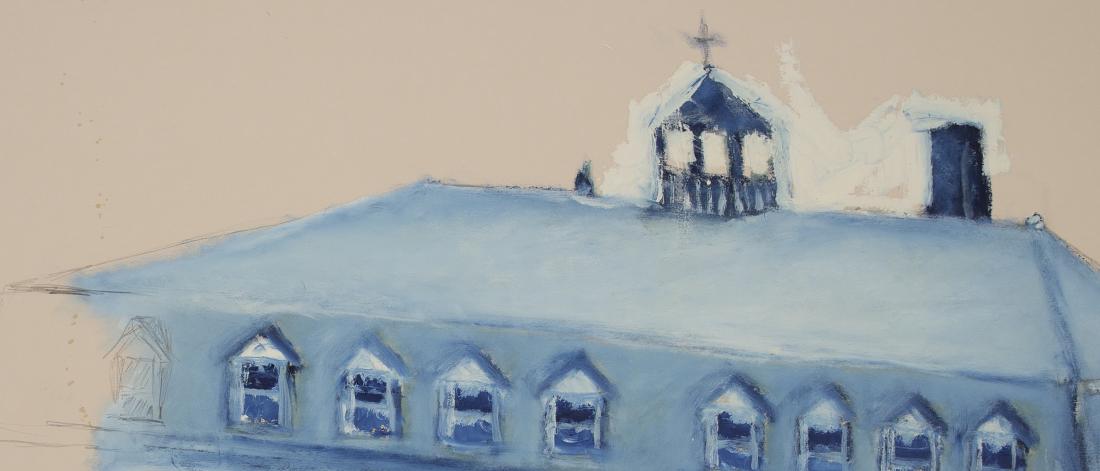 About the exhibition
Robert Houle's Sandy Bay Residential School Series is comprised of twenty-four drawings, drawn over consecutive days. The work was triggered, in part, by a nightmare about an incident that the artist had repressed. The dream, of elementary school abuse, occurred after Houle returned to Sandy Bay for a funeral, and shortly after the Government of Canada's Official Statement of Apology to residential school survivors. Loose sketches rendered in oilstick depict the school playground, dormitory beds, and religious figures as remembered, fragmentary and haunting. Handwritten Saulteaux texts, inscribed in pencil, capture thoughts that resurfaced as the artist worked on these drawings. Forbidden from speaking his maternal language as a child, thinking and writing in Saulteaux was a part of Houle's process of healing by letting go of conflict in his mind—a traditional counterpoint to concepts of reconciliation and forgiveness.
Robert Houle is a member of Sandy Bay First Nation, Manitoba and lives in Toronto. Houle is a contemporary Anishinaabe Saulteaux artist with international exhibition experience. His curating, writing, and teaching has played a significant role in defining Indigenous identity. Drawing on European art conventions including abstraction and conceptual art, his work addresses lingering aspects of colonization and its aftermath on Indigenous people. Houle received a B.A. in Art History from the University of Manitoba, and a B.A. in Art Education from McGill University and studied painting and drawing at the International Summer Academy of Fine Arts in Salzburg, Austria.
Houle has been exhibiting since the early 1970s. His work has been shown at the National Gallery of Canada, the Art Gallery of Ontario, Museum of Contemporary Art in Sydney, the Canadian Cultural Centre in Paris, and the Stedelijk Museum. Between 1977 and 1981, he was the Curator of Contemporary Indian Art at the Canadian Museum of Civilization. He has curated or co-curated groundbreaking exhibitions of contemporary Indigenous art, including  New Work by a New Generation (MacKenzie Art Gallery, Regina, 1982), Land Spirit Power: First Nations at the National Gallery of Canada (Ottawa, 1992), and Multiplicities (Museum of Anthropology, University of British Columbia, 1993-94). Houle taught as an instructor at the Ontario College of Art and Design for fifteen years.
Houle's considerable influence as an artist, curator, writer, and educator has led to his being awarded the Founder's Achievement Award from the Toronto Friends of the Visual Arts (2020), two honourary doctorates, the 2015 Governor General's Award in Visual and Media Arts, the Eiteljorg Contemporary Art Fellowship (2003), the Toronto Arts Award (2001) and the Janet Braide Memorial Award for Excellence in Canadian Art History (1993). Houle's work is in public collections including the Art Gallery of Ontario, Heard Museum, Laurentian University Museum and Arts Centre, McGill University, and the National Gallery of Canada. He is represented by Galerie Orenda in Paris, Galerie Nicolas Robert in Montreal, and Kinsman Robinson Galleries in Toronto.
You may also be looking for
Visit the gallery
School of Art Gallery
255 ARTlab
180 Dafoe Road
University of Manitoba (Fort Garry campus)
Winnipeg, MB R3T 2N2
Monday to Friday, 9:00 am – 5:00 pm
CLOSED all statutory holidays