Dancing with Tantalus
Gabrielle L'Hirondelle Hill, Katie Lyle, and Ella Dawn McGeough 
Curated by Lillian O'Brien Davis 
January 21 to March 13, 2021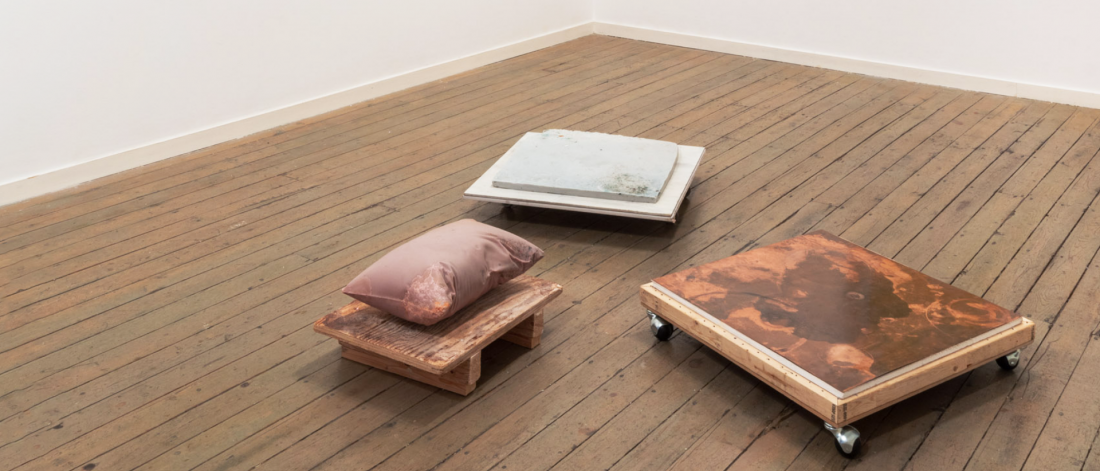 Virtual Programming
Dancing with Tantalus Panel Discussion, 7:00 to 8:30 p.m. CT

Volta: A Writing Workshop with Nic Wilson, 1:00 to 3:00 p.m. CT

Choreography as Premonition//The Imaginary Event of Presentation: A Movement Workshop with Katie Lyle and Shelby Wright, 12:00 to 1:30 p.m. CT

Performance by Ali Robson, 7:00 p.m. CT
About the exhibition
Contact is a many layered metaphor; both touch and its absence have consequences that can extend indefinitely. I look at my hands. They feel huge, like mitts that will cover, crush, or make a mess. I am frightened that the marks they make will last too long, be too big, cause unpredictable outcomes. When I do make contact, the effects are not immediate—this delay temporarily alleviates my fears. However, all marks, all instances of contact, eventually appear. While contact may signal a crisis, its lack also torments, like the aching feeling when something lies just out of grasp.
Consider the Greek myth of Tantalus, who stole ambrosia, nectar, and the gods' secrets of immortality for his people. As punishment for his crime, Tantalus was made to stand in a clear pool where water receded before he could drink, underneath trees laden with fruit that forever escaped his grasp. Touching leaves traces, often more lasting than originally imagined, but the absence of touch builds both anticipation and desire.
Featuring work by Ella Dawn McGeough, Katie Lyle and Gabrielle L'Hirondelle Hill, Dancing with Tantalus engages qualities of contact—between people, surfaces, and objects—to examine haptic intimacy and explore the causal relationship between artworks and the many structures that make contact with them—physically, intellectually, emotionally, institutionally, and historically.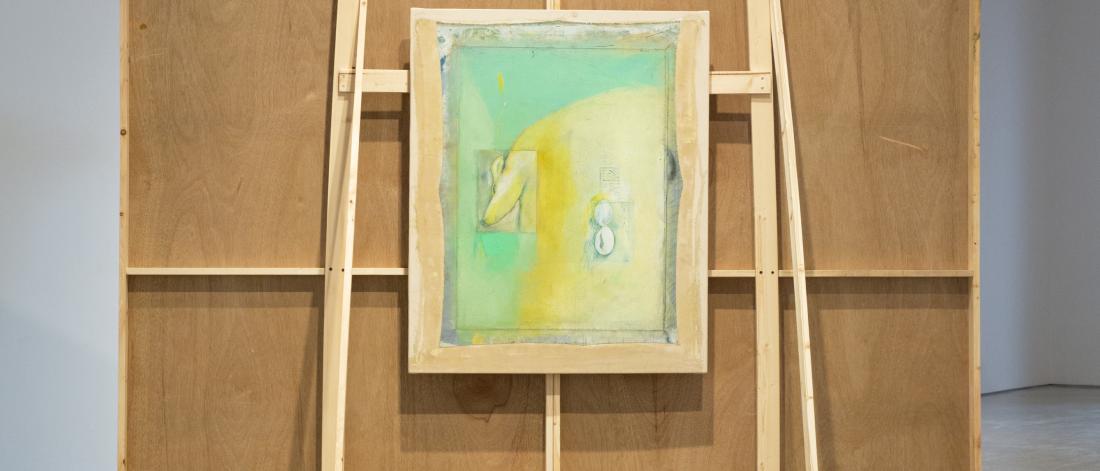 Exhibition essay
Clean Hands
By Lillian O'Brien Davis
My hands feel huge, like mitts that will cover over, crush, land too heavily or make a mess of anything they touch. To make contact is horrific because I am frightened the mark I make will last too long, be too big. When I do make contact, often the effect is not immediate—there is enough of a delay to make me think that maybe my fears were unfounded, but eventually the mark, my mark, appears.
When asked to define the concept of "infrathin," Marcel Duchamp replied that it is a concept that is impossible to define, that "one can only give examples of it." For instance, the warmth of a seat that has just been left, he explained, is infrathin. (1) How do you visualize the space in between where two things meet, such as the space between a seat and a bum? Consider the story of Tantalus, a figure from Greek mythology who stole ambrosia, nectar, and the gods' secrets of immortality for his people. As punishment for his crime, Tantalus was made to stand in a clear pool where water receded before he could drink, and underneath trees laden with fruit that forever escaped his grasp. Tantalus' unquenched desire is his torture, to have what he needs just out of reach. Dancing with Tantalus is an exploration of an attempt to embody the space of unfulfilled desire and to occupy the narrow and eternal space in between two things that nearly meet.
The works of the three women in this exhibition, Gabrielle L'Hirondelle Hill, Ella Dawn McGeough, and Katie Lyle, engage with the implications and resonances of contact—between people, surfaces, and objects. This project is the outcome of a yearlong collaboration resulting from a series of conversations between myself and the artists, related to the implications of touch. We were particularly interested in situations where contact or touch, and its lack become caught between desire and crisis—the circumstance of Tantalus. The exhibition explores poetic physical touch, though the term 'contact' also carries the weight of colonial violence that often accompanies "contact" as a concept. Writer and poet Anne Carson writes that "every touch is a modified blow," a violation of a fixed boundary where one does not belong (2). Carson writes in her essay, (Dirt and desire: the phenomenology of female pollution in antiquity), that the ancient Greeks were highly sensitive to the necessity of personal and extrapersonal boundaries for the maintenance of human order. Women, strangers, intruders, and beggars in ancient Greek society were considered to lack the ability to control their own boundaries and therefore needed to be externally regulated.(3) Tantalus, a thief and intruder, violated the boundary between gods and men and his punishment was to remain within the interstice forever. Contact and its absence are multilayered experiences and each has consequences that extend indefinitely.
The artworks featured in this exhibition serve as haptic portrayals of the delicate dance of proximity; a continuous cycle of moving close, pulling away and circling back again. Like Tantalus, the viewer who moves through the space will become implicated in a choreographed proximity: a dance in which everyone moves but nobody touches. Imagined touch is erotic—an experience of anticipation—a fantasy of contact that never arrives, of intimate and infinite nearness.
What could be considered an infrathin distance between touch and its absence? By exploring the permeability of surfaces, the artists in Dancing with Tantalus collapse the boundaries between form, content, and process. Each of the artists explore the crisis of contact through the accrual and erasure of material by working through the precarious process of translation between idea and surface. Their various materials—wax, copper, tobacco, silk, and paint—are caught in a contradiction: sensitive to touch, they explore the limitations of the surface. The artists have worked into their surfaces, building up paint on canvas and then stripping it away, melting and reforming wax, or sewing together tender and delicate tobacco leaves.
Carson expands on her framing of contact as crisis by using the example of the traditional ancient Greek wedding ceremony. The moment of the ceremony where the bride removes her veil so that she might be seen by her betrothed indicates the precise moment that the bride becomes "touched" by the bridegroom. She draws reference from a fragment of a poem by ancient Greek poet, Sappho, who describes the first instance of a bride being unveiled in front of the bridegroom:
He seems to me equal to gods that man
who opposite you
sits and listens close
to your sweet speaking
and lovely laughing-oh it
puts the heart in my chest on wings
for when I look at you, a moment, then no speaking
is left in me
no: tongue breaks and thin
fire is racing under skin
and in eyes no sight and drumming
fills ears
and cold sweat holds me and shaking
grips me all, greener than grass
I am and dead-or almost
I seem to me ...
Carson explains how Sappho's wording uses perspective to wreak havoc with boundaries, changing the perspective of the narrator (Sappho) to intercept the moment of touch: "Sappho has chosen the most solemn and authoritative of the rituals that sacralize female boundaries and used it to explode the distinction between the outside and the inside of herself." (4)
Like Sappho, the artists in Dancing with Tantalus deliberately seek to explode the boundaries of their materials. Sappho attempted to undermine the perceived mutability of the female boundary, using an instance of ceremonial touching to disrupt the moment of contact between bride and groom. Tantalus sought to cross the boundary between gods and men and for that, he was banished into a state of eternal yearning. In both contexts, the interstice cannot be defined, only experienced. Dancing with Tantalus presents work that embodies the experience of the precipice, just before the fall, asking what it would look like to escape our barriers. A question that cannot be answered, only felt.
Lillian O'Brien Davis is a curator and writer based in Regina, Saskatchewan, Canada (Treaty 4 Territory). She is currently an Assistant Curator at the MacKenzie Art Gallery in Regina, SK.  Her writing has appeared in Canadian Art, Black Flash and Peripheral Review. Her curatorial projects have appeared at the Jackman Humanities Institute (2018), Art Museum at the University of Toronto (2019) and Susan Hobbs Gallery (2020).
Gabrielle L'Hirondelle Hill is a Cree and Metis artist and writer. Hill received her MFA from the California College of the Arts, and a BFA and BA from Simon Fraser University.  Hill has recent and forthcoming solo exhibitions at the Museum of Modern Art, New York and the College Art Galleries at the University of Saskatchewan, Saskatoon. She has exhibited and published widely, and is a member of BUSH gallery, an Indigenous artist collective seeking to de-centre Eurocentric models of making and thinking about art. Hill lives and works on the unceded territories of the Sḵwx̱wú7mesh, Musqueam, and Tsleil-Waututh peoples.
Katie Lyle creates paintings, drawings, and performances that have been presented in exhibitions across Canada and most recently at La Datcha in Berlin. Lyle has also worked collaboratively with Toronto-based dance artist Shelby Wright since 2014, and their work has been presented in festivals and galleries across Canada. Lyle lives and works in Toronto.
Ella Dawn McGeough holds an MFA from the University of Guelph, a BFA from the University of British Columbia, and is currently pursuing doctoral studies at York University. She has exhibited across Canada and internationally, including in Finland, Beijing, and New York, and participated in residencies in Peru, Norway, and Banff. Among other projects, McGeough is a co-founder of moire.ca.
––––––––
1.Marcel Duchamp, quoted in Art and Popular Culture. 2019. "Infrathin." Last modified May 12, 2016. http://www.artandpopularculture.com/Infrathin#:~:text=Infrathin%20(French%3A%20inframince)%20is,just%2Fbeen%20left)%20is%20infrathin
2.Carson, Anne. "Dirt and desire: the phenomenology of female pollution in antiquity," in Men in the Off Hours (New York: Knopf, 2000), p. 130
3.Ibid
4.Carson, p.150-151
Visit the gallery
School of Art Gallery
255 ARTlab
180 Dafoe Road
University of Manitoba (Fort Garry campus)
Winnipeg, MB R3T 2N2
Monday-Wednesday, Friday, 9:00 am – 5:00 pm
Thursday: 9:00 am – 7:30 pm
CLOSED all statutory holidays