Connect with and recruit students
Employers are essential partners in educating students about the competencies needed to enter and advance in the work world. The result: work-ready students that  meet your industry's need!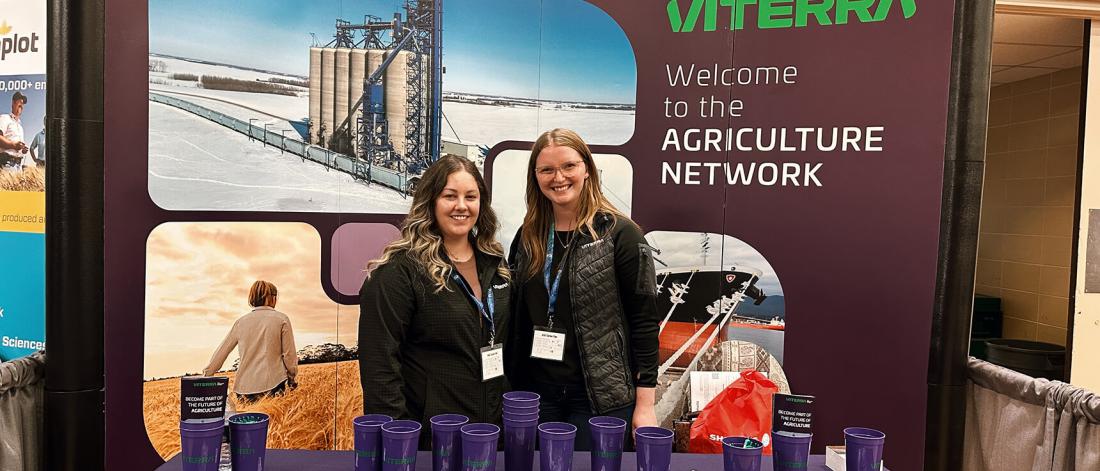 Hire a student
Bring new perspectives and fresh ideas to your organization by hiring a student, while increasing organizational awareness to potential future employees.
Post a job on UM Connect
The best way to advertise a job to students enrolled in the Faculty of Agricultural and Food Sciences is to post your opportunity on UM Connect - the University of Manitoba's free, online job board. 
To get started click on "Industry & Community Partners" and then "Partner Account Registration".
To target students specifically from our faculty, post under the "Agri & Food Sci" module. From there, you can post part-time, full time, term/temp summer and co-op (Undergraduate only) positions. 
 
Hire a co-op student
Why hire a co-op student?
Entrance into the Co-op Program is competitive. Successful applicants have been pre-screened and admitted to the program based on motivation, professionalism and communication skills.
Co-op students are available to work year round (Summer, Fall, Winter term) for full time positions. International students receive a co-op work permit legally allowing them to work full time hours throughout year.
Co-op students are eager to contribute to the professional workplace.
Students complete mandatory workplace coaching and professional development training.
Co-op roles are:
Learn more about co-op hiring on the co-op website.
View wage subsidies and tax incentives
Campus career fairs
Recruitment guidelines and best practices
In today's competitive recruitment environment, the Faculty of Agricultural and Food Sciences recognizes that employer partners are actively recruiting students earlier in the school year. We ask that employers respect the Offer Date of Wednesday, November 22, 2023 in order to give students adequate time to consider their options for Summer 2024 opportunities. 
Engagement opportunities
There are many ways employers and alumni can engage with current students.
Become a classroom guest speaker
Employers often express interest in making classroom presentations to increase their company name recognition on campus. To help us connect presenters with interested instructors, we ask employers to provide the following information, which we then forward to departments to see if there is an interest in giving the company class time.
Guidelines for Classroom Guest Speakers
Class instructors are responsible for course content and classroom management. They decide which guest speakers to invite based on learning objectives and schedule considerations.
Speakers are welcome to provide an introduction to their company/organization (~5 min.), but the focus of the talk must be a technical or career development topic.
Some classes may be a combination of students from a variety of faculties and majors.
If there is a current job opportunity, post the position on UM Connect to ensure all students in the faculty have access to the posting.
To help ensure that the academic requirements of the students are advanced, please provide the following information in your email inquiry to agcoop@umanitoba.ca which will then be shared with Faculty members in order to make a connection:
Name of primary presenter
Other presenters
Company name
Address
Email
Phone Number
Available dates and times
Subject of presentation
Main learning benefits or several key points that will be made
Target audience
Host an atrium booth
We offer space in the Agriculture Building's atrium for you to set up an organization booth and connect with students in this high traffic area. Includes space booking, table, and a 2-3 hour time slot (typically 9:30-2:30pm, depending on the day of the week to account for class changeover student traffic). For an additional fee, refreshments can be ordered from U of M catering services (recommend lead time of at least 5 business days).
Host a Career Development Focus workshop
We welcome industry professionals to host and facilitate a career focused workshop with an industry focus.
Topics can include:
Job search
Networking
Resume
Cover Letter
Interviewing
Speaker and event participation
We are always looking for business professionals to join us as guests for our many events. If you are interested in giving of your time to provide support or share advice with our students, please contact us at 204-474-8605 or at Holly.Klann@umanitoba.ca.
Host a company information session on campus
Host an information session where students can learn about your organization as well as current and future potential career paths. Includes classroom booking and use of projector/screen. Please provide your own laptop if possible. For an additional fee, refreshments can be ordered from U of M catering services (recommend lead time of at least 5 business days).
Programs and skills
Review the programs of study at the Faculty of Agricultural and Food Sciences for both undergraduate and graduate students.
Stay connected
Stay connected with the Faculty of Agricultural and Food Sciences by signing up for a newsletter.
Employer Newsletter
The Faculty of Agricultural and Food Sciences Employer Newsletter provides information on opportunities to get involved both on and off-campus. To opt in, email agcoop@umanitoba.ca. 
Contact Us
Holly Klann
Experiential Learning and Co-op Education Coordinator
Faculty of Agricultural and Food Sciences, University of Manitoba
Agriculture Building, 66 Dafoe Road
Winnipeg, MB  Canada
R3T 2N2
Office hours are Monday to Friday, 8:30 a.m. to 4:30 p.m.