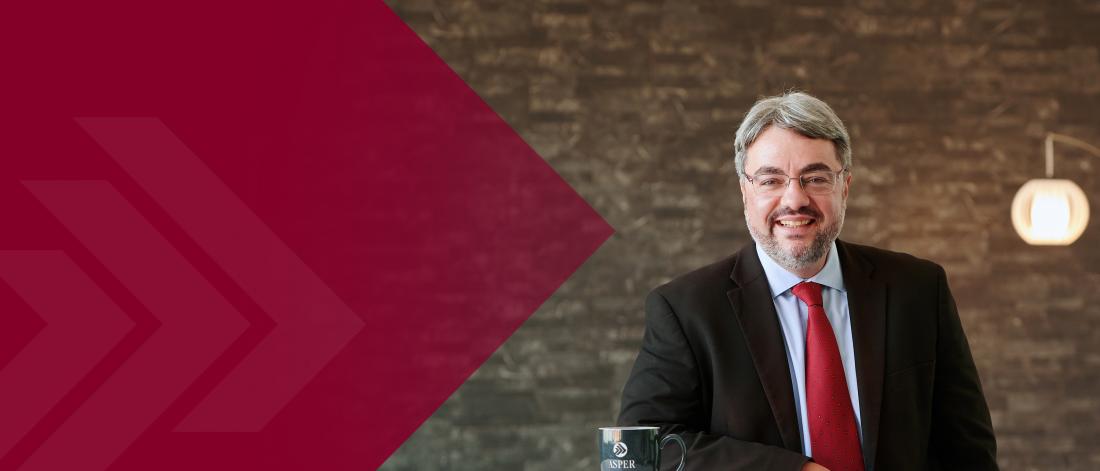 Welcome to the Asper School of Business!

I am extremely proud of the School's 80-year history in providing experience-based education that creates world-class business leaders who contribute to the social, environmental and economic well-being of Manitobans, Canadians and beyond. The School's societal impact and our commitment to research and teaching excellence is why our School has been AACSB accredited —the world's premier business school accreditation, achieved by less than five percent of business schools in the world—since 1999.

When undergraduate and graduate students enroll at the Asper School of Business, they benefit from the support of our award-winning faculty, outstanding student engagement, close connections with the business community and a network of more than 22,000 alumni worldwide. This support is bolstered by the strong relationships with The Associates, who for the past 40 years have been dedicated to the advancement of business education at our School. 

In leading the Asper School of Business, I intend to nurture these relationships while reinforcing our School's commitment to excellence, inclusiveness, integrity and community impact and approaching business challenges with an entrepreneurial and sustainable mindset. These values are reinforced in our 2019-2023 Pursuing our Asper-ations strategic plan, a plan that pushes us to be at the forefront of impactful business education, research and engagement for the betterment of our community and society.

We continue to move forward with optimism and resilience and commit to providing a welcoming and respectful environment that honours Indigenous perspectives, advances reconciliation and embraces diversity in all its forms. This includes the continuation of our EDI Task Force that brings together faculty, administration, staff, students and alumni to eliminate patterns of exclusion and discrimination and build a welcoming, inclusive environment for all.

We are thrilled to welcome back all faculty, staff and students to the Drake Centre to reconnect and enjoy the amazingly renovated space now complete with modern active learning classrooms, new facilities for student life, spaces for the Indigenous Business Education Program and the development of a state-of-the-art Behavioural Management Lab.  

Outside of Drake, our students also have a wealth of opportunities to expand their education.  Through our award-winning co-op, entrepreneurship and international exchange programs and case competitions, we are committed to providing students with experiential and active learning opportunities to enhance their learning experiences in preparation for the job market. This commitment is only possible thanks to the incredible support from our business community who hire, coach and host our students.

While our School's direction and success is the result of the collective efforts of all our key stakeholders (students, faculty, staff, alumni and business partners), each one of you plays a significant role in maintaining the Asper School of Business' place as an internationally recognized business school for its excellence in business education. 
I would like to connect with you all and look forward to the year ahead. 
 
Bruno S. Silvestre, PhD
Dean, Asper School of Business
CPA Manitoba Chair in Business Leadership