Fields on Wheels 2022
Thursday, December 15, 2022 - 9 am to 3:30 pm CST
Join us for the 27th Fields on Wheels Conference, once again being held as a free webinar themed "Supply Chain Risks, Disruptions and Adaptation".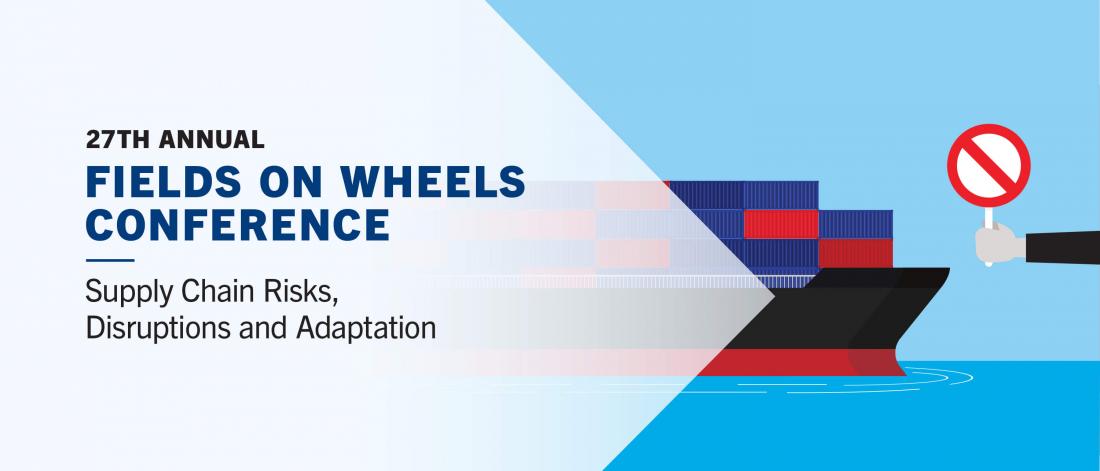 The pandemic accentuated the risk of supply chain disruptions at congested ports and clogged railways became unreliable. As this disturbance is passing, the general feeling that more things could go wrong seems to be greater. Of course, logistical problems are nothing new, only the consequences have become more costly. Long extended supply chains held together by sophisticated communications have fewer buffers to lessen the effect of disruptions.
Advancing climate change increases the exposure of transportation systems to extreme weather disruptions. Heat waves, droughts, and floods slow or delay transport. More dramatic weather phenomena, like atmospheric rivers that hit the railways in British Columbia, or the low water levels on the Mississippi limit grain shipments. Such weather-related disruptions are difficult to anticipate or prepare for.
Man-made disruptions to supply chains are becoming more prevalent. After years of peaceful co-existence, the world is being divided into allegiances and spheres of commercial interest. The Russian invasion of Ukraine has created new battle lines, and the careless use of customs barriers for political ends has turned back decades of careful trade negotiations. Exporters and importers are pulling back, seeking more reliable supply chain partners and reliable trade corridors.
Macroeconomic disruptions are the latest concern. Higher rates of inflation and rising interest rates are moving currency exchange rates that have trade impacts that are yet to be realized.
Not all disruptions are negative. New technology can provide better ways to conduct trade by dislodging established systems. The digital revolution has created new ways of buying and selling that do not depend as much on established infrastructure or financial institutions. Some innovations, like Bitcoin may introduce more risk, while blockchain technology promises to make trade more secure.
Transportation connects all parts of supply chains, and normally it is "invisible." When something disturbs the flow, the impacts are widespread, frontpage news. The 27th Fields on Wheels brings together experts in agricultural supply chains via a webinar format to address the current and pending issues affecting agricultural transportation.
You should participate in this packed day if you are a stakeholder to this critical industry, whether as a producer or a logistics service provider, a policymaker, regulator, academic, student or a customer.
Webinar details
Supply Chain Risks, Disruptions and Adaptation
Thursday, December 15, 2022 - 9 am to 3:30 pm CST
Webinar
The pandemic has disrupted supply chains worldwide. Covid testing regimes have created bottlenecks, while macroeconomic stimulus waves are rebounding across market demands and prices. In the late stage of the pandemic food supply chains face interesting times.
The 27th Annual Fields on Wheels Conference is once more, a Webinar. By now, we had hoped to hold a traditional gathering, but in the late-pandemic, we are virtual again. The good news is that as communications replace transportation, we can welcome participants from all parts of Canada and beyond to "attend". And, with the help of our sponsors, we are making the conference available to everyone FREE of charge.
AGENDA
9:00 a.m.
 
Welcome from the University of Manitoba

Dr. Martin Scanlon, Dean, Faculty of Agricultural and Food Sciences
9:10 a.m.
 
Session 1 - Transport Lessons from the Pandemic

Session Chair: Mark Hemmes, Quorum Corporation

"Supply Chain Disruptions of Food Systems: An Overview"
Barry Prentice, Director, University of Manitoba Transport Institute

"Coping at the farm level"
Bill Campbell, President, Keystone Agricultural Producers

"Establishing Resiliency in the Grain Supply Chain"
Elizabeth Hucker, Assistant Vice-President, CP Rail

10:45 a.m.
 
Session 2 - Weather Extremes and Infrastructure

Session Chair: Hedley Auld

"Atmospheric rivers and rail infrastructure"
Greg Hamilton, Senior Manager, Investor Relations, CN Rail

"The U.S Inland Waterways: A look at the Impact of Low Water Conditions on Agriculture"
Rich Henderson, Economist USDA

12:00 p.m.
 

Stretch and bend break

12:20 p.m.
 

Session 3 - Macroeconomic Challenges and Supply Chain Adjustments

Session Chair: Brian Oleson, Dept. Agribusiness and Agricultural Economics

Paul Bingham, Director, Economics and Country Risk, S&P Global

1:00 p.m.
 

Session 4 - Trade measures and armed conflict

Session Chair: Steve Pratte, Canadian Canola Growers Association

"Growing trade restrictions"
Claire Citeau, Executive Director, CAFTA

"Wheat trade with/without Ukraine"
Neil Townsend, Chief Market Analyst, Farmlink

2:00 p.m.
 
Session 5 - Disruptive technologies

Session Chair: Barry Prentice, Transport Institute

"Inventory Management"
Ken Jackson, CEO, VeriGrain Inventory Intelligence

"Blockchain"
Chris Bunio, Co-founder and CEO, TheoryMesh

"An Online Marketplace: Prairie Grain Mall"
Adil Cubukgil, Managing Director, Prairie Grain Portal
Vic Uzumeri, Consultant