UMQueer
UMQueer is a group of faculty, staff and students working together to celebrate and advocate for diversity and inclusion at the University of Manitoba. We envision a campus and society in which all 2SLGBTQ+ peoples and their allies enjoy the freedom and dignity to live openly, authentically and safely.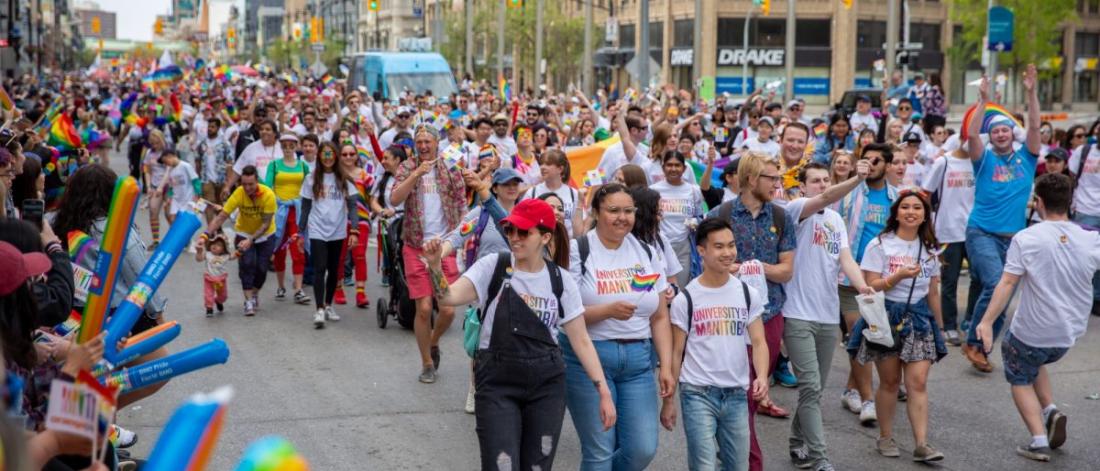 Pride
The University of Manitoba's celebrations for Pride 2022 are back!
Events include Pride Community of Practice EDI on May 30, the flag-raising ceremony on June 1 and the Pride Winnipeg Festival and Parade on June 5. Join us at the flag-raising ceremony in front of UMSU University Centre (near the flag poles) for cupcakes, fruit and hear from speaker Dr. Fenton Litwiller (they/them), Professor in the Faculty of Kinesiology and Recreation Management and Chair of UMQueer.
Participating UM registrants for the Pride Parade will:
Walk in the parade for free – including UM groups, associations and societies
Help carry the UM Pride flag
Be provided with buttons, mini flags and sunglasses to pass out during the parade
Meet supporting members of the UM community
Faculty, staff, students, alumni, friends and family members (including children and pets) are welcome to walk with us at the Pride Parade. All members of the 2SLGBTQ+ community and allies are also welcome to participate in the festivities.
UM Pride Events
Monday, May 30 – virtual event
"Advocating for Positive Change in Health Care – channelling our own life experiences into helping others navigate the health care system."
This Pride 2022 Community of Practice EDI Event with guest speaker Shandi Strong, will be held virtually on Zoom | 1:30 – 3 p.m.
Zoom link:
https://ca01web.zoom.us/j/63287756144?pwd=bkp1NElHZ2wzc3AwaEZmOCtaMGNmUT09
For more information, visit the Events Calendar.
Wednesday, June 1
Flag Raising
Fort Garry campus at the flagpoles outside of UMSU University Centre | 9:00 a.m.
The Pride flag will also be raised on Bannatyne campus in the Brodie Centre Atrium.
Sunday, June 5
Pride Parade
Legislative Building | 11:00 a.m.
Please meet by 10:15 a.m. on Memorial Blvd; parade to start at 11:00 a.m.
Please fill out the form below to register to walk in the Pride Parade.