Wind Band Teaching Workshop
Embrace. Dream. Create. 
June 3 - 4, 2022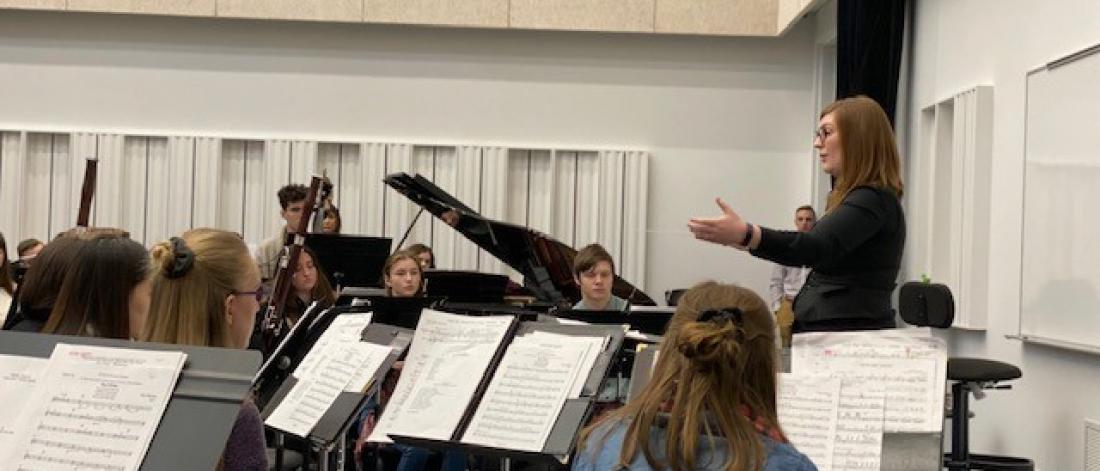 The Desautels Faculty of Music Wind Band Teaching Workshop is designed for band directors of all levels and offers a conducting participant stream and observer stream. Participants in both streams attend all sessions, rehearsals and discussions.
This workshop explores philosophical and practical issues of teaching, rehearsing and conducting. Sessions will address pedagogy, rehearsal techniques, gesture, interpretation, score study, and developing ensemble culture and community. This year's sessions will also provide special focus on program rebuilding.
The 2022 Guest Clinician is renown conductor John P. Lynch, sessions will also be led by Winnipeg Band Director, Darrell Chrisp, and Jacquie Dawson, DFOM Director of Bands. 
This workshop is held in the Desautels Faculty of Music's beautiful facilities on the University of Manitoba Fort Garry campus. 
Registration
2022 registration now open!
Space for the conducting participant stream is limited, and registrations will be processed in the order they are submitted. The deadline for registration for conducting participants is May 25, 2022 and May 15 for observers. We look forward to hosting you for a time of rejuvenation and collaboration.
Register for one of the following options. Please note, there is a cap on conducting participants and they will be selected on a first come basis. 
Conducting Participant $200.00 
Conducting Participant (Student) $125.00 
Observing Participant $150.00 
Observing Participant (Student) $75.00 
Following registration, you will receive an email with a link to complete payment (credit card only). 
Repertoire
Repertoire for conducting participants selected from: 
Yukiko Nishimura, Ancient Flower 
Meechan, Zenith 
Stuart, Three Ayres from Gloucester 
Giroux, The Grace in Being
Holst, Second Suite in F 
*multi-movement works - choose up to two movements 
Schedule
Complete workshop schedule below