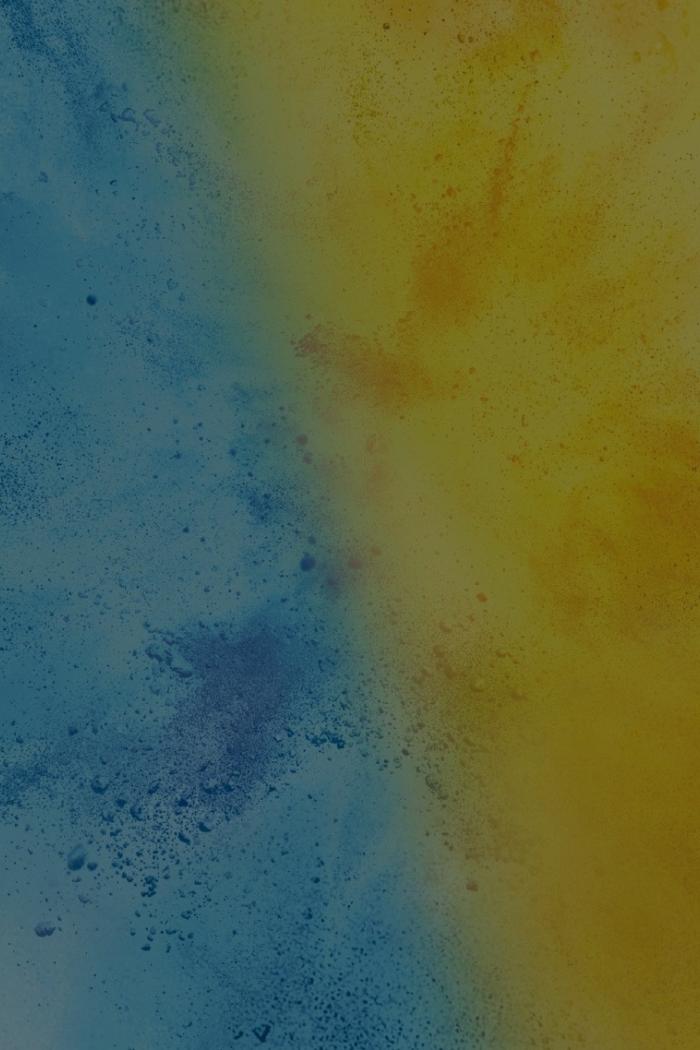 Together we made history
The story of the Front and Centre campaign will unfold for years to come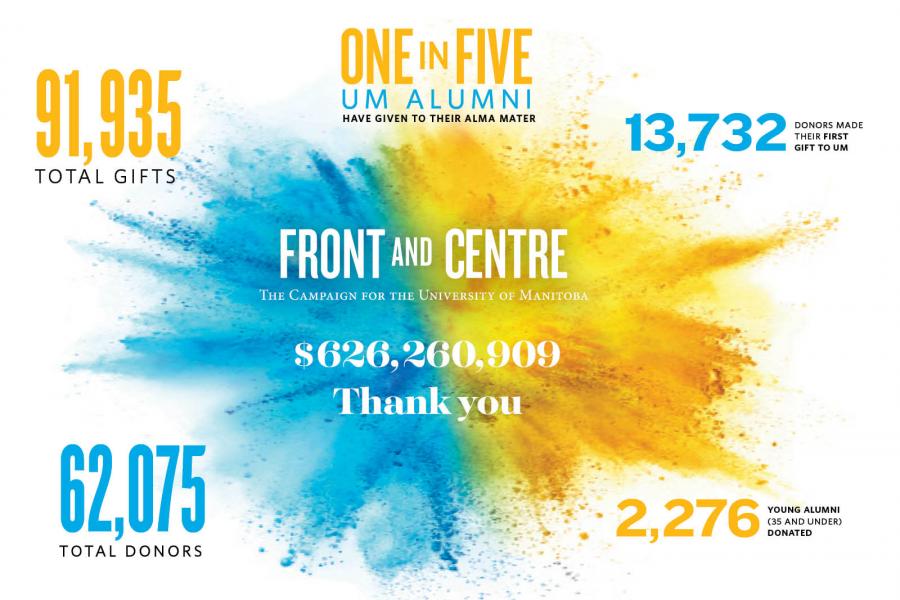 The largest-ever fundraising campaign in Manitoba history, running from 2015 to 2020, raised $626,260,909, moving well past its $500 million goal.
As a truly global campaign with a deep connection to our community, donations came from over 62,000 individuals, one in five previous graduates donating, and donors spread across 48 countries. 
When we launched the campaign, the goal seemed daunting. But, in true Manitoba tradition, where there's a will, there is a way. It's amazing what can be accomplished and how we can surpass even the loftiest of goals.
Paul Soubry
President and CEO, NFI Group Inc., and Front and Centre Campaign Chair
Impact stories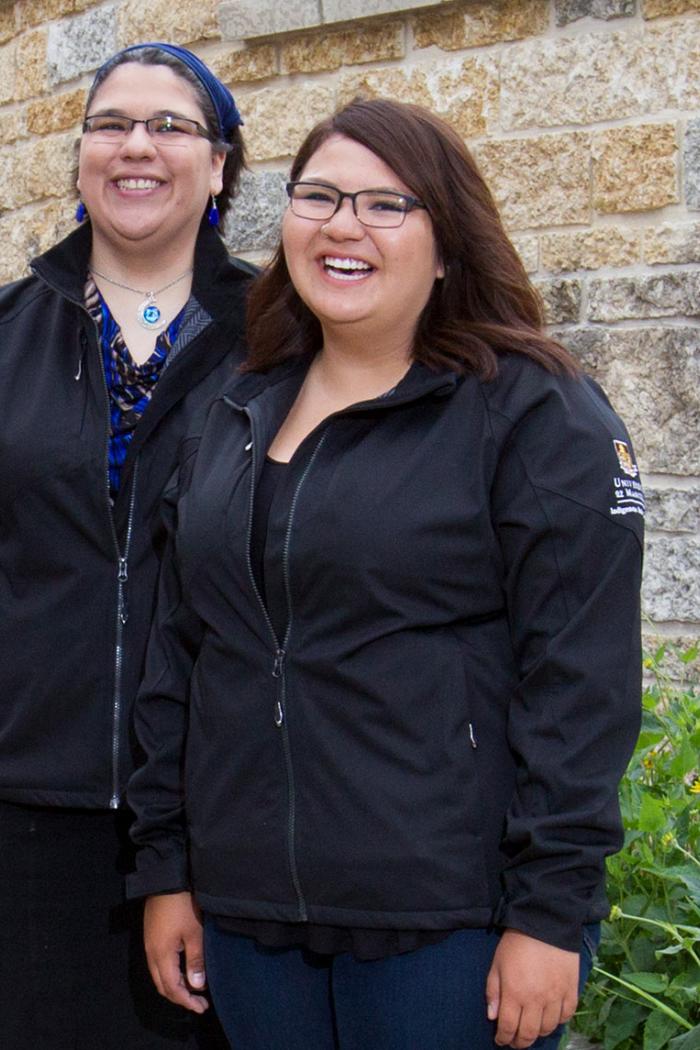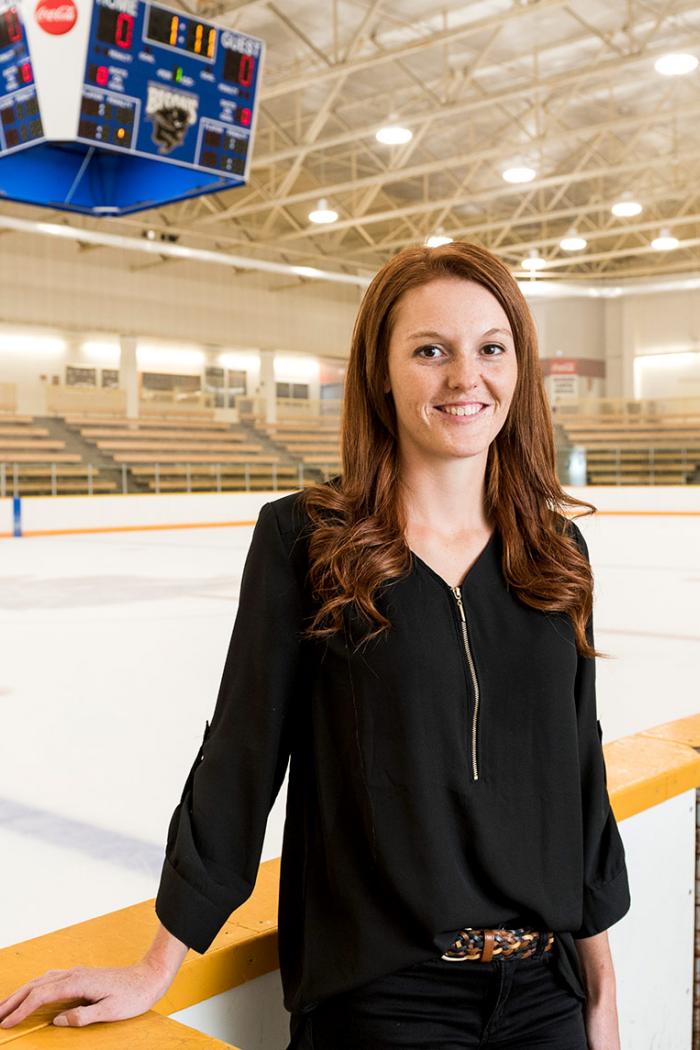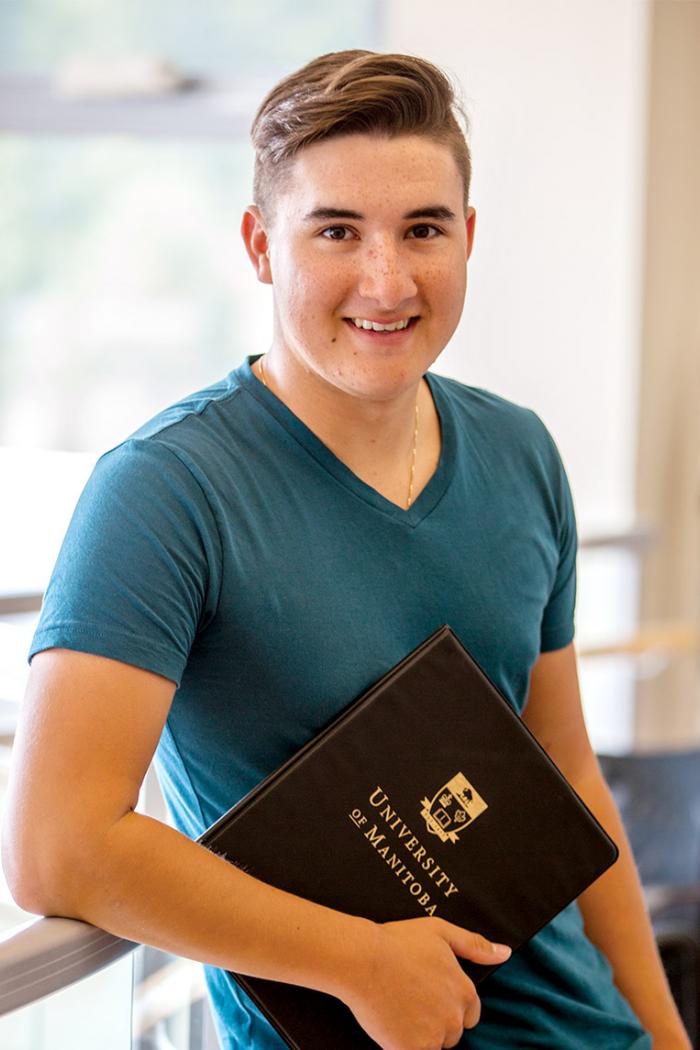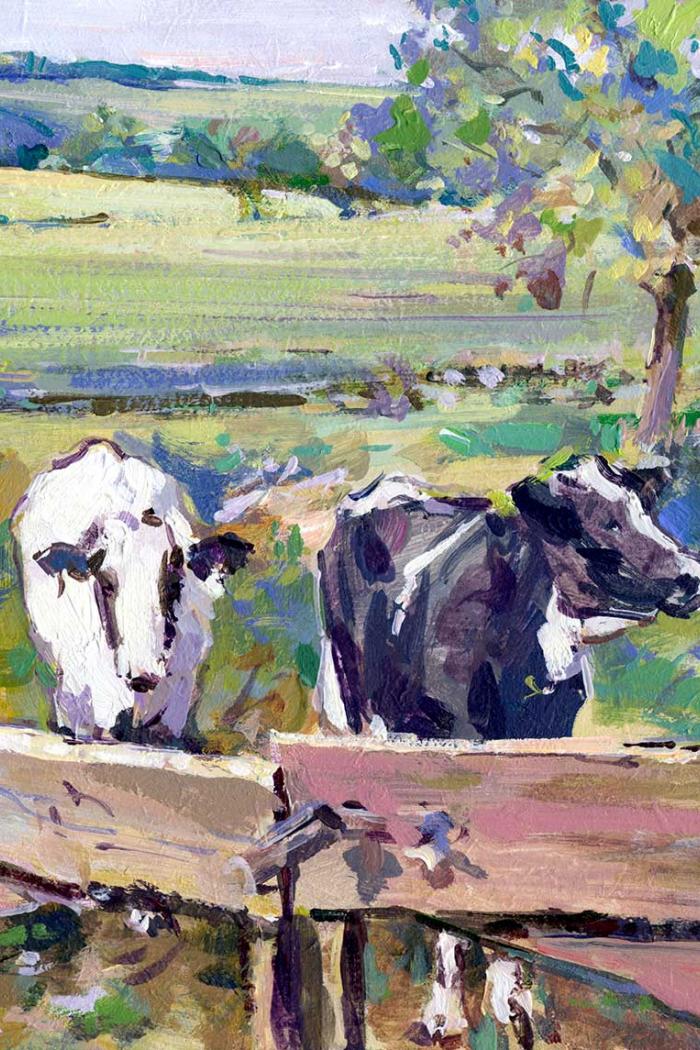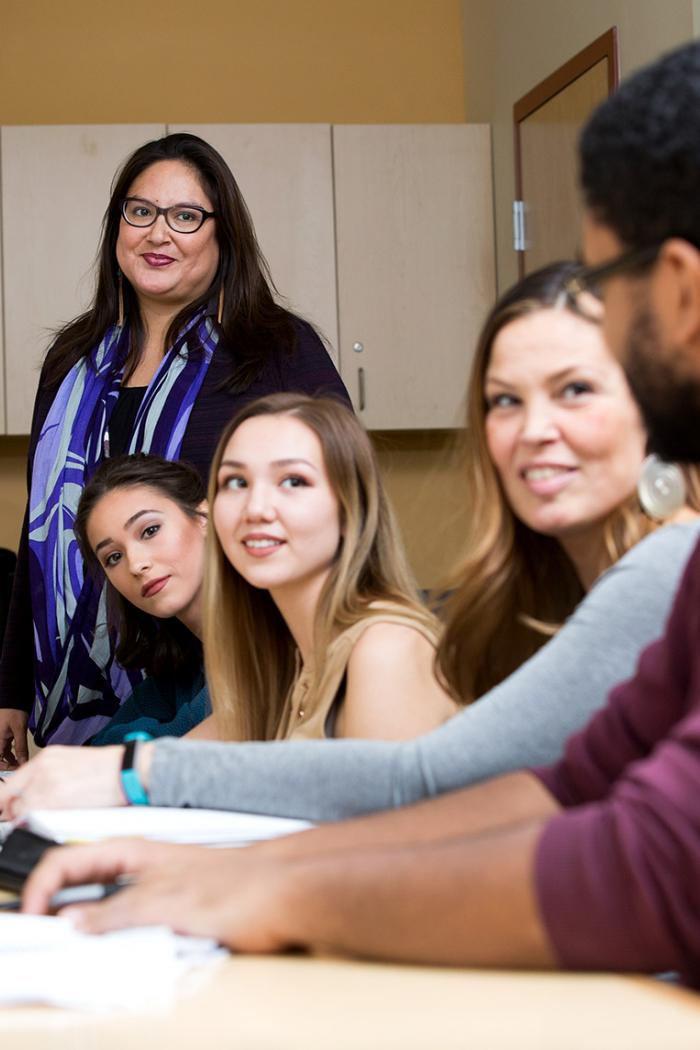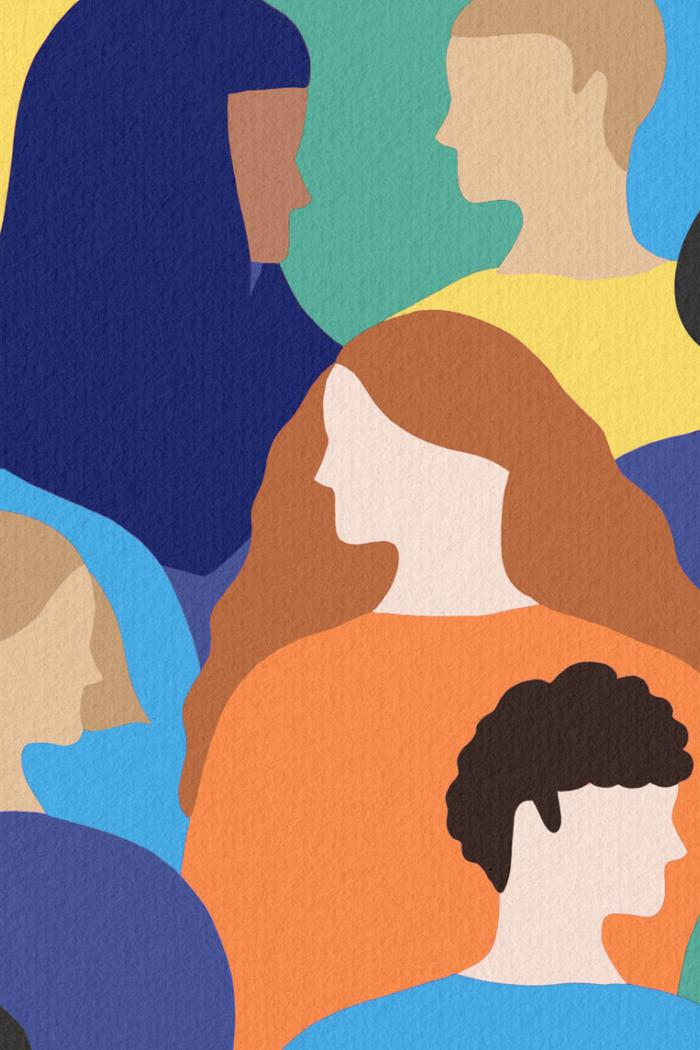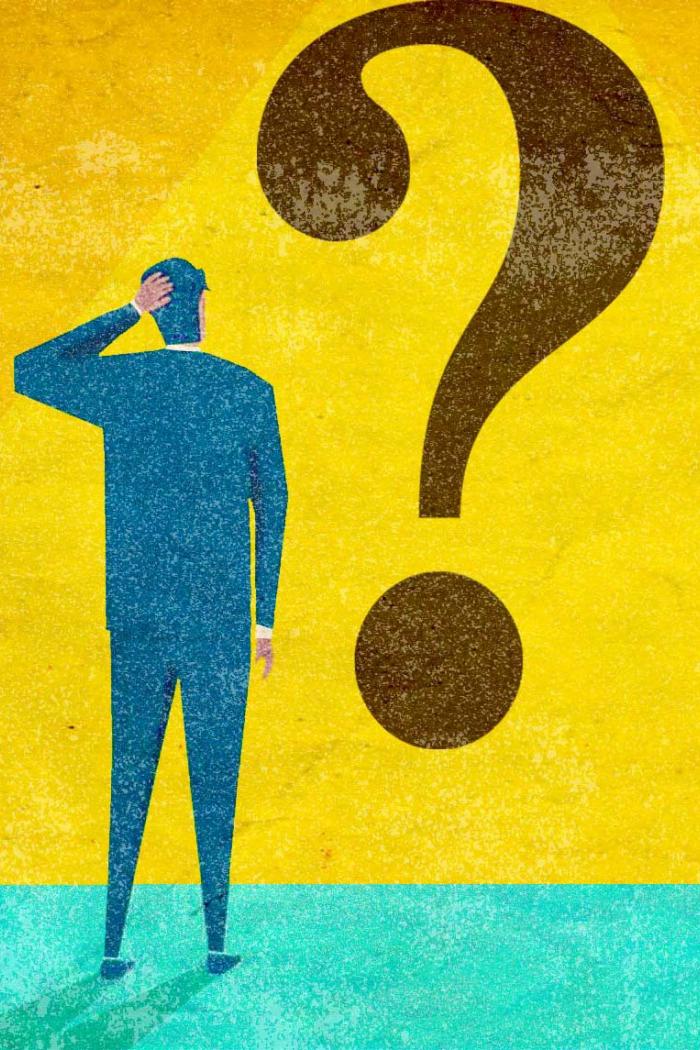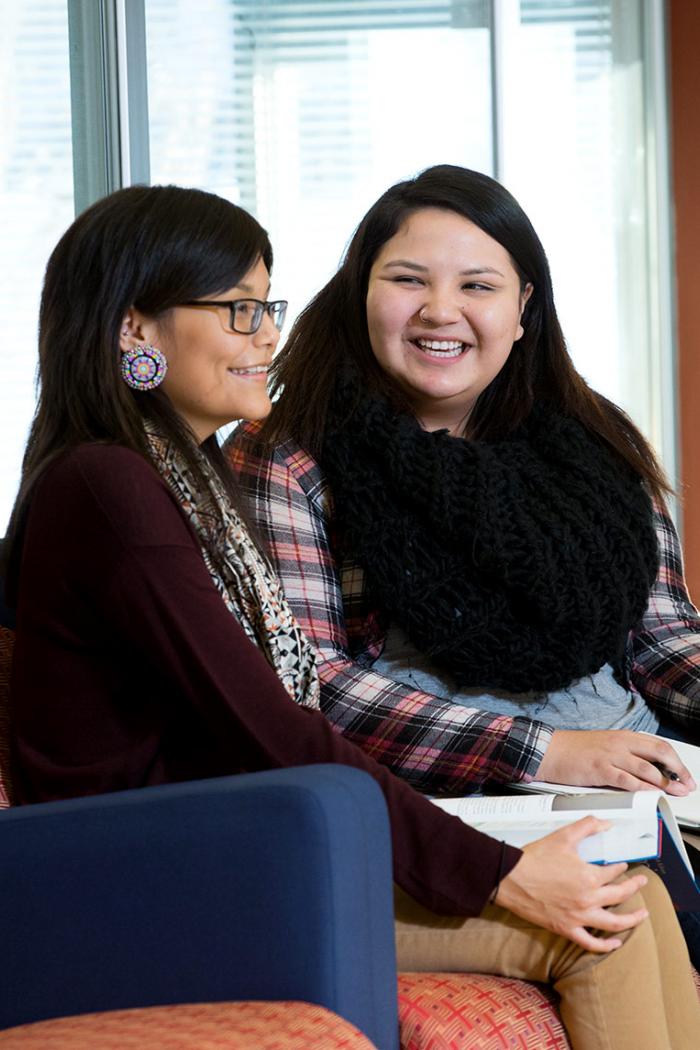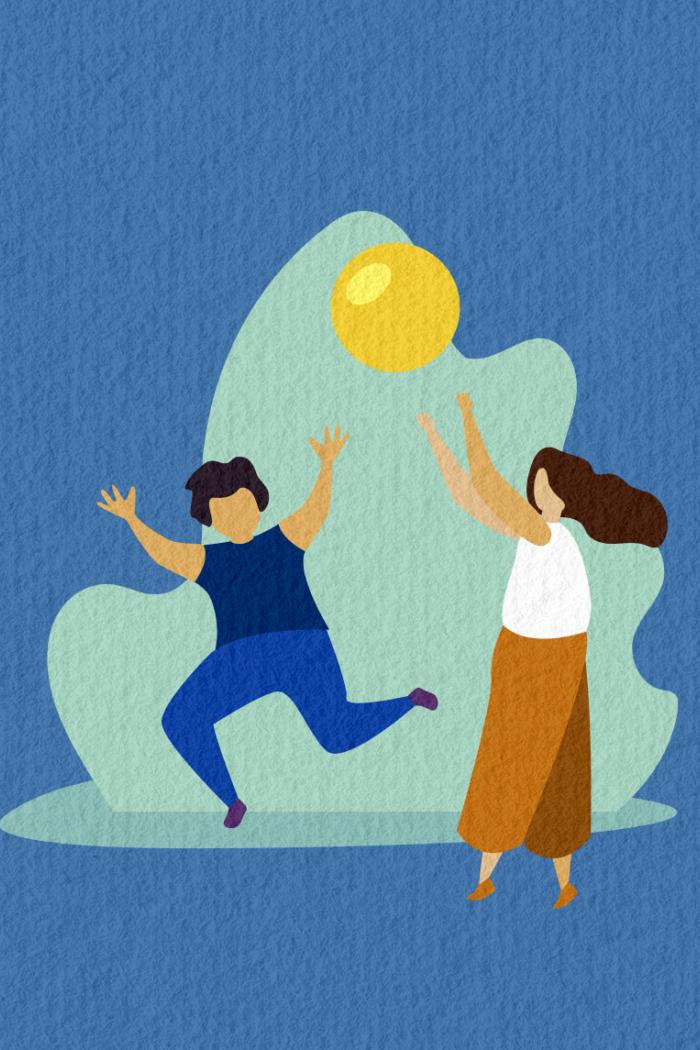 Campaign priorities
Our alumni, donors, and university community helped shape these campaign priorities as areas that would ensure our province's long-term economic, social, and cultural vitality.
Indigenous achievement: Support of this initiative advanced reconciliation and indigenous achievement across UM's campuses.  For instance, 105 student awards were created, the Qualico Bridge to Success Program was launched to support the entry and long-term success of our Indigenous Students, and the TD Internships were created at the National Centre for Truth and Reconciliation (NCTR) to support the processing and digitizing of archival materials acquired by the recent Truth and Reconciliation Commission to ensure Canada, as a country, never forgets harms done.

Graduate student support: If you ever receive a silent MRI, that's the kind of innovation UM grad students pioneer. 702 new scholarships and bursaries were gifted, which will allow even more work by curious master's and PhD students to be done, powering Manitoba's knowledge economy.

Research excellence: Through the creation and enhancement of 21 research chairs and professorships, our researchers and scholars will continue to make discoveries that contribute to knowledge, grow the economy, and improve lives here and around the world.

Outstanding student experience: More than $258 M was raised to create an outstanding experience for students, including the establishment of hundreds of new scholarships and bursaries which celebrate their achievements and remove financial barriers.

Places and spaces: Donors funded upgrades to 37 buildings and brought to life another seven—from a rehearsal building for student musicians to a high-tech dairy complex that will help advance Manitoba's dairy industry.
Celebrating our donors
We celebrate every donor who gave to Front and Centre, who stepped forward to empower UM students and faculty to do great things. Listed here are those who made gifts of $10,000 or more.
$50,000,000+
Bill & Melinda Gates Foundation
$20,000,000 to $49,999,999
Gerry Price & Family
Ernest & Evelyn Rady/Rady Family Foundation
University of Manitoba Students' Union
$10,000,000 to $19,999,999
Canada Life, IG Wealth Management, Power Corporation of Canada
Stuart G. Clark
Richardson Foundation
$5,000,000 to $9,999,999
The Asper Foundation
Heart and Stroke Foundation of Canada
The Mauro Family Foundation Inc.
Gerald & Reesa Niznick
Stanley Pauley
Sheree Walder Morantz & Richard Morantz
$2,500,000 to $4,999,999
Department of Internal Medicine & its faculty members, Max Rady College of Medicine
Department of Surgery & its GFT faculty members, Max Rady College of Medicine
Frantic Films
Manitoba Medical Service
Foundation
Michael Nesbitt
The Winnipeg Foundation
Anonymous (1)
$1,000,000 to $2,499,999
Alumni Association Inc. of the University of Manitoba
Gail Asper & Michael Paterson
Associates of the Asper School of Business
Bernice R. Barker*
Bayer Inc.
Marjorie & Morley* Blankstein
BMO Financial Group
Bonnie & John Buhler
Burgundy Asset Management Ltd.
Chartered Professional Accountants of Manitoba
Dairy Farmers of Manitoba
Department of Anesthesiology, Perioperative and Pain Medicine & its faculty members & alumni, Max Rady College of Medicine
Department of Obstetrics, Gynecology and Reproductive Sciences & its faculty members, Max Rady College of Medicine
Department of Pediatrics and Child Health & its faculty members, Max Rady College of Medicine
Bryce & Nicki Douglas
Susan Glass & Arni Thorsteinson
Guy Carpenter & Company, Ltd.
The William & Nona Heaslip Foundation
Esther D. Israels & Sara J. Israels
The Joyce Family Foundation
Henry Koschitzky & Saul Koschitzky
Li Ka Shing Foundation
MaryAnn Lippay Kanee
Manitoba Metis Federation Inc.
Robert B. Michaleski
The Murphy Foundation Incorporated
Price Industries Limited
Qualico
RBC Foundation
Research Manitoba
J. Derek Riley*
Perry Ross*
RTDS Technologies Inc.
Walter J. & Maria Schroeder
The Schulich Foundation
The Gerald Schwartz & Heather Reisman Foundation
Roderick R. & Jeannie Senft
The Simatelex Charitable Foundation
G. Marion & Cyril B. Smith*
Lytton W. & Donna Smith*
Inga Storgaard*
The Tallman Foundation
TD Bank Group
Mark Terasaki
The Tolkien Trust
The Waugh Family Foundation
The Winnipeg Rh Institute Foundation Inc.
Anonymous (7)
* denotes those fondly remembered
$500,000 to $999,999
Hugh J. Anderson*
Bell MTS
Bruce & Lesley Campbell
K. Jean Campbell*
The Chipman Family Foundation
CIBC
The Albert D. Cohen Family
Beverley Delamere—in memory of Bruce Whittlesea
Kiki & Ian Delaney
Engineering Class of 1958
Bert & Lee Friesen Family Foundation
DH Gales Family Charitable Foundation
GlaxoSmithKline Inc.
A. Pamela Hardisty*
Jean Hay*
Donald K. Johnson & Anna McCowan-Johnson
Irene M. Lewis*
The Manitoba Law Foundation
Manitoba Rural Adaptation Council Inc.
David McBride*
Bill Moir
Biruta Osins*
Len & Carol Penner
Sandra & Jim Pitblado
Bob & Marnie Puchniak
Scotiabank
Wai Hing So Kwok*
Ronald & Janet Stern
William & Margaret Stobie*
The Kerry and Simone Vickar Family Foundation
Wawanesa Insurance
Libby & Chuck Winograd
The Wyrzykowski Family
Fay & George Yee*
Anonymous (4)
* denotes those fondly remembered
$100,000 to $499,999
The Actuarial Foundation
AESES-Association of Employees Supporting Education Services
David Aisenstat
Paul Albrechtsen*
The Anders Family—in memory of Joan Fleming Anders
APEGM Foundation Inc.
Amarjit Singh Arneja & Jagmit Arneja
David & Ruth Asper
Allan Badner & Family
David & Gursh Barnard
Sonja Bata*
Leonard A. Bateman*
Mary & Robert Beamish*
Edna J. Becker
Jim & Doreen Beckstead
Cecile Bellec
Harvey & Irene Bergner
The Bird Family—in memory of Robert Allen Bird
J. Richard & Cathryn Bird
Bison Transport
William V. Black*
Gretta M. Boyd*
Douglas O. Brewer*
Susan Buggey*
James W. & Barbara Burns*
Jennifer Burton
Keith & Sally Caldwell*
Campus Children's Centre Inc.
Canadian Wheat Board
Margaret & George Chambers
Barbra Chase*
Children's Hospital Research Institute of Manitoba
Brenda & Daniel Chornous
Cibinel Architecture Ltd.
Valerie Clancy
CMA Foundation
College of Physicians & Surgeons of Manitoba
J. Douglas & Ronda Collier
Commerce Class of 1972
Concord Projects Foundation
John P. Crabb*
Crosier Kilgour & Partners Ltd.
Krishnamurti & Ganga Dakshinamurti
Stephen M. Dawyduk*
John Deacon
Charles Degutis*
Deloitte
Marcel A. Desautels
André Desmarais
Paul Desmarais, Jr. & Hélène Desmarais
Diabetes Foundation of Manitoba
Harvey D. & Robyn* Diamond
William & Sharon Dickson
A. Keith Dixon
Roy & Diane* Dowling
Gord Downie* & Family
Arthur B. C. Drache & Judy Young Drache
The Duha Family
Anne P. DuMoulin*
John P. & Linda Edwards
N. Murray Edwards
Abdo & Samira El Tassi
Engineers Geoscientists Manitoba
Philipp Ens & Ilse Krentz Ens
Charles A. Evans*
Mark & Sharon Evans
Edmond & Mirla Faridy
Doug & Allyson Flynn
Friends of Engineering (Manitoba) Inc.
Friesens Corporation
James R. Gibbs*
Richard Godbehere* & Shirley Weber*
Bobby & Beth-Caren Goldberg
David A. & Sandra J. Goodwin*
Rae L. Grant*
Renie Grosser*
Guelph Food and Technology Centre
Emil P. Hain (Kushniryk) & Lynette Hain*
Hatch
Health Sciences Centre Foundation
Health Sciences Centre/Winnipeg Regional Health Authority
Heathbridge Capital Management Ltd.
Walter J. Hornibrook*
C. Stuart & Mary* Houston—in memory of Sigrithur A. Christianson
HSBC Bank Canada
Douglas Humphreys & Gwyneth Humphreys
John G. Hunter*
Kent C. Hurley*
The Isaak/Kiessling Family
Muriel M. & James C.* Jamieson
Jewish Foundation of Manitoba
Brian & Sherril Johnson
Frederick A. Johnson*
Johnston Group Inc.
Robert Alan Kennedy
William R. Kernaghan*
KGS Group
Neil R. Kippen*
Hubert & Bernice Kleysen
Knowledge First Financial Inc.
The Kroft Family/Conviron
Ladco Company Limited
Lafarge Canada
Tony T. K. Lau
Arni Laxdal
John T. Lee
The Leggett-Dowsett Family
Predrag & Zivka Lekic
Jeff Lemire
Moe Lerner*
Sam & Judy Linhart
Nick Logan, Christine Skene & Patrick, Robert & Peter Logan
Jon & Nancy Love
Maylene & Israel Ludwig
Hector Ma
MacDon Industries Ltd.
GMacDonald Family Scholarship Fund
Douglas & Elizabeth* MacEwan
William MacKinnon
Paul & Anne Mahon
Gerald Mainman
Alan S. Malmgren*
Manitoba Agri-Health Research Network (MAHRN)
Manitoba Egg Farmers
Manitoba Liquor & Lotteries Corporation
Manitoba Medical College Foundation
Manitoba Pork Council
Manitoba Zero Tillage Research Association
Jacque* & Pamela Mar
Elizabeth Marr & Nicholas Slonosky
Armin & Denise Martens Foundation Inc.
Arthur V. Mauro & Naomi Z. Levine
J.W. McConnell Family Foundation
Barry D. & Shannon L. McCorquodale*
Gerald P. & Judith A. McDole
John McEown
Jane McEwan*
Donald* & Shirley McQueen
Cam & Shelley McVeigh
Medicine Class of 1960
Medicine Class of 1967
Medicine Class of 1968
Medicine Class of 1969
Medicine Class of 1976
Keith & Suzette Meloff
Jean Mensforth
Stephen W. Mical*
Catherine Milner*
MLT Aikins
Arnold & Barbara J. Naimark
NFI Group Inc.
Hiro Nishioka
R. Jeffrey Orr & Suzanne Legge
Parrish & Heimbecker Ltd.
John and Gabrielle Pashniak Foundation
The Pearson Family
Jim & Alison Peebles
Michael* & Joy Phelps
Polish Fraternal Aid Society of St. John Cantius
The Pollard Family Foundation
Douglas Pollard & Kristan Pearson
John & Beth Pollard
Evans & Margaret Premachuk
Pauline & Roger Presland
William* & Marilyn Preston
PricewaterhouseCoopers LLP
Susan Prior
Geza & Trudi Racz
Department of Radiology & its faculty members, Max Rady College of Medicine
Velma Read*
Eugene L. Reimer*
Ursula M. & W. John* Rempel
Hartley & Heather Richardson
Tannis M. Richardson
John P. Risley
Burton & Geraldine Robinson*
Anita K. Ross
Simone & Walter* Rudnicki
Harold R. Saddington*
Patrick Saurel
Gregory Sawatzky
Sandra & Harvey Secter
Evelyn & Ernest Shapiro*
Keith & Estelle Simons
Paul & Christine Soubry
StandardAero
Patricia & Norman Stanger*
Agnes Stephanson Cooke
John M. Stoddart*
May Tadman Tallman—in memory of Alex Tadman
Tony Tascona* & Doreen Millin
Lorna* & T. Kenneth Thorlakson
Will & Mavis Tishinski
Anda Toporeck Medical Research Foundation
Tribal Councils Investment Group of Manitoba Ltd.
University of Manitoba Graduate Students' Association
Variety, the Children's Charity of Manitoba
Pawas & Mradula Verma
The Vidda Foundation
R. H. G. Walton*
Western Grains Research Foundation
Westland Foundation Inc.
Brice A. Wightman
Lorraine R. Wilgosh*
Tony & Hazel Williams
Women's Health Research Foundation of Canada Inc.
Brad Wong & Heather Stewart—in memory of Boe D. Wong
Walker Wood Foundation
Jones Ho Chung Young & Katie Young
Mary-Louise Young*
John & Sally Zaplatynsky
Anonymous (18)
* denotes those fondly remembered
$50,000 to $99,999
Abbott Laboratories Co.
Ad In Advertising Inc.
Brian & Shirley* Akins
Lee & Wayne Anderson
Aramark Canada Ltd.
Arthritis Society
Leonard & Susan Asper
H. John Baldwin*
Gordon & Cheryl Barefoot
Barkman Concrete Ltd.
Kris & Shirley Benidickson
Edward J. Bennett*
Isabelle A. Bereskin*
Ada Berney*
Zita & Mark Bernstein*
Bird Construction Company Limited
Blake, Cassels & Graydon LLP
Marcel Blanchaer* & Audrey Kerr*
Bockstael Construction Limited
Carolynne & Dan Boivin
Charles V. Boreski*
Alan Borger & Natalija Zmavc
Henry Borger
Patricia Bovey
Stuart & Maureen Breckon
Thomas E. Brown*
Florence & Robert Brownridge
L. JoAnne Buggey
Brock & Sophie Bulbuck
Herb & Erna Buller
James F. Burns
Cambrian Credit Union
Canadian Mathematical Society
Canadian Precast Prestressed Concrete Institute
CancerCare Manitoba Foundation
Jules P. J. Carbotte*
Cardinal Capital Management Inc.
Jeff & Carolyn Carney
Claude Castonguay & Mimi Fateux
George E. Chapman
David Charlesworth & Sybil Henteleff
George M. Chernoff*
Matthew B. Chislett*
Kenneth W. Clark
Edwin* & Deanna Cohen
Costco Wholesale Canada Ltd.
Alexander H. Cottick*
Gerry & Chris Couture
Purdy* & Beatrice Crawford
Geoffrey & Jean Crofts*
Irene E. Crofts*
J.W. Dafoe Foundation
Marjorie Dance*
Petro & Halyna Danyliuk*
Dr. Alfred E. Deacon Medical Research Foundation Inc.
Dentsply Sirona
Olivier Desmarais
Wenda J. Donoghue*
Wesley & Diane Douglas
William & Helen Eamer
David W. Easton
Keith & Elizabeth Ebbern*
Eckler Ltd.
Judith & Felix Eigenbrod—in memory of their mother Renate Eigenbrod
Reda Elgazzar (Assiniboia Surgical Centre)
John M. Embil
Engineering Class of 1959
Wendy M. Fallis—in memory of Bruce W. Fallis
Esther Finkle*
Gerald & Betty* Fletcher
David & Louise Fraser
Alan Freeman & Radhika Desai
Lawrence & Margaret Fung
FWS Group of Companies
John A. Garland
John & Dani Gattinger
Claude Genereux & Myriam Legault
Robert Grant
Oscar & Ruth Grubert*
Hall Family Foundation
Ahava Halpern & Frank Lavitt
James & Pamela Hartman*
Greg & Cindy Hasler
Dorothy Hayward*
Frank & Sue Hechter
Mary E. Heinicke*
Audrey Hemmons*
Heritage International Scholarship Trust Foundation
John & Martha Hicks
Andrew Howden
Larry & Carolyn Hursh
Jane Itzkow*
Dave & Diane Johnston
Kathleen E. Jones—in memory of Kim Clare
Ellen Judd & Christine Egan*
Kish Kapoor & Cheryl Albuquerque
Kevin & Els Kavanagh
John E. Kearsey
Garry N. Kennedy
Kidney Foundation of Canada - Manitoba Branch
Bob & Deirdre Kozminski
Leonard Kruczynski & Doreen Smith
Helmut Krueger*
Margaret L. Kuntzemüller*
Bruce Lawrence*
Todd Lawton
William Locke*
William & Shirley Loewen
Pep & Bev Lough
Thomas & Katherine Lough
Graham C. Lount Family Foundation Inc.
Edward & Harriet Lyons
Barbara Main—in memory of Kenneth Main
Manitoba Aerospace Inc.
The Manitoba Association of Architects
Manitoba Beef Producers
Manitoba Canada-Wide Science Fair 2009
Manitoba Chiropractors Association
Manitoba Public Insurance
The Manitoba Teachers' Society
Manitoba's Credit Unions
Manulife Financial
Ronald P. Mathison
Ilene D. Meder*
Medicine Class of 1938
Medicine Class of 1961
Megill-Stephenson Company Ltd.
Merck Canada
Walter Meyer zu Erpen
Marion Mills*
The Kenneth M. Molson Foundation
Gail Morberg
Motorola Solutions Foundation
Daniel & Ruth Motyka
Aftab Mufti & Zehra Mehdi
Henry G. Neufeld
Richard & Bonnie Olfert
John & Shelley Page
Jim Pattison
Ronald & Audrey Peniuk
Penner Farm Services & Penfor Construction
Carolyn S. Phillips & John F. Cordeau
Bev Pike
Debra & Ross Pitman
Bill Pope & Elizabeth Tippett Pope
Edna & Ted* Poulter
Alex & Eileen Pue
Quadrant Private Wealth
Alex & Kathleen Ramsay
Edward J. Ransby
Ray Wan Architects
Diane Raymond*
Barry & Margaret* Rayter
Aidan, Thor & Celine Richardson
Kathleen M. Richardson*
Mike Ridley
Sanford & Deborah Riley
John Roberts & Jayne Lange—in memory of Kathleen Roberts
The Rodewald Family
Eva F. & Jack Rogers*
John L. Ross
Scott Saxberg
The Scholarship Trust Fund of the University Women's Club of Winnipeg
Shaw Communications Inc.
Shaw Laboratories Ltd.
Shell Canada Limited
Daniel & Maureen Sitar
Charles & Susan Smith
Dayna & Charlie Spiring
Sport Manitoba Inc.
Kenneth Standing*
Stantec
Maurice D. Steele, Robert Steele & Families
Virginia E. Stikeman*
Laurie Stovel & Randall Moffat
Peter E. Stringham & Alberta J. Mcleod-Stringham
Takao Tanabe
Lorraine & Vincent Taraska
Murray & Charlotte Taylor
Nettie (Annette) Thiessen
Harlyn Thompson
Topigs Norsvin Canada Inc.
Tri-Core Projects Ltd.
Gerald Trodden—in memory of Bonnie Trodden
Ukrainian National Home Association
Mary Lou Vail
Vale Canada
Vector Construction
Sybil & Otto* Wahl
Harry & Nora Warren
Roy E. Waters*
Arnold O. F. Wawruch
Barbara Welch
Cornelius & Betty Wiens
Margaret F. Wollner
Frank* & Juliana Wong
Robert Wrigley
Nicholas Yanick*
Anonymous (16)
* denotes those fondly remembered
$25,000 to $49,999
William & Randi Aaron
James & Irene* Aitken
Muriel E. Andrews*
Aubie & Esther Rose Angel
Animal Nutrition Association of Canada - Manitoba Division
Udaya & Dilrukshi Annakkage
Architecture49
Todd D. Asman
John F. H. & Dorothy Atwell*
Al & Cindy Babiuk
Elinor Barr
Sandra Barz
BASF Canada Inc.
Loretta Belanger
Dean Bell* & Sandra Marles
Tanya Benoit & Thomas Strike
Fikret Berkes
Guy N. & Jody G. Bieber
Kathleen Birchall
Mildred C. Bjarnason
Heinz Bohnet
BOMImed
Julia Boon*
Donald R. Boychuk
Lois M. Brockman
David G. Brown & Dawna L. Wallace
Robert F. Brown*
Roy P.* & Gloria Brown
Walter & Susanne Burdz
Charles & Joanne Burns
Martha Burns
Philip Burns—in memory of Charles MacKay
R. Keith Byram
Kenneth G. & Pamela L. Campbell
Canadian Bio-Systems
Canadian Cancer Society - Manitoba
Canadian Geotechnical Society - Manitoba Section
Canadian Institute of Food Science & Technology
The Canadian Medical Foundation
Canzona Baroque Choir
David & Lianne Carefoot
Hung & Cynthia Chan
The Charitable Foundation of the Polish Combatants' Association in Canada Inc.
Vivek Cheba
Lana Cheung & James Kinoshita
Aaron Chiu & Leslie Simard-Chiu
Civil Engineering Class of 1964
Geraldine Clarkin*
Jan & Kevin Coates
Joy Cohnstaedt
Irene Comrie*
Juliette & John Cooper
Coril Holdings Ltd.
Christopher Cottick
Miriam G. Crawford*
Ted* & Margaret Cuddy
Orest T. & Florence* Dackow
Susan* & Lawrence Deane
Dentistry Class of 1992
Department of Psychiatry, Max Rady College of Medicine
Malcolm & Catherine Dewar
Diamond Athletic Medical Supplies
Bill Didur
George Doney*
Dale Driedger & Jodian Self
Ada & John Ducas
Mary Lynn & Harry Duckworth
Gwendolyn Duha*
Alfred & Caroline Dukes*
Dumore Dental Corporation
Jennifer & Tim Dumore
Grant & Margaret Duncan
Dynacare
Engineers Canada
Werner Ens
Janet Evans
Cliff Eyland
Farm Credit Canada
David W. & Lori E. Fasano
Kenton L. Fast & Minna Rose Chung
Gary & Janice Filmon
Cora Fisher
Foundation for Registered Nurses of Manitoba Inc.
Margaret & David Fountain
Robert L. France—in memory of Barry France
W. Robert Galatiuk
Douglas & Sharon Garnett
Oleh & Yvonne Gerus
Joan & Randolph Gherson*
Joanna Gleason
Raj Goel
Anthony & Helen Graham
Louise Graham
Mark & Anne Gray
Shirley Grosser & Linda Jarman
Richard Hall
Sharon Hall
A. Ian & Mary Hamilton*
Mary & Gregg Hanson
Margaret J. Hardman*
Harmony Ceramic Dental Lab
Doug Harvey & Jan Shute
Roma Z. Hawirko*
The Frank H. Hori Charitable Foundation
Charles T. Horton
Ken Hotz
HTFC Planning & Design
Audrey & Frederick* Hubbard
Hudbay Minerals Inc.
Kathleen Hughes
IBM Canada Ltd.
Industrial Investments Ltd.
Simon Jacobson
Jeld-Wen Windows & Doors
Duncan M. & Judith Jessiman
Peter & Dana Jessiman
Jewish Foundation of Winnipeg Yiddish Committee
The Joe Brain Foundation
Derek & Mary Johannson
Jack D. Junek
Barbara Karthein—in memory of Arthur W. Worth
Adrienne, Pamela, Patricia & Stacey Katz—in memory of Brian Katz
Anastasia Kelekis-Cholakis & Ernest Cholakis
Edward & Stella Kennedy
Michael Kitt
Barry J. Konzelman & Margaret A. Katzeley
Barry & Kathryn Kowalsky
Sidney J. Kroker
Jeff Kushner & Randall McGinnis
Thomas E. G. Laird*
Robert Langdon
Law Class of 1971
Jack & Zina Lazareck
Mel & Karyn Lazareck
Louis M. Lenz
Levene Tadman Golub Law Corporation
Gary Levine
Darryl & Shauna Levy
Lisa Lewis & Ian Robertson
Adam Lezack
Gene Li
Bill* & Jo Anne Lindsay
Jack & Debbie Lipkin
Stanley Litch
Lois, Sara & Rachel Litz—in memory of Reg Litz
Chun Liu
LM Architectural Group
Richard A. Lobdell & Evelyn L. Forget
John P. Loewen
Mildred I. Lucky
George Macauley*
Donald J. MacDonald
Janet Mackenzie Watson*
Antonios & Ellen Mamandras
Beatrice Mangin*
Manitoba Ag Days
Manitoba Association of Landscape Architects
Manitoba Blue Cross
Manitoba Dental Association
Manitoba Hydro International Ltd.
Manitoba Professional Planners Institute
Manitoba Pulse & Soybean Growers Inc.
Maple Leaf Construction Ltd.
Michael J. Mark
Gary B. & Patricia J.* Martens
Jeffrey McCord
Terry McDowall*
Barbara I. & Vernon A.* McGregor
Irene McKenzie
David I. McLean
Marjory McLean
MCW Consultants Ltd.
Medical Class of 1991
Medicine Class of 1954
Medicine Class of 1964
Medicine Class of 1965
Medicine Class of 1966
Medicine Class of 1970
Medicine Class of 1972
Medicine Class of 1982
Medicine Class of 1985
Rakesh & Anu Mehta
William Milhausen*
Jennifer & John Montgomery*
The Gwyn Morgan and Patricia Trottier Foundation
Margaret E. & Peter S.* Morse
Margaret I. Morton
Kevin J. Neiles
Nexen Inc.
Vivienne & Peter Nickerson
Wesley* & Mary Nicol
Robert G. Niven
Colleen Northcott
Linda M. Nugent & Peter W. Lemon
Number TEN Architectural Group
Nutrien Ltd.
James & Brenda Nykoluk
Richard Oatway*
Jeffrey Y. & Susan J. M. Okamura
Sheila, Karen* & Catherine—in memory of Emy Ozamoto
Donna & Bill Parrish
The Paterson Foundation
Irma & Marvin Penn*
Jim & Heather Perchaluk
Nettie Peters
Pharmacy Class of 1966
Pharmacy Class of 2014
Ron W. Pidskalny & Family
Julia Pirani
Eric Proppe*
Erna & William Pruitt Jr.*
Kevin Pshebniski
RAIC Foundation
Gordon Reeve
Beverley, Ronald, Bryden & Quinn—in memory of Royden R. Richardson
Jim & Leney Richardson
Serena Richardson & Kurt Weinheimer
Joan & John Riches*
Riddell Family Foundation
Linda (Buggey) Rigby
Heather M. Robertson* & Andrew K. Marshall
Rogers Communications Inc.
William W. Rollins*
Ronley Holdings Ltd.
Leslie & Noralou Roos
Lewis Rosenberg
Stephen & Corky Rosenfield
Bruce Rothney
Marshall Rothstein
Royal Canadian Legion
Fort Garry Branch #90
RPIA
Ruby Samlalsingh
Doug & Betty Scarth—in memory of Edward Scarth
Shannon D. Scott & Dwayne Hunka
Ronald Scrapneck
Annie & Paul Scurfield
Edward & Linda Sellers
Lotfollah Shafai
William & Carla Sharman
Terence & Carol Shortt—in memory of Angus H. Shortt
Dr. Jiri Sichler Legacy Fund
Robert W. Siddall*
The Thomas Sill Foundation Inc.
Hugh Slater*
Hugh & Aynsley Smith
John D. Stefaniuk
Walter Stevenson
Don & Jennifer Streuber
Adam Sus*
Shelley Sweeney
Syngenta Canada, Inc.
Bob & Cathy Tallman
Tapper Cuddy LLP
TD Asset Management Inc.
James & Heather Thomas
Sara & Graeme Thomson, Laurel, Talia, John Gray & Charlotte
Robert Toal*
Dawn & Dan Torbiak
Gregory Tretiak
G. Les E. Ullyot
Unicity Laboratory Services
Urban Systems
John M. & Audrey Vail
David & Dianne Varga
Peri Venkatesh & Patrice Yamada
Veron Consultants Inc.
Viterra Inc.
Donald W. Walker
Meeka Walsh
Michael Wan
Richard & Diana Whiting
Mel Wiebe & Lola Cuddy
Edith J. Williams*
Hector, Bruce & David—in honour of E. J. Williams
Winnipeg Airports Authority Inc.
Winnipeg Dental Society
Susan B. Wortzman & Glenn Smith
Gerald Yu
Jay & Debra Zammit
Anonymous (17)
* denotes those fondly remembered
$10,000 to $24,999
3M Canada Company
Wayne & Mildred Acheson
Christopher & Susan Adams
Paul Adams*
James Neil Adderson
Martin Adelaar & Melanie Phillips
Robert & Nancy Adkins
AECOM Canada Ltd.
Agriculture Degree Class of 1968
P. Joyce Aitken
Donald Allan
John Allegro & Carol Harvey
Peter Allen
Peggy Alto & Michael Guttormson
Randy & Barbara Ambrosie
American Concrete Institute - Manitoba Chapter
Jay & Judy Anderson
Carol Anderson
Reg Anderson
Robert Anderson
Andison Family Foundation Inc.—in memory of Roderick A. MacKenzie
Eric & Eleanor* Annandale
Joel & Bonnie Antel
Natalia Aponiuk
Archdiocese of Winnipeg
Dawna & Richard Armstrong
Michael Armstrong
Artis Real Estate Investment Trust
Harold A. Averill
Stuart Averill
Marion R. Bachman*
Jerry Baluta
James L. Barnard
Warren & Jocelyn Barnard
Jaroslaw* & Mary Barwinsky
William & Helen Battershill*
Lee G. Beaumont
Beaver Bus Lines Ltd.
Joan Beckley*
J. Beddoes
Neil & Maxine Benditt
Lionel & Anne Bercovitch
Margaret Bickle*
Barry A. Biglow
Patricia L. Billingsley*
Philip A. Blain
Helga & Gerhard Bock
Boeing Canada
Roger Boom*
Borden Ladner Gervais LLP
Brian K. Borgford
Michael W. Botsford
Mary E. Brabston
Robert B. Bracken
Ron & Dorothy* Britton
Joanne Brock
Brodi Food Services
Ely Bronstein
Robert & Brenda Brooks
Anne & James Brown
Jennifer S. H. Brown
Shirley A. Brown
Nealia & Edward Bruning
Thomas & Donna Bryk
John & Wendy Bumsted
Bureau de l'éducation française
Glennis & Richard Bushie
Wayne Cadogan & Yvette Milner
Canad Inns Destination Centre Fort Garry
Canadian Associates of Ben-Gurion University of the Negev
Canadian Association of Agri-Retailers
Canadian Institute of Steel Construction
Louise Cannon
Carberry and Area Community Foundation Inc.
Jared & Monica Carlberg
Terry & Dawne Carlyle
Carpathia Credit Union
William G. Carr
Stefan & Emilee* Carter
CDSPI
Franca & Miro Cerqueti
François & Tannis Chabot
John & Debra Chan
Roger C. Y. Chan
Irene & Lorne Chanin*
Paul Chartrand
Alice M.E. Cheatley*
Chemistry Graduate Students' Association
Arthur Chipman
Deborah, Chris & Nathan Chornick—in memory of Joshua Chornick
David & Barb Christie
Edwin A. Christie*
William D. D. & Marion I.* Christie
William H. & N. Helen Christie
City Bread Ltd.
Gerald P. Clancy
John E. Clark*
Charles & Eileen Clemence*
Carla Cobb
The Commerce Students' Association
Community Therapy Services
Concrete Manitoba
Ruth & Robert Cooke*
Diane & Dennis Cooley
Marsha Cosman & The Jones Family
Donald Cowan
Jack Craven
Catherine C. Cronin & Larry N. Licharson*
Howard B. Cummings*
Raymond Currie & Charlene Thacker Currie
Cutting Edge Graphics
CWB Financial Group
Catherine M. Dale
D'Arcy & Deacon LLP
Colin & Margaret Dawes
Marion De Graves
Mark de Jong
Joan F. de Pena*
DeFehr Foundation Inc.
Victor Deneka*
Dentistry Class of 1968
Dentistry Class of 1969
Dentistry Class of 1999—in memory of Lawrence Stockton
Dentistry Class of 2001
Diocese of Rupert's Land
John H. Dirks
Paul Dirksen
DKG Manitoba
Doctors Manitoba
Marietta Dodds
Len Domaschuk
The Dow Chemical Foundation
Marion P. Downs*
The Dutkevich Memorial Trust
Lisa A. Dveris
G. Blair & Kathleen Dyer
The ECCOLA Foundation
L. Philip* & Marjorie Eckman
Education Student Council
EECOL Electric Corp.
Nobu S. & Kenneth A. Ellis*
Enbridge Inc.
EnCana Corporation
Enerplus Corporation
EQ3 Ltd.
Michael & Nella Eskin
Evanov Radio Group
Eznet Inc.
Ronald A. & A. Marie Fabro*
Morris D. & Lynne S. Faiman
Murray L. & Janice Fain
Ted Fardoe
Isabel C. & Thomas E. Feasby
Anthony Fell
Cy Fien & Tana Christianson
Carolyn Fleming—in memory of Wayne Fleming
A. Douglas & Gail Fletcher
Georgianna & Robert Fowley
Murray Frame
Lyall Franck
David & Evelyn Friesen
Frank R. Friesen
Ivan P. Froese
Trevor & Felicia Frost
GAC-MAC Winnipeg 2013 Organizing Committee
Arthur J. Gallagher Canada Limited
Alex Gardiner & Sandra Rettie
Geopolitical Economy Research and Education Trust
Alex & Kirsten Gerrard
Eleni Giannouli
Golder Associates Ltd.
Murray & Gage Good
Harvey G. Goodman
Susan M. Gottheil
Gertrude* & John* Graham
Grain Elevator & Processing Society
Karen R. Grant
Helmut & Debbie B. Graumann
Karen Gray—in memory of William A. Gray
Samuel Grosberg*
Beth Grubert & Family
Judi Gunter
Jon Gurban
Lindsay A. Hall & Winifred E. Steinkopf-Hall
Monty & Marilyn Hall*
Irene Hamerton*
Arthur & Ellen Hanson
Wayne D. Harrison
Haworth Ltd.
Thomas & Lorraine* Henley
Richard & Carol Henriquez
Children of Joe Hershfield
Paul Hess
Murray Higgins*
Hill Sokalski Walsh
Valerie Hindle
Denis & Tricia Hlynka
George Hnatiuk*—in memory of Anna Hnatiuk
Hockey Manitoba - AAA Council
Hockey Winnipeg
Donna & Kenneth* Hodgins
Simma & Leon Holt*
Home Run Sports
Davyd Hooper & Michelle Bogoslowski-Hooper
Gordon Hoover
Susan Howe
Frank & Donna Hruska
Stella Hryniuk
Robert & Margaret Hucal
David Hudson & Bonnie Lovelace
Human Ecology 2010 Centennial
Farrukh Hussain
Vladimir & Natalka Hutsulak
Hydro X Club - Winnipeg Chapter
Israel Idonije
IG Wealth Management Charitable Giving Program
International College of Dentists Canadian Section
Vincent Ip
Joan Irvine
Robert A. Janson
Bruce J. & Erminia P. Johannson
Tyson Jones
Gordon H. & Svanhuit Josie*
Junior Bison Boys Basketball
Martin Karpinski
Ethel & Joseph H. Karr*
Malek Kass
Adrienne E. Katz
David & April Katz
Jennifer Katz
Laurence Y. Katz & Zoe Kogan
Saul S. Katz
Shirley Katz
Allan M. Kaufman
Barbara Kaufman
David* & Nora Kaufman
Zahra M. Kazem Moussavi & Brian Lithgow
Chris & Janice Kehler
Joanne Keselman
Keystone Agricultural Producers
Aliasghar Khadem
The Killarney Foundation Inc.
Nak Kim
Lovern Kindzierski
Patricia Kmet & Bohdan Roslycky
Kathryn & John Knowles
Maureen A. & Richard Kolodie
Robert Kosasky & Shirley Kosasky—in memory of Harold Kosasky
Myrna Kraft & Alex Janzen
Christine & Stefan Kristjanson
Pauline & Nick Kulachok*
Kenneth Kustra
Christiane & Charles LaFlèche
Michael & Nannette Langedock
Law Class of 1975
Law Class of 1976
Law Class of 1989
The Law Society of Manitoba
David K. Lee
Philip S. & Anita K. Lee
Po Chu & Kam Wing Lee
Vui-Kong Reggie Lee
Brian Lerner
Peter Letkeman
Philip S. K. Leung
Stephanie Levene & Mike Stamatinos
Daniel Levin & Lilian Bonin
Rowena R. & Pak Ching B. Li
Linamar Corporation
Linden Woods Community Foundation
Paul & Shirley Lindsay*
Helen Litz
H. Derek & Susan* Lloyd
John Loxley
Sora Ludwig & Brent Schacter
M.D. Steele Construction Ltd.
Rick & Merril MacKay
Neil MacKenzie
Bruce MacLean
Magellan Aerospace
Dennis J. Magrega
Romulo & Patria Magsino
David & Rosemary Malaher
Manitoba Aboriginal Sports & Recreation Council
Manitoba Alpha Omega Foundation
Manitoba Canola Growers Association
Manitoba Hatchery Association
Manitoba Hydro Professional Engineers Association
Manitoba Institute of Agrologists
Manitoba Model Forest Inc.
Manitoba Swine Seminar
Garth Manness
Manrex Ltd.
Leonard J. & Christina Mariash
Kurt & Jacqueline Markstrom
Max Bell Foundation
Kristine Mayer
Carol & Barry McArton
Isabel & Donald McBane
McCarthy Tétrault LLP
Dr. Brendan McCarthy Medical Corporation
Bruce* & Judith McDonald
Leland & Debra McFadden
Robert & Lenore McGinnis*
John T. McGoey
James E. & Victoria McGregor
James McIntyre
Donald K. & Deborah A. McIvor
Michael J. McKay
H. Anne McKenzie
John & Linda McKinnon
Ted McLachlan & Cathy Auld
Medicine Class of 1957A
Medicine Class of 1983
Medicine Class of 1988
Lorraine & Nathan Meltzer
Mennonite Church Manitoba
Fred J. Mensink
Robert J. Menzies*
Nicole R. M. Michaud-Oystryk & Lawrence M. Oystryk
Mel* & Pip Michener
Ron & Sandi Mielitz
Gerald Miller
Murray & Susanne Miller
Peter* & Dorene Milligan
Deirdre Millin
Kunal Minhas
Steven Mink
Estate of E. Donn Mitchell
Donna & Paul Mitenko
Douglas A. Moffat & Cara Boeff
Ismail Mohammed
Todd A. Mondor
Ken Montero
James Morden
Hirokazu & Molly Morita
Kevin Morris
Morna-June C. Morrow
Charles & Marion Mossman
Ken & Sharon Mould
Moving Forward Together Campaign
Multicrete Systems Inc.
Murray Chevrolet Hummer
Philip & Lynda Murray
Albert & Joyce Myska
John & Margaret-Ann Nelson
Ken & Kaaren Neufeld
New West Metals Inc.
Cindy & Robert Newfield
Nickle Family Foundation
Anna M. Nielsen*
Robert Nix*
Helen & William* Norrie
The North West Company
NorthStar Genetics
Novartis Pharma Canada Inc.
Joel Novek—in memory of Regina Novek
Oakville Soccer Club Inc.
John N. Odai
Gene D. Odell*
Rob & Mim O'Dowda
Allen Ohrt
Brian & Esther Pallister
R. Wayne & Linda Paquin
Parker Hannifin Canada
Yashesh Patel
Bojan & Kristina Paunovic
Barbara Payne*
Payworks
Gerald Peterson & Susan Thompson
Roger K. Philipp
M. Hope Pickard Smith
Michael J. Popp
Brian & Sharon Postl
Jim & Beverly Postl
Dan & Basia Price
Justin & Margo Price
The Maurice Price Foundation
Judith Pringle
Procurity Inc.
The Professional Interior Designers Institute of Manitoba
The Progressive Group
Margaret & John Proven
Psychic Press Ltd.
Bachu & Rekha Purohit
Kathryn Y. Qin
Muriel M. Quirk*
Lalitha Raman-Wilms & John Wilms
Norma & Robert Ramsay
Kenneth T. Ransby
RAPID RTC
RCGA Foundation
James & Beverley Reid
Iris Reimer
T.J. Rice Family Foundation Inc.
David Rich
Laura & Harold* Richman
Amarjit S. Rihal
Barbara Robertson*
J. Ross & Allana Robinson
Allan & Myrna Ronald
The Rosenthal Family Foundation
James & Joyce Ross
Richard Rowe & Elizabeth Cowden
Oksana Rozumna
Richard & Joan Rue
Rural Municipality of Taché—in memory of William Danylchuk
Mary L. & T. J.* Ryan
Michael & Mark Schachter
David A. Schellenberg
Kurt & Krystin Schroeder
Maria-Louise Schroeder
John Seddon
Harold & Lola Serebrin
Satyendra Sharma
Catherine Shearer
Arna & Hersh Shefrin
Shelter Canadian Properties Limited
Martha Shepertycky
Leah & Sidney Sheps*
The Shevchenko Foundation
The Shinewald Family
Myroslav Shkandrij
Margaret F. & E. Paul Shuckett
Albert Siemens
Carolyn Sifton Foundation Inc.
Anna & Lyle Silverman
Donald & Terry Simons*
J. Blake Sinclair
Sisters of the Holy Names of Jesus and Mary
David & Sandra Smith
Linda & J. Bertram Smith
Scott R. Smith
Shirlee A. Smith
Society of The Sacred Heart (Canada)
Don & Karen Solman
Southworth Charitable Foundation
Peter & Geraldine Spencer
SPL Consultants Limited
Birk* & Lorraine Sproxton
St. Andrew's College Foundation Inc.
St. Augustine of Canterbury Church
St. John's College Class of 1963
St. John's College Students' Association
St. John's Music Winnipeg
James P. Stadnick*
John & Jill Stafford
Iona Starr—in memory of Paul Buteux
University of Manitoba Statistics Students Club
Jason & Heather Stefanson
Lori Stephen-James & William James
Robert Stewart
Katharina Stieffenhofer
Eva Stubbs*
Cory B. Sul
Sun Life
Survival Research Institute of Canada
In memory of Stafford Swain
Elise Swerhone
Swim/Natation Manitoba
Andy & Cheryl P. Szocs
Dorothy and Edward* Tacium—in memory of Ken Tacium
Kenneth P. Tacium*
James W. Tam
Tangled Productions
Victor & Sandra Tanner
Laura Targownik
Hisham Tassi
Teck Resources Limited
TELUS Friendly Future Foundation
Janice Tennant
Teck Lean Teong
John & Kathleen Teskey
William Thacker*
Catherine M. Thexton*
Tire Stewardship Manitoba
Alex Tischenko
Douglas & Deanna Tkach
Louie Tolaini
George Toles & Melissa Steele
Tommy's Welding Ltd.
Mark Tooley*
Torys LLP
Jeffrey Train
Triple E Canada Ltd.
Christopher Trott
True Patriot Love Foundation
Tuff Built Products
Ubisoft Winnipeg
Ukrainian Reading Association "Prosvita"
University 1 Student Council
University of Manitoba Dental Alumni Association
University of North Dakota
Edward & Elizabeth Unrau
Helmut Unruh
W. R. & Jean Van Walleghem
Vanderveen's Greenhouses Ltd.
Vehicle Technology Centre Inc.
David G. Vincent Law Corporation
Minh Nhat Vo
Ruth Vogt-Emerick
Sherry Wallman* & Neil McQuarrie
Marjorie Ward*
A.M.C. Waterman
Kymberly D. S. Watt
Ian C. Wees
Lydia & Michael West
Western Canada Dental Society
Western Glove Works Ltd.
Peggy Whiteway
Donald & Florence Whitmore
Mary M. Widdows*
The Wildlife Society - Manitoba Chapter
Robert R. Williams
Glen W. Wilson
Winnipeg Football Club
The Winnipeg Jets True North Foundation
Alexander Witzke
Kevin & Anita Wolfe
Richard M. Woloshyn
Cynthia & Turnly Wong
Edwin Wong
Dr. Justin Wong Incorporated
S. & M. Wong
Sheila M. & Grant Woods
Brock & John Wright
Peter H. Xiao
Clifford Yaffe & Heather Levin
Yamaha Music Canada
David Yeung
Jenn-Ching Yih
Hanbing H. B. Zhang & Xiaohua (Shawn) Qu
Alvin Zipursky
Anonymous (46)
* denotes those fondly remembered
Contact us
Donor Relations
Unit 200-137 Innovation Drive
University of Manitoba (Fort Garry campus)
Winnipeg, MB R3T 6B6 Canada
204-474-9195
1-800-330-8066 (toll free)
Monday to Friday, 8:30 a.m. to 4:30 p.m.